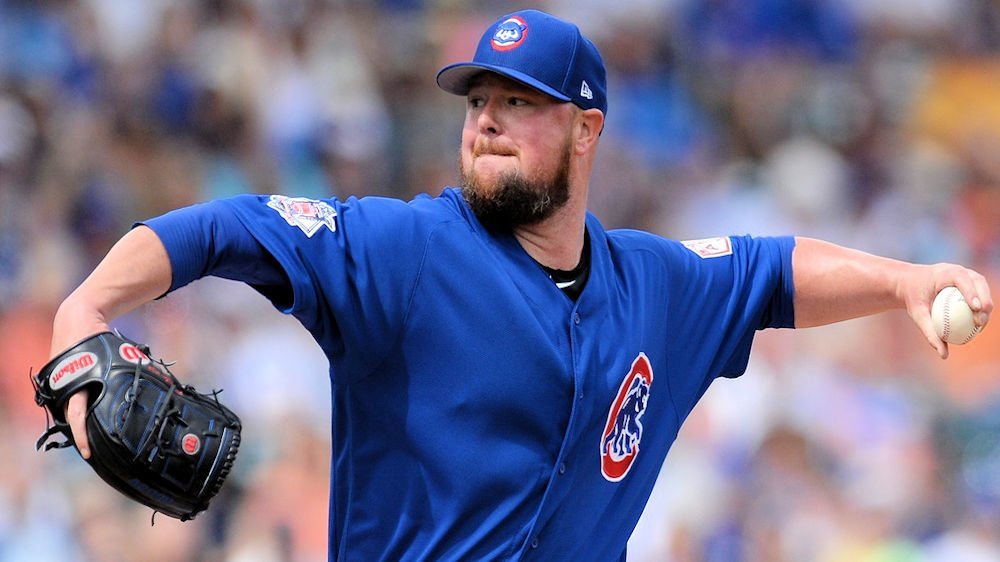 | | |
| --- | --- |
| Lester struggles as Cubs lose slugfest with A's | |
---
| | | |
| --- | --- | --- |
| Wednesday, March 13, 2019, 6:52 PM | | |
After a brutal loss to the Reds last night, the Cubs looked to get back on track, as they traveled to face Oakland this afternoon. Big Jon Lester (0-0, 5.19 ERA) would take the mound for Chicago, with his counterpart being Oakland's righty, Mike Fiers (0-0, 3.00 ERA).
A day with raging winds would wreak havoc on the pitchers and fielders, but the Cubs offense, despite tallying 11 runs on 16 hits with four homers, would fall short in a 12-11 loss.
T1: (OAK: RHP- FIERS) Continuing a disastrous spring, Ian Happ would lead off with a strikeout, dropping his BA to just .094. David Bote would help with a walk, but Fiers would throw a laser to first, picking off Bote. Anthony Rizzo would hit a long flyout to end the inning.
B1: Lester would start with a groundout (Semien), but would give up a triple (Chapman), followed by a single (Olson), putting the A's up 1-0. After bobbling a grounder, the DP was broken up, but Bote would get Davis at first for the second out. Lester would get out of the inning on a flyout (Profar). Cubs trail 1-0.
T2: (OAK: RHP- FIERS) Willson Contreras opened with a single to right, and the Cubs would take the lead on a towering homer from Cristhian Adames. Following a groundout by Addison Russell, Mark Zagunis would single to center, followed by Ryan Court's bloop single that fell just over Profar's head at second. With the hit-and-run on, Johnny Field would smack a solid single to left, scoring Zagunis, putting the Cubs up 3-1. Happ would hit a weak pop-up to third, followed by Bote's strikeout to end the frame. Cubs lead 3-1.
B2: Lester would give up a single (Laureano), but he'd be erased when Canha flew out to Field, who then doubled Laureanno off of first (7-4-3: Field, Adames, Rizzo). Lester would end the inning with his first K of the game (Grossman).
T3: (OAK: RHP- FIERS) Rizzo started the inning with a bang, sending a monster home run flying over the right-field wall. Fiers would get Contreras on a groundball, followed by a flyout (Adames), but Russell would reach on a hard-hit grounder to center. Russell would advance on a balk when Fiers dropped the ball from his glove, but the inning would end when Zagunis grounded out. Cubs lead 4-1.
B3: Lester would give up a no-doubter to Nick Hundley to open the frame, bringing the A's to within two. Lester would take Semien by strikeout, but he'd give up a double to Chapman, then walk Olson. Happ would then dive (and miss) on a flyball (Davis) that was affected by wind, resulting in a two-run double, tying the game at 4. Lester would retire Profar (strikeout), but despite a mound visit from Tommy Hottovy, he'd next give up an RBI single to Canha, ending his day. Righty, Matt Carasiti, would take the mound and immediately give up a two-run single to center when Happ couldn't make the play, but Happ would redeem himself by catching a flyball (Hundley) to end the inning. Cubs trail 7-4.
T4: (OAK: RHP- FIERS) Trying to protect a three-run lead, Fiers would start the inning by retiring Court on a flyout, but Field would hit a no-doubter to right, chasing Fiers from the game. Lefty Jerry Blevins would come on in relief, but Happ's bat would come to life with a double, then Bote would erase the deficit with a two-run homer of his own to left-center, tying the game. Rizzo and Contreras would both fly out to end the inning. Game tied 7-7.
B4: Back to work, Carasiti would quickly retire the first two on a grounder (Semien) and a strikeout (Chapman), but Olson would draw a two-out walk before Davis would fan to end the inning. Game tied at 7.
T5: (OAK: RHP- Trivino) Adames would start the inning by reaching first on an error (1B- Olson), followed by Russell's strikeout. Zagunis would hit a single to center; then with Court at-bat, the Cubs would pull off a double-steal when Court failed to make contact on a hit-and-run. Four straight singles (Zagunis, Court, Field, Happ) would tally another trio of runs before the inning ended on strikeouts by Bota and Jim Adduci. Cubs lead 10-7.
B5: Steve Cishek would start by retiring Profar on a pop-out, but he'd walk Laureano, quickly erasing him on a pick-off. Cishek would fan Canha to end the inning.
T6: (OAK: RHP- Montas) Contreras' groundout would open the inning, but Adames would follow with a walk. Russell would fan, and Zagunis would ground into a force, ending the inning. Cubs lead 10-7.
B6: Brad Brach (RHP) would open the sixth with a flyout (Grossman), but Pinder would reach on a fielding error (Trent Giambrone), then Pennington would single, scoring a run. Pennington would take second on a past-ball (Taylor Davis), but a Barreto would line into a 5-3 double play (Phillip Evans, Jim Adduci) to end the inning. Cubs lead 10-8.
T7: (OAK: RHP- Montas) The Cubs go down for the first time today on a pair of strikeouts ((Ryan Court, Field) and a groundout (Wynton Bernard).
B7: Righty, George Kontos would take the hill in the eighth, sending the A's down in order on a pair of flyouts (Deichmann, Phegley) and a groundout (Murphy). Cubs lead 10-8.
T8: (OAK: RHP- Montos) Taylor Davis' double would score an eleventh run for the Cubs.
B8: George Kontos would start the eighth, quickly getting Rivas on a groundout. Campbell would hit a single, ending Kontos' day. Mike Zagurski would fan Ramirez, but he'd give up a two-run blast to Pinder, to bring the A's to within a run. The inning would end on a groundout (Pennington). Cubs lead 1-10.
T9: (OAK: RHP- Montas) Zack Borenstein would strikeout to begin the inning, but Nico Hoerner (now 6-9 this spring) would double to center. The Cubs would fail to produce, as Charcer Brooks would groundout, followed by Wynton Bernard's strikeout. Cubs lead 11-10.
B9: Zagurski would return for the ninth, issuing back-to-back leadoff walks (Barreto, Deichman), ending his day. RHP Brad Markey would issue a two-run RBI single to end the game. Cubs lose 12-11.
The Cubs will host the Rangers tomorrow at 3:05 PM Central, in a matchup that will see Yu Darvish (1-0, 2.70 ERA) take on Rangers' righty, Adrian Sampson (1-0, 3.86 ERA).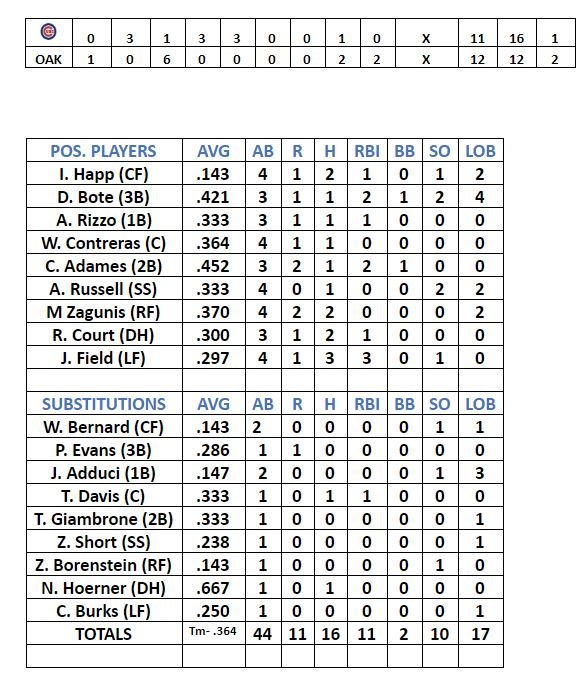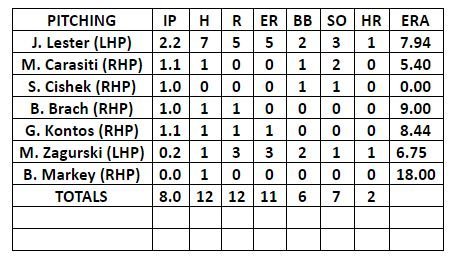 Tags: Cubs Baseball
,
,
,
David Bote
,
Anthony Rizzo
,
Willson Contreras
,
Addison Russell
,
Mark Zagunis
,
Steve Cishek
,
Taylor Davis
,
Yu Darvish
,
Tommy Hottovy