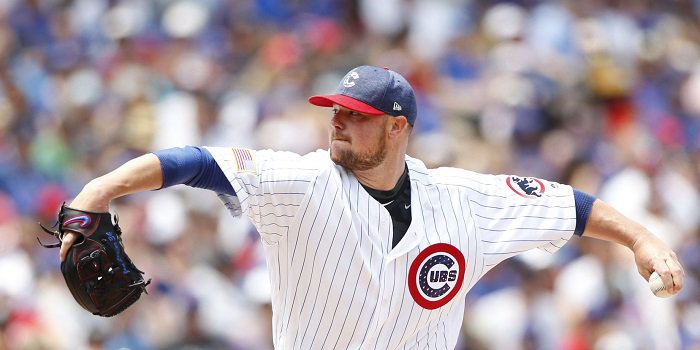 | | |
| --- | --- |
| Lester's pitching woes overshadow Cubs' offensive fireworks on Independence Day | |
---
CHICAGO – With the former team of Chicago Cubs manager Joe Maddon in town for an Independence Day showdown, the Chicago Cubs had plenty of incentive to produce in front of a rowdy Wrigley fan base when battling the Tampa Bay Rays on Tuesday. With 11 hits on the day, the Cubs were adept with the bat, but they came up short nonetheless due to a woeful fourth-inning meltdown by starting pitcher Jon Lester. Playing in front of 42,046, the most sizable crowd of the season at Wrigley Field, Lester continued his recent up-and-down trend by struggling in his Fourth of July outing, giving up all six of the Rays' runs in the 6-5 Tampa Bay win.
Despite the fact that they trailed by three or more runs for most of the game, the Cubs experienced a favorable start on Tuesday, striking first in the second inning. Jason Heyward, who returned from a three-week injury layoff, made his presence felt from the get-go, driving home Chicago center fielder Ian Happ on an RBI single after Happ hit a triple toward the wall in right. Heyward finished 1-4 in his return and now sports 30 RBI on the year.
Tampa Bay knotted the game up in the following inning, as right fielder Steven Souza wreaked havoc on the base paths en route to scoring Tampa's opening run. Souza, who went 2-5 at the dish with two RBI and one run scored, created a bevy of problems for the battery of Lester and catcher Willson Contreras, beginning with a bold leadoff bunt that resulted in a single. Thereafter, Souza stole second and made it to third on Contreras's erroneous throw made on the steal attempt. Afterward, Rays third baseman Evan Longoria came through with a sacrifice fly to center that brought home Souza.
Along with several of his teammates, Souza helped blow the game wide open for the Rays in the fourth inning, as Tampa Bay added five runs on five hits. Lester imploded in the fourth, failing to collect an out until the seventh batter of the frame. After a leadoff single, Lester gave up a two-run home run to Tampa shortstop Tim Beckham, the infielder's 11th long ball of the year. Leading 3-1 at that point, the Rays did not let off of the proverbial gas pedal, earning a single and a walk thereafter that set the stage for pitcher Chris Archer to display his hitting acumen. Slapping an RBI single to right-center, Archer came through in the rare hitting opportunity for the American League hurler to put the Rays up 4-1. Next, Souza victimized Lester yet again with a two-run double to center, essentially putting a bow on Lester's Independence Day meltdown.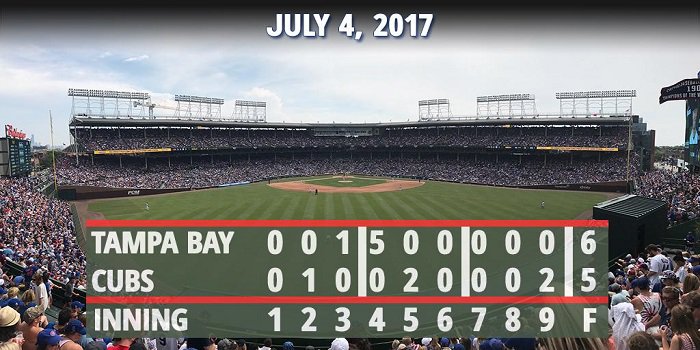 Lester lasted only five innings on the hill, giving up six runs on nine hits and one walk in a losing effort, resulting in the veteran left-hander falling to 5-5 overall. As for Archer, the fifth inning, in which the Cubs produced a two-out rally, proved to be his only true blemish. Taking a page out of Souza's book, Cubs left fielder Jon Jay sparked Chicago with a bunt single up the third-base line. Fortunately for Chicago, Longoria made a rare mistake on the defensive end, making a throw that was far off of the mark in an attempt to out Jay, thus allowing Jon to reach third.
In the ensuing at-bat, third baseman Kris Bryant reached first on an infield single to shortstop that scored Jay, decreasing Chicago's deficit to four runs. Following a walk of Cubs first baseman Anthony Rizzo that put runners on first and second, former Rays and current Cubs second baseman Ben Zobrist came through against his old team, knocking an RBI single to right field that made the score 6-3. Archer, who garnered eight strikeouts on the afternoon, remained in the game for one more inning, finishing with a six-inning stat line of three runs and eight hits to his name.
Archer avoided giving up additional runs in his final inning, as he escaped a jam after walking Heyward to start off the bottom half of the sixth. Following the walk, fitting with one of the themes of the game, Archer suffered from a gutsy bunt single by Contreras. However, Archer then buckled down, striking out three consecutive batters to strand Heyward and Contreras on base.
The offensive aspect of the game became virtually null and void for both squads in the seventh and eighth innings, as neither team had a runner reach scoring position. Several demoralizing double plays plagued each team, and a costly base-running mistake hindered the Cubs. Contreras, who went 2-4, could have incited a comeback for Chicago, but he was gunned down at second base while attempting to stretch a single into a double during the eighth inning.
Chicago did not go quietly, though, taking Rays closer Alex Colome to task with one last comeback gasp in the bottom of the ninth. Pinch hitter Albert Almora started it off with an infield single toward third, galloping down the line to reach base safely. Following an ensuing walk of Jay, Bryant failed to produce in the pressure-packed situation, popping out to first. Rizzo, on the other hand, did come through in the clutch with an RBI single to right-center that brought in Almora.
The Cubs caught a break following Rizzo's hit, perhaps benefiting from a motivated Zobrist, who was assuredly eager to contribute to the defeat of his former club. Hitting a grounder toward first, Zobrist hustled and beat out a throw at first to foil a 3-4-3 double-play attempt by the Rays. Jay was able to score on the grounder, bringing the Cubs to within one run. Surprisingly, Colome was left in the game, even after walking Happ to put runners on first and second with two outs. Heyward then stepped up to the plate with a chance to cap off his comeback game by completing a last-inning rally for Chicago, but the storybook ending did not come to fruition, as Heyward flied out to left and brought an inglorious ending to the Cubs' come-from-behind effort.
Falling 6-5 to the Rays, the Cubs wasted a bevy of offensive fireworks put on display by Chicago's batters. The Rays faltered quite conspicuously in the batting department during the latter portion of the game, as they failed to accrue a hit after Lester departed, but Chicago's deficit proved to be too vast for the Cubs to overcome.
Lester's fourth-inning trials and tribulations were ultimately what cost the Cubs, as the five-run fourth was the primary factor behind Chicago's loss. Archer received the win to become 7-5, and, despite his troubles, Colome collected the save, his 22nd. Chicago (41-42) and Tampa Bay (44-41) will face off again tomorrow afternoon in the second and final matchup of the two-game series at the Friendly Confines, as the Cubs will look to rebound and make up for what was a disappointing Fourth of July on the north side of the Windy City.
???????????? pic.twitter.com/9n6WBRcuol

— #VoteKB (@Cubs) July 4, 2017
Thank you for your service. #July4th pic.twitter.com/I0BQ1oZslK

— #VoteKB (@Cubs) July 4, 2017
Catching up with old friends. pic.twitter.com/795ZOnxGb3

— #VoteKB (@Cubs) July 4, 2017