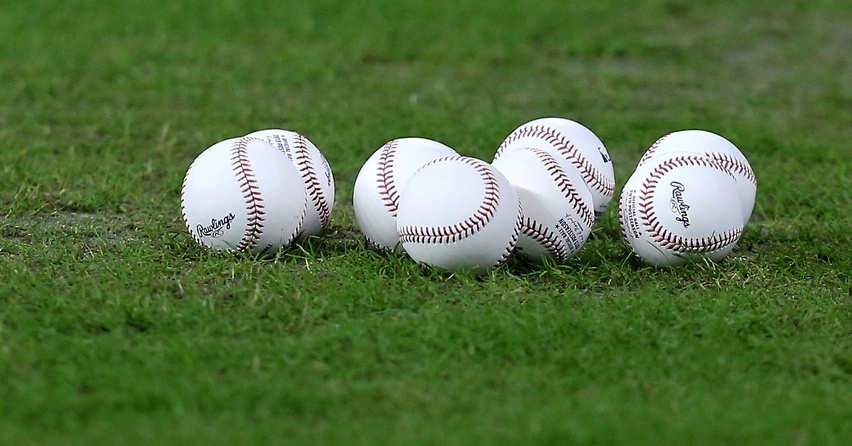 | | |
| --- | --- |
| MLB decisively punishes Astros for cheating | |
---
| | | |
| --- | --- | --- |
| Tuesday, January 14, 2020, 8:57 AM | | |
Between jet-propelled baseballs, three-batter minimums, and limited mound visits, I've been plenty critical of MLB Commissioner Rob Manfred. Still, the Commish finally got something right on Monday when he meted out his punishment to the Astros.
When the original allegations of electronic sign-stealing first surfaced, I was skeptical, but then reports started pouring in from guys like Ken Rosenthal, Jeff Passan, Jon Morosi, and others – sources that I deem far too credible to ignore. In a matter of just days, the nuts and bolts (and garbage cans) of the scandal began to emerge, with players giving detailed accounts of how the scandal worked.
Strategically placed cameras were able to capture the catcher's signs, sending a real-time feed to an iPad in the Astros dugout. If an off-speed was coming, two sharp bangs on a garbage can located next to the iPad would ring out; if a fastball was being ordered, there was silence in the dugout.
After a short investigation, MLB got to the bottom of this, hearing from 26 witnesses. By the end of last week, word had come down that Rob Manfred was about to dole out his punishment and that it would be stiff.
The hammer fell on the Astros today. I applaud Rob Manfred for the suspensions and the loss of draft choices. I support Jim Crane for his swift and dramatic action to fire AJ Hinch and Jeff Luhnow arguably the top manager and GM combo in the game. This type of cheating must end

— Steve Stone (@stevestone) January 13, 2020
BREAKING: Per sources, MLB's penalties for #Astros include:

*One-year suspensions for GM Jeff Luhnow and manager AJ Hinch.

*Losses of 1st and 2nd round draft picks in both 2020 and '21.

*A fine of $5M.

Full story and more context with @EvanDrellich: https://t.co/djvKEYFiC7

— Ken Rosenthal (@Ken_Rosenthal) January 13, 2020
MLB also placed assistant GM Brandon Taubman on the restricted list. As you'll recall, Taubman earned his infamy by taunting female reporters after the ALCS over the signing of reliever Roberto Osuna. Osuna had served a domestic violence suspension before coming to Houston.
The Astros promptly gave Hinch (and Luhnow) the boot on Monday, with the suspensions ending the day after the 2020 World Series concludes. Houston bench coach, Joe Espada, is expected to be named interim manager. Hinch's actions may result in his exit from baseball altogether, as it's going to be awfully hard to sell his services and stats, now that they bear an asterisk next to them.
Here is a statement from A.J. Hinch: pic.twitter.com/29GmAmE9XY

— Jake Kaplan (@jakemkaplan) January 13, 2020
For as harsh as the penalties were, some think they could have been even stiffer. Pete Rose received a lifetime ban for gambling on Reds' games when he served as their manager, and somehow, Hinch's actions seem to pale in comparison.
I don't think it would have been out of line for MLB to have given both Luhnow and Hinch lifetime bans.

— Dave Wischnowsky (@wischlist) January 13, 2020
Rob Manfred isn't done with this yet. Let's not forget that recently the Boston Red Sox were also accused of stealing signs. Red Sox manager Alex Cora also just so happened to be the bench coach in Houston during 2017, making himself the next target on Manfred's radar.
I do find it somewhat strange that no players were punished, as I've seen the video of players analyzing the iPad, then banging on the can. AJ Hinch reportedly smashed multiple monitors in the dugout as a show of disapproval, but in the end, he never reported the cheating, making him complicit.
No players were disciplined by Major League Baseball in the Astros' investigation. While Mets manager Carlos Beltran was part of it, he was a player at the time and thus was not suspended.

Discipline for Red Sox manager Alex Cora is coming. It is going to be harsh, per sources.

— Jeff Passan (@JeffPassan) January 13, 2020
According to MLB's investigation report, "Early in the [2017] season, Alex Cora the Astros' Bench Coach, began to call the replay review room on the replay phone to obtain sign information."
If it wasn't bad enough that Cora participated in this scandal, he allegedly carried the scam to Boston with him. The Red Sox are the first team that Cora's managed, now putting in question Boston's fantastic 108-54 record during Cora's inaugural year in 2018.
"Witnesses consistently describe this new scheme as player-driven ... with the exception of Cora." pic.twitter.com/BbUZHulZlh

— Jeff Passan (@JeffPassan) January 13, 2020
Let's see now… Cora was part of a cheating Houston team who won the World Series in 2017, and then he became the manager of the Red Sox who won the World Series in 2018, amidst allegations of cheating that year. I'm no detective, jury, or judge, but it sure looks like Cora is about to be in some serious, serious trouble. Not that any form of cheating is ever acceptable, but you certainly wouldn't expect a first-year manager to be involved in such an elaborate scheme.
Of all the things in MLB's investigation and Rob Manfred's nine-page letter, this might be the most damning.

The Astros, who won the 2017 World Series, used their sign-stealing scheme that postseason. pic.twitter.com/nnSj1P2k7D

— Jeff Passan (@JeffPassan) January 13, 2020
No punishment will ever undo all that the Astros did. Teams lost playoff opportunities and draft picks, while the pitchers who got rocked were forced to take falsely inflated numbers to arbitration. The Dodgers may very well have won the 2017 World Series, had Yu Darvish not gotten lit up by the Astros in Game-7. Darvish was rocked for five runs in two innings (all that Houston scored in that game), and he can now only wonder if he'd have earned a World Series ring, had it not been for the Astros' scandal.
If the Dodgers are planning a 2017 World Series parade, I would love to join! So if that is in the works, can someone make a Yu Garbage Jersey for me?

— ???????(Yu Darvish) (@faridyu) January 14, 2020
Does the scandal end with Boston and Houston? A couple of months ago, Yu gently eluded to the fact that Christian Yelich may have been stealing Darvish's signs. The video showed Yelich quickly darting his eyes toward the Brewers' bullpen during an at-bat, but thus far, nothing has become of Darvish's interesting comment.
To be clear ... Astros can concoct a digital sign-stealing scheme, win WS, get caught; MLB can begin & end investigation, take draft picks & $5 mil, suspend GM & manager (who are later fired), faster than an arbitrator can rule on Kris Bryant's service time grievance. Got it.

— Wayne Drehs (@espnWD) January 13, 2020