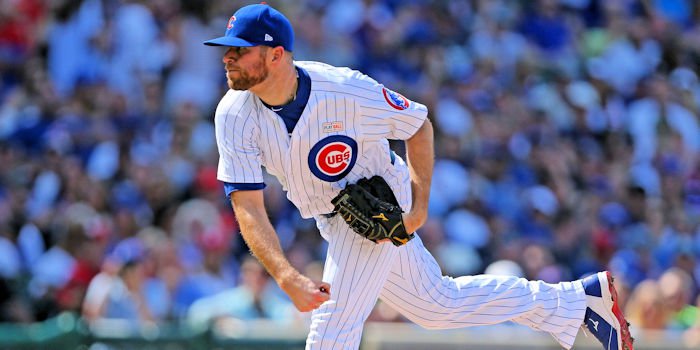 | | |
| --- | --- |
| MLB.com predicts Cubs will land two pitchers | |
---
Free agency starts up today at 5 p.m. ET as players are allowed to sign with major league teams. The Chicago Cubs anticipate an active offseason as they try to continue their winning ways with a goal of another World Series visit possibly in 2018.
MLB.com's Jim Duquette predicts that the Cubs will sign two pitchers in free agency with closer Wade Davis and starter Alex Cobb.
"After a record-breaking 2016 free-agent class for relievers in terms of money spent, Davis will now get his turn to earn top dollar as the best closer on the market," Duquette said. "He was virtually unflappable in Chicago, recording 32 saves with a 2.30 ERA. While his walk rate was the highest of his career (4.3 BB/9), Davis posted a strong 12.1 K/9 rate and stayed healthy for the whole season, lessening concerns after a pair of disabled-list stints in 2016. His deal this offseason should be similar to Mark Melancon's four-year, $62 million contract from a year ago."
One of the major concerns with the Cubs is their bullpen issues so keeping Wade Davis is a priority if they choose to pay him elite closer bucks.
For the season, Davis had 32 saves to go with a 2.30 ERA, 79 strikeouts, and 1.14 WHIP. His 32 saves ranked him fifth in the National League. In his career, he has 79 saves with 3.45 ERA.
The other free agency prediction for the Cubs is acquiring former Tampa Bay Rays starter, Alex Cobb.
After posting a 3.66 ERA over a career-high 179 1/3 innings in 2017, Cobb enters free agency at the perfect time," Duquette said. "The right-hander got stronger as the year progressed, recording a 3.14 ERA in his final 12 starts. With a track record of success in the AL East, look for Cobb to command a deal comparable to Lynn's."
Cobb would be a nice addition to the Cubs pitching rotation because he is only 30 years old and would be reunited with his former pitching coach Jim Hickey.
Other players that the Cubs were mentioned to have interest in include international superstar Shohei Ohtani, starter Jake Arrieta, closer Greg Holland, and starter Lance Lynn.