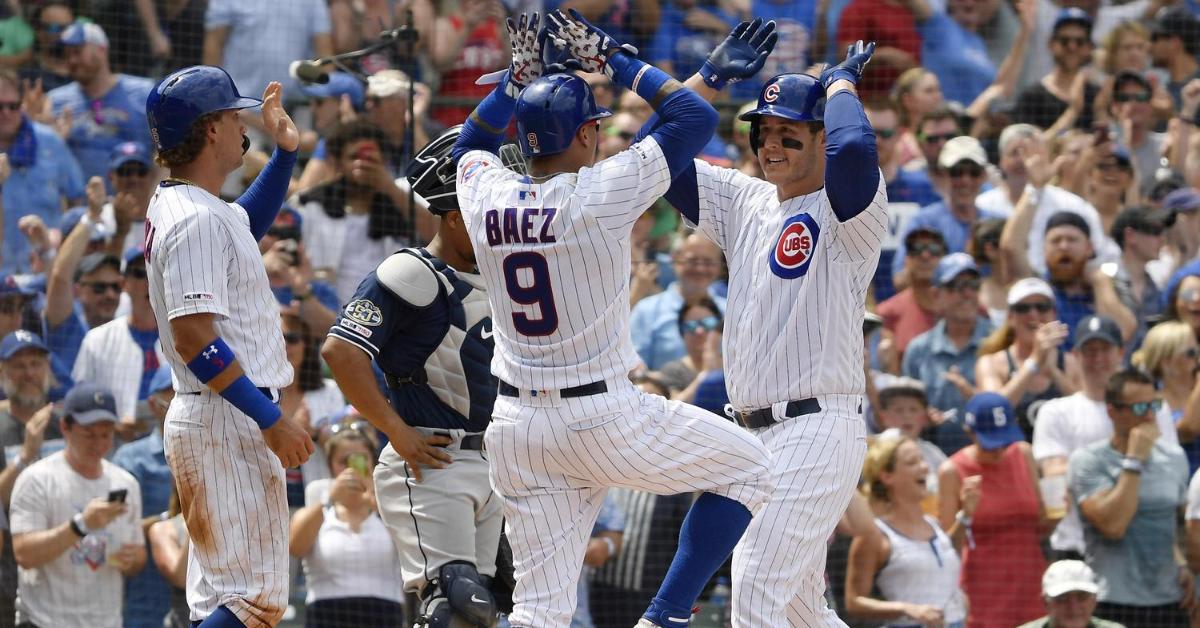 | | |
| --- | --- |
| Cubs News: Minus Javy and Rizzo, where is this offense? | |
---
| | | |
| --- | --- | --- |
| Thursday, September 19, 2019, 11:26 AM | | |
The Cubs finally found some consistency in their weekend sweep over the Pittsburgh Pirates, putting up a historic 47 runs in a three-game span to trounce the Bucs and put some faith back in this inconsistent offense.
They followed that up with an eight-spot on Monday, and the offense fell asleep on Tuesday. However, 57 runs in five games will play for any team.
It all started at the top of the order, with Anthony Rizzo reaching base at an above .500 clip since indefinitely moving to the leadoff spot. He suffered a gruesome-looking ankle sprain on Sunday however, and the Cubs will turn to other spots to replace him for however long his injury keeps him out. He will be wearing a boot for the next 5-7 days and will be re-evaluated then.
Position wise, the offensive-minded Ian Happ and Victor Caratini will figure to split time at first base in Rizzo's absence, as Maddon mentioned he doesn't want to move Kris Bryant off of third or throw Zobrist at first base at this point.
Offensively is where the Cubs will miss Rizzo most, especially since his emergence as a table-setter atop a productive lineup occurred. But where should the Cubs turn? The answer is unknown, but I can tell you who it should not be.
Jason Heyward and Kyle Schwarber have had their fair share of experimental play at the top of the order, but have produced like all-stars in their other spots.
Jason Heyward led off 33 games this season and slashed a rough 147/.302/.554. Since returning to any other spot in the lineup, Heyward is 12-35 (.342) with three homers and ten runs batted in. The Cubs have a much deeper lineup when Heyward is producing, and he does so much more when he's not leading off.
Kyle Schwarber was left in the leadoff spot for a large portion of the season. Kyle has played 56 positions as the Cubs leadoff man and hit a paltry .229 with 17 homers and 36 RBI. In the other 87 games played in any other batting spot, Schwarber has an additional 20
homers and 54 runs driven in. Not to mention his average and on-base, the percentage was much higher.
The best solution at the top of the order seems to be Ben Zobrist, who got the start on Monday. Zobrist is 11-30 (.367) and has been reaching base at a .424 since his return to the Cubs.
The Cubs have also been extremely grateful to have Willson Contreras' production back in the lineup at an at least semi-regular basis. Contreras has four homers and five RBIs since his return from injury. The Cubs' backstop is also batting near .300 in September.
This recent run of offensive success has been awe-inspiring mostly because not only is Anthony Rizzo expected to be out in the near future, but Cubs' heart and soul Javier Baez has been sidelined with an injury since September 1st. Despite periodically missing time all year long, Baez has clubbed 29 homers, driven in 85 runs and accumulated a 4.7 war.
Addison Russell has battled struggles at the plate, in his head and off the field all season long- and is currently battling a concussion. So with nowhere else to look, the Cubs brought up Nico Hoerner, and boy has he impressed.
Hoerner is slashing .351 with a north of .900 OPS with two bombs and 11 runs driven in. Including a home run and four runs driven in during his first-ever game at Wrigley Field.
It would be impossible to conclude analyzing the Cubs offense without mentioning the trade deadline acquisition of the year in Nicholas Castellanos. Big Stick Nick has clubbed 15 homers in just 43 games, and driven in 30 plus runs. His constant production has paced this offense into staying afloat in the dog days and finding some consistency down the stretch.
Not to mention, some help from the now healthy-looking NL Player of the Week helps this offense immensely. Kris Bryant is coming off a week where he tallied five home runs, 13 RBIs and hit above .500 for the week. KB is up to 31 dingers and 77 RBIs on the year, and his average has been climbing ever since his cortisone shot. In addition to that, KB is near the NL lead in runs scored, on-base percentage and he has an excellent .900 plus OPS.
Finding consistency in this offense and extracting it's immense potential all year long has been a challenge, but as the offense begins to turn a corner - the Cubs look like a team that can potentially not only reach the postseason but make some noise once they get there.
The Cubs plated 57 runs in just the last five games, and are looking to keeping that dominating consistency up as they await a hopeful playoff run. If they do so, they'll have to do it both without Javier Baez and Anthony Rizzo. Are they ready? Let's find out. 57 runs in five games sure seems like it.

Tags: Cubs Baseball
,
Anthony Rizzo
,
,
Victor Caratini
,
,
Jason Heyward
,
Kyle Schwarber
,
Ben Zobrist
,
Willson Contreras
,
,
Addison Russell