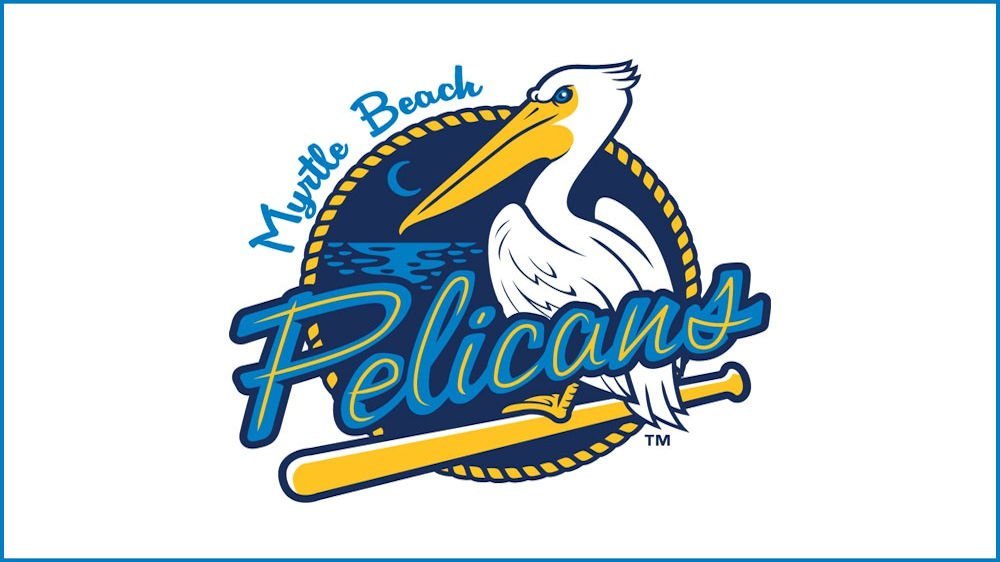 | | |
| --- | --- |
| Myrtle Beach Baseball: Fish or Cubs Bait | |
---
You'd better be good if you are going to name your stadium TicketReturn.Com Field. While finishing a dismal fourth (61-78) in the Carolina League South in 2018, the Class A-Advanced Pelicans do have a reason for optimism; the fishing will be better in 2019. Before we throw that line in the water though, let's take a closer look upstream at who they are.
Jason Heyward was named Baseball America's Minor League Player of the Year back in 2009 when he played for the Pelicans. Kyle Hendricks pitched there, as did Adam Wainwright. Rougned Odor got his start in MLB there as well. No doubt, the Pelicans have been a solid, reliable proving ground for some of the best in the game.
Signed as an affiliate with the Cubs through 2022, their ballpark and fan-fun atmosphere each have earned them numerous accolades since their move to Myrtle Beach. No kidding, they were once the Durham Bulls and were tied to the Braves then the Rangers before the Cubs grabbed them up in 2014 with a new Player Development Contract (PDC). The stadium, built in 1999, holds 6,599 fans. Why they couldn't add just one more seat is a mystery for the ages.
Like their major league dad, the Pelicans had great years in 2015 and 2016, winning the league championship back to back. Like every MiLB team, they did so with both star power and journeyman talent. An awful lot of space has been given in recent months to hand-wringing over the lack of top prospects in the Cubs minor league affiliates. It's a pipeline built for ebbs and flows, though. It can't be viewed in a vacuum.
Consider: In 2018, the Pelicans gave a locker to one of the best catchers in minor league baseball. Jhonny Pereda is 22 years old and began his minor league career in the Venezuelan Summer League back in 2013. He played in 122 games at Myrtle Beach last season, slashing a solid .272/.347/.363, with an OPS of .652. He hit eight home runs and batted in 57. That was enough for the Pelicans to put him on their leaderboard. But wait, there's more…
Jared Young, 22, played 1B for the Pelicans last year, slashing a more than just respectable .282/.341/.431 with an OPS of .772 and six HR's (one a GS) and six doubles. Playing in only 51 games, Young had 23 RBI's and six stolen bases. Drafted out of Old Dominion in 2017, the Cubs took him in the 15th round after he slashed .367/.441/.580. Young is a player you can expect to see in The Show once he gets a little more experience taking on high-level pitching. His fielding is already considered MLB-ready, and most scouts have him down as a surefire prospect for the Cubs.
On the mound, many are watching Tyson Miller, a 23-year-old that was throwing 96-mph fastballs in college. Reports are that he pitches to weak contact, mostly groundballs. He dominated in some games last season, so don't let his ERA of .354 raise your eyebrow. At 6'5 and 200 pounds, Miller puts some zip on the ball that isn't easily picked up at the plate. Scouts were high on him when he was drafted in the 4th round of 2016 by the Cubs, and he hasn't given them any reason to doubt their choice.
Other pitchers to check in on include Tyler Peyton (ERA 3.07) and Keegan Thompson (ERA 3.19), both of whom can make the baseball dance. If I had to bet, I'd put my money on Miller getting the call up first though.
2019 is going to be a good season to watch Pelicans baseball. The folks traveling to or living around Myrtle Beach will get treated to competitive play at a high-A level, and in their oddly named ballpark, promotions and entertainment are slated to be, again, top shelf.
It will be fun, too, to see if any of the prospects can catch the next wave to Wrigley before the season is out.