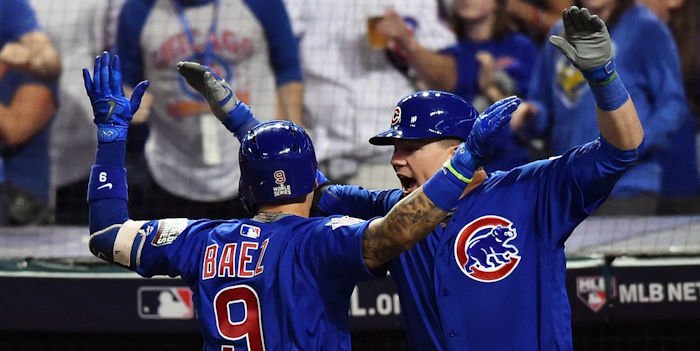 | | |
| --- | --- |
| Cubs News: National League Central Projection | |
---
CHICAGO -- It may seem a bit early to be discussing the National League Central projections, considering we are only in the first few games of the season. However, despite the Cubs losing the opening night game to their biggest rival on the prominent spotlight, I think it's safe to say that the Cubs will be contending in the National League Central this year. What a game on Tuesday night as the Cubs won 2-1 against their rival. This division consists of the Chicago Cubs, St. Louis Cardinals, Milwaukee Brewers, Cincinnati Reds, and Pittsburgh Pirates.
All things considered, three out of these five teams worthy enough to be in contention for the division crown. If you have followed baseball the last couple years, you know that I'm talking about Chicago, St. Louis, and Pittsburgh. The last time one of these teams didn't win the division was when Cincinnati won the National League Central crown back in 2012. In 2016, the Cubs won the division by a hefty 17.5 games over St. Louis and followed by Pittsburgh. The Cards took the crown in back in 2015, followed very closely by Pittsburgh (two games back) and Chicago (three games back). Expect these same three teams to be vying for the top spot this year, and each team will make their case as the season goes along.
St. Louis Cardinals (ranked #11 in ESPN MLB preseason power rankings): They will give the Cubs the toughest time in the division this year. Carlos Martinez, Adam Wainwright, Lance Lynn, Michael Wacha, and Mike Leake is a very respectable pitching rotation, one with a lot of veteran experience. Also, we know how much of an impact Dexter Fowler has when he gets on base, so once he gets going, the Cardinals will really hit their stride on their way to contending for the NL Central. They have some strong bats and experienced players to win a lot of games this year as I predict them to be second in the division this year.
Pittsburgh Pirates (ranked #15 in ESPN MLB preseason power rankings): Pittsburgh has one of the best starting pitching duos in the National League, with Gerrit Cole and Jamison Taillon. They also have one of the best and most athletic outfields in the game, led by Andrew McCutchen, who had an off year in 2016. If that is any clue to his career taking a dive, the Pirates may be in trouble. However, if McCutchen bounces back to MVP form in 2017, with some pretty solid offense around him, the Pirates can contend for the division title no doubt. I'm going to predict them to finish third in the NL Central this year.
Chicago Cubs (ranked #1 in ESPN MLB preseason power rankings): What more can be said about them? These guys are built to repeat as champs. However, baseball is baseball, and just like any sport, it's very tough to win it all twice in a row. There's no doubt in my mind they have an exceptional chance, though. With Kris Bryant in only the third year of his impressive baseball career, Kyle Schwarber back for a full season, and Jason Heyward expected to have a bounce back offensively this year, the team could be better than last year's juggernaut. Now all they have to do is perform as well. I expect them to win the NL Central this year. However, this is a talented division, and as a fan, you gotta love the competition that will ensue as a result of these talented teams.