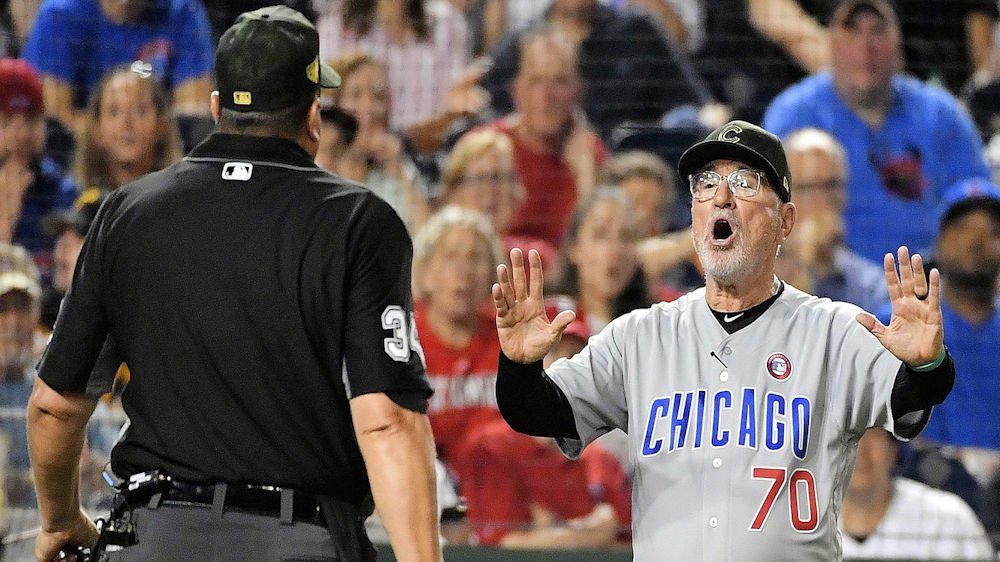 | | |
| --- | --- |
| Nats rock Lester, Maddon's protest, Bote's bomb, Cubs add pitcher, more | |
---
Next Game: Today, 6:05 PM CDT: Cubs vs Nationals. RHP Kyle Hendricks (3-4, 2.86 ERA) vs RHP Jeremy Hellickson (2-1, 5.52 ERA).
CUBS NEWS AND NOTES:
Saturday's Game Recap: The Cubs' offense was able to overcome Cole Hamels' shortcomings on Friday night, but that wouldn't be the case last night. Stephen Strasburg was spot-on for the Nationals, but (unfortunately) the Nationals' offense was on Jon Lester like white on rice. No big deal, Big-Jon was bound to have a bad outing, Javier Baez's hitting streak had to end sometime, and Jason Heyward is now 13 for his last 88.
There were only a few offensive highlights for the Cubs, the first coming when Kris Bryant beat out the relay throw on a would-be double play, thus extending his on-base streak to 27 games. The Cubs managed to score their first run courtesy of a pair of back-to-back miscommunications between Strasburg and catcher, Yan Gomes, resulting in a run (Heyward). Addison Russell also tried to score on the same play but was shot down at the plate. David Bote added a little excitement with a much-needed (for his own sake) solo-blast in the sixth, but that was all the Cubs could muster. Final score: Nationals 5; Cubs-2.

.@DavidBote13 leads off the 6th with a solo homer.#EverybodyIn pic.twitter.com/c0RqwCboBv

— Chicago Cubs (@Cubs) May 19, 2019
Fear not, the Cubs can still win this series, as Kyle Hendricks takes the mound tonight against a struggling Jeremy Hellickson.
Cubs/Phillies Probable Pitchers: MONDAY: RHP Yu Darvish (2-3, 5.14 ERA) vs RHP Jake Arrieta (4-4, 4.02 ERA). TUESDAY: LHP Jose Quintana (4-3, 3.68 ERA) vs. RHP Zach Eflin (5-4, 2.89 ERA). WEDNESDAY: LHP Cole Hamels (4-0, 3.13 ERA) vs LHP Cole Irvin (2-0, 2.77 ERA). As always, I'll have an in-depth series preview for you, before the start of Monday's game.
The anomaly: Jon Lester's line from last night: 4.1 IP, 10 hits, 5 earned runs, 1 walk, 3 strikeouts.
Lester's still the man: Bad outings happen. Before last night's game, Jon Lester was 9-2, with a 1.47 ERA in his last 15 starts, dating back to August 16, 2018. His nine wins during that time tie for 2nd most in the National League (St. Louis' Miles Mikolas leads with 10) while Lester's 1.47 ERA led the majors among pitchers with at least 80 innings.
Lester on his rough outing pic.twitter.com/OUC9Z8mJ4A

— Mark Gonzales (@MDGonzales) May 19, 2019
Maddon protests: Joe Maddon took issue with Sean Doolittle's windup in the ninth inning and wound up filing a protest with the league over it. Doolittle is using a windup and delivery that includes a toe-tap, much the same as Carl Edwards, Jr. used in spring training. The league initially said Edwards was good to go, but after the Rangers protested the move in the season's opening series, the league then deemed it illegal, as it constituted a balk. So long as Doolittle's toe doesn't touch the ground, it's ok, but he frequently taps the toe toward the end of his windup, making it illegal. Stay tuned, we'll let you know how things work out.
Maddon on protest: pic.twitter.com/2559BLPJEm

— Mark Gonzales (@MDGonzales) May 19, 2019
KB's Hat-trick: Kris Bryant hit his 3 HRs in the 7th, 8th, and 9th innings on Friday, becoming only the second Cub in franchise history to homer in 3 consecutive innings. Sammy Sosa accomplished this feat on August 10, 2002, in Colorado (3rd, 4th, and 5th innings). Bryant is only the 12th player in major league history to homer in three straight innings and the second to do so in the 7th, 8th and 9th, joining J.D. Martinez with Arizona on September 4, 2017, Martinez also homered in the fourth inning for a four-homer game
Mind games: To borrow a phrase that a friend of mine thrives on, you might say that Javy is "living rent-free" inside the minds of pitchers.
You'll see him in your nightmares.
You'll see him in your dreams. pic.twitter.com/4iDht4kMxB

— Chicago Cubs (@Cubs) May 18, 2019
Is trouble brewing? ESPN's Jesse Rogers points out that MLB's current, 5-year, labor agreement is about to reach the half-way point, and despite the many complicated issues that will require difficult negotiations, there are currently no ongoing talks between MLB and the union.
Roster moves: Yesterday, the Cubs claimed RHP Chandler Shepherd off waivers from Boston and optioned him to AA Tennessee. In eight games this season with Boston's minor league affiliate, Pawtucket, Shepherd was 0-5, with a 10.01 ERA. The righty has made a total of seven starts and had one relief appearance (29.2 IP) this season. The Cubs also sent catcher, Ian Rice, to the Smokies, clearing the way for Taylor Davis in Iowa.
Cub Birthdays: Celebrating yesterday were, Randy Rosario (25), and ex-Cubs David Patton (35), Rich Garcés (48), Eric Young (52), Jim Sundberg (68), and Chris Ward (70).
Happy birthday, Reggie: Also celebrating yesterday, was "Mr. October," Reggie Jackson (73), who, among many other accomplishments, hit three homers in a row (off of three consecutive pitchers) during Game-6 of the 1978 World Series. I know I'm old, but am I the only one who remembers the "Reggie" candy bars? (As I recall, they were pretty good.)
NL CENTRAL SCHEDULE (May 12 – May 18, 2019)
(Wins are in green, losses in red)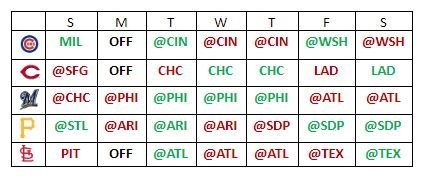 YESTERDAY'S NL CENTRAL SCOREBOARD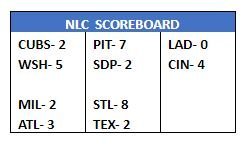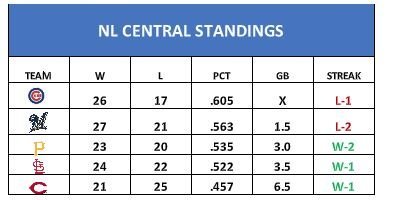 Upgrade Your Account
Unlock premium boards and exclusive features (e.g. ad-free) by upgrading your account today.
Upgrade Now

Tags: Cubs Baseball
,
Kyle Hendricks
,
Cole Hamels
,
,
,
Jason Heyward
,
,
Addison Russell
,
David Bote
,
Yu Darvish
,
Jake Arrieta
,
Jose Quintana
,
Ian Rice
,
Taylor Davis
,
Randy Rosario
,
Joe Maddon