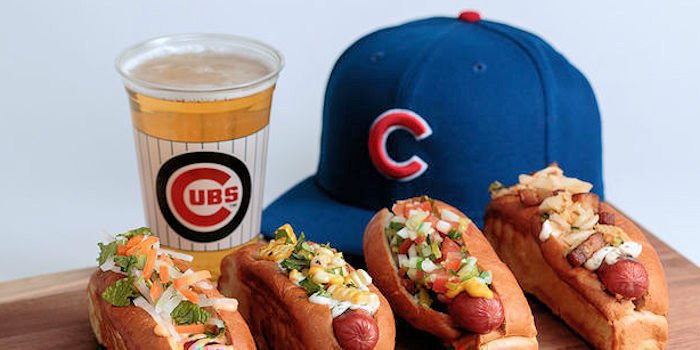 | | |
| --- | --- |
| New food and drink options announced for Cubs' Home Opener | |
---
| | | |
| --- | --- | --- |
| Tuesday, April 4, 2017, 11:33 AM | | |
CHICAGO (Monday, April 3, 2017) – Wrigley Field boasts a worldly menu this season, courtesy of hospitality partner Levy. The Chicago Cubs and Levy enhanced their menus across dining destinations in the grandstand and Budweiser Bleachers in the offseason, adding top local restaurants, classic Chicago tastes in new packages, globally-inspired loaded hot dogs, and signature brews. Many of the new locations and menus will debut at the Home Opener, while full dining enhancements, including a special guest chef series, will open in June.
"We really focused on adding diverse flavors, super fresh ingredients, and creative new dishes to our menus, blending the best of Chicago's food culture and restaurants," said David Burns, executive chef for Levy at Wrigley Field. "Being able to prepare fresh food in a new 8,870-­square-?foot kitchen and commissary space is a game changer for us this year, and we're excited to debut even more exceptional culinary creations later this summer."
World-Winning New Menu
Globally-inspired flavors, classic Chicago tastes, and nostalgic dishes have been reinvented to serve multiple generations of fans and elevate the Wrigley Field menu this season. Levy and the Cubs crafted an array of new dishes served throughout the ballpark befitting the World Champions:
* Craft Hot Dog Line-Up (at Sheffield Counter): A rotating lineup of loaded hot dogs reflecting global flavors, featuring Vienna Beef hot dogs served in a toasted, split-top New England-style bun:
- Wrigley Dog: An "easy to eat" – and equally delicious – version of the classic Chicago Dog topped with a chopped Chicago relish mixing tomato, onion, pickles, neon relish, sport peppers, celery salt, and mustard
- Bao Wao Dog: Pickled daikon and carrot, sriracha aioli, cilantro, and mint
- Kimchi Dog: Crisp braised pork belly, pickled ginger aioli, and kimchi
- Pilsen Dog: Roasted corn, lime-cilantro aioli, and Tajin seasoning
* Aloha Chicken Sandwich (at Sheffield Counter): Grilled chicken breast topped with sweet chili glaze, Asian slaw and sautéed pineapple on toasted Hawaiian bread
* Al Pastor Chicken Tacos (at Sheffield Counter): Luxuriously seasoned chicken topped with pickled red onions, cilantro, sliced radish, and queso fresco
* Catalina Burger (at Sheffield Counter): Double beef patty topped with American cheese, Applewood smoked bacon, sliced onions, tomatoes, lettuce, pickle, and Catalina sauce on toasted brioche bun
* Marquee Melter (at Marquee Grill): Decadent grilled cheese sandwich made with Butterkase and Cheddar, house smoked brisket, and caramelized onions
Chicago Foodie Hot Spot
The city's top chefs and iconic restaurants contribute to Wrigley Field's food scene this season. Several new and returning partners will be menu mainstays all season, and Sheffield Counter will house additional foodie events:
* Pork & Mindy's: The local spot known for 14-hour smoked meats and globally inspired sandwiches from Food Network Star Jeff Mauro will serve its signature dishes in several locations throughout the ballpark:
- Bao to the Pork (Platform 14 and Marquee Classics): Hickory smoked pulled pork, Asian sauce, pickled daikon and carrot, cucumbers, and jalapeño relish on steamed bao bun
- Buffalo Chicken Sandwich (Platform 14): Smoked pulled chicken, tossed in fire sauce, topped with gorgonzola, pickled carrots and celery, and ranch dressing on buttered New England roll
- Pig Candy (Platform 14): Sweet and savory brown sugar-coated bacon bites
- Pig Candy BLT (Platform 14): Pig Candy bacon with lettuce, tomato, dry rub mayo, and balsamic onions on a buttered brioche bun
* Hot Doug's: Decadent, alumni player-inspired sausages from the Chicago institution return on a rotating basis in the Budweiser Bleachers
* Vienna Beef: The Chicago staple provides fan-favorite hot dogs and sausages throughout the ballpark
Buona Beef: Celebrating a successful 2016, Buona Beef will be back in Platform 14 in the Budweiser Bleachers, along with a specialty combo cart located in the right field concourse
* Giordano's: Chicago's classic deep dish pizza returns to Wrigley Field with a new Giordano's Pizza Kitchen Stand near Aisle 102-104
Cocktails, Brews, and Views
New partnerships, proprietary craft brew, ballpark classics and unmatched vantage points add to the can't-miss Wrigley Field experience this season:
* Beam Suntory: Beam becomes the official spirits partner of the Cubs and Wrigley Field, mixing up cocktails throughout the ballpark with recognizable brands including Jim Beam, Maker's Mark, EFFEN Vodka, Cruzan Rum and Hornitos Tequila. The newly branded Jim Beam Patio is a fan favorite for social media-worthy skyline photos and now features upgraded furniture, décor, and the new Jim Beam signature bar.
* Billy Sunday Craft Cocktails: Hand-batched seasonal cocktails inspired by the Logan Square staple, served in the Budweiser Bleachers and Sheffield Counter in right field
* Goose Island 1060 Wit: Goose Island crafted a signature blend for Wrigley Field, inspired by traditional Belgian Wits using un-malted wheat, orange peel and coriander
* Marquee Grill: The perfect mid-inning meeting spot, the terrace above Wrigley's famed Marquee on the terrace level boasts ballpark classic dishes and Chicago skyline views
* Marquee Classics: A new Wrigley Field concept, featuring fan favorites and signature sandwiches located near home plate on the main concourse, coming in June
* Chicago Dogs: An in-line grill concept featuring specialty sausages located near home plate on the main concourse, coming in June
* Platform 14: What's better than Hot Doug's, an ice-cold Budweiser and a view of Waveland and Sheffield from the Budweiser Bleachers?