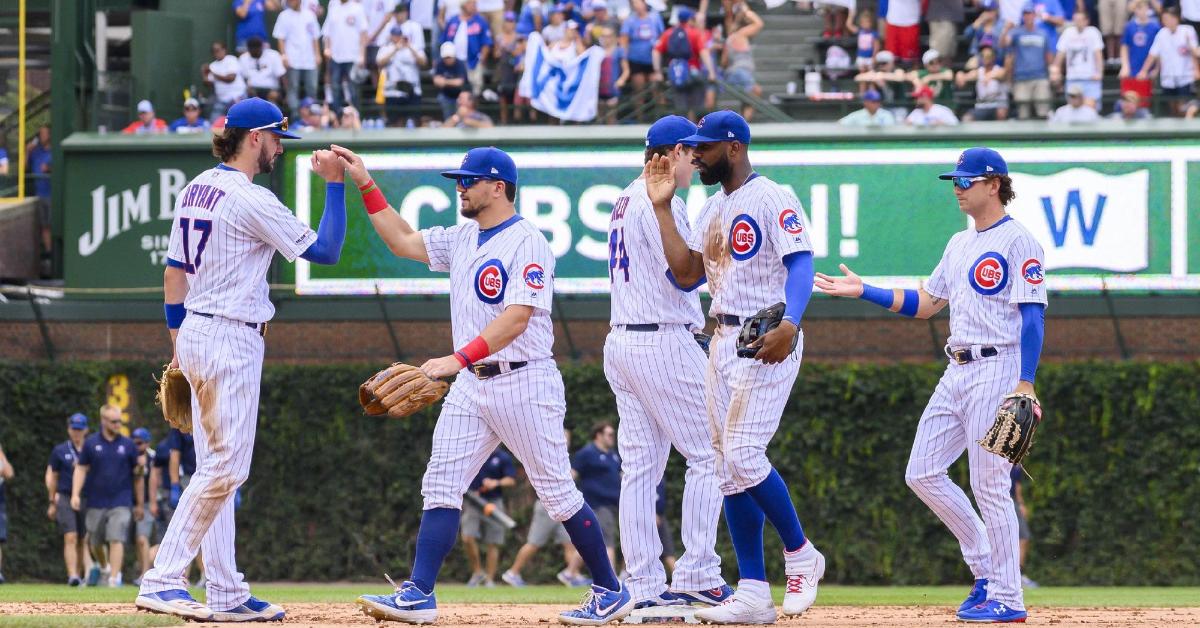 | | |
| --- | --- |
| Offseason Progress Report for Cubs | |
---
It's hard to believe that we've almost reached the halfway point of the offseason, especially when you realize that winter hasn't even officially begun. Yet, here we are, with just over 2-1/2 months until the first Spring Training game (February 22: Oakland vs. Cubs at Sloan Park).
I couldn't even begin to guess how the Cubs would fare if the season started today, as they're missing a starter, a couple of position players, and half the bullpen. Still, I decided to take a look around the NL Central and see where they stood comparatively. Each team in the division has lost free agents; each time has grabbed some players, and most of the division have non-tendered contracts – but who has the best outlook for 2020, so far?
The Cubs are moving in an entirely different direction for 2020. Still, they're not alone – some seem to be changing for the better, others for the worse, but the NL Central is already beginning to take shape, and it already looks like a different world than It did in 2019.
Over the next handful of days, we'll be taking a look at how each of the five NL Central teams has progressed through the winter, taking a look at players lost to free agency, non-tenders, trades, and acquisitions. Where better to begin than with the Cubbies?
The most significant change for Chicago started at the top of the heap, as Theo Epstein dismissed Joe Maddon, subsequently replacing him – much to the dismay of some – with David Ross. Despite Rossy's lack of coaching experience, I think this can (and will) be an exciting season for Chicago, as a change was needed, and David seems more than determined.
I don't believe for a minute that Ross will serve as a "yes-man" for Theo Epstein, nor do I believe that he's nothing more than an extension of Joe Maddon. There's a degree of political correctness expected – especially when in the public eye – so the last thing I'd have expected Ross to do, was bash Maddon during the press conference to announce him as manager.
Free agents: The Cubs took some lumps in the free-agent category, losing a total of 12 players when the offseason began. Totaling a starter, eight relievers, and three-position players, just about any signing for the Cubs will plug a hole while leaving a dozen others unattended to.
Starters: LHP Cole Hamels; Relievers: RHP Pedro Strop, LHP Xavier Cedeno, RHP Steve Cishek, LHP Derek Holland, RHP Brandon Kintzler, RHP David Phelps, RHP Brandon Morrow, RHP Kendall Graveman; Position Players: OF Nicholas Castellanos, C Jonathan Lucroy, IF/OF Ben Zobrist.
Of course, seeing those names – well at least some of them – stings a little, as those are names that we're used to using – good or bad – every day. Not that I'll lose any sleep over Derek Holland or David Phelps leaving, and it's been so long since Morrow could throw, that I can hardly remember his fastball. Still, you can't help but miss a guy like Ben Zobrist, and who can deny the infectiousness of Nicholas Castellanos' attitude?
Don't rule out a return of Nicholas Castellanos to the Cubs just yet. The team is "still pursuing" the free agent outfielder:https://t.co/sFBZZljpKh

— Cubs Talk (@NBCSCubs) December 3, 2019
Not that they can't fill Hamels' spot from within the current roster, and there's still plenty of young talent left in the bullpen, but replacing Castellanos and Zo won't be easy tasks. There's still some hope that the Cubs can retain Castellanos, but I'm afraid that Zo's ship has sailed. It's not uncommon to have a high turnover rate in the bullpen, and a lot of the departing relievers should have never been signed in the first place, but losing Brandon Kintzler is going to sting. Brandon wants to stay in Chicago, and he's not looking for an insanely high contract, so Theo might want to start negotiating, as other teams are showing interest.
Non-tenders: INF Addison Russell, LHP Danny Hultzen; both are now free agents.
Losing Russell comes as no great surprise, though I had hoped that Theo would have bundled him in a trade, rather than just letting him walk, but either way, the Russell era has ended. Danny Hultzen had a great story, making his MLB debut at (almost) age 30, after fighting his way back from injuries and surgeries, but after just 3.1 innings of work, the Cubs couldn't see using him going forward. This wasn't a big loss from a strategic point of view, but sad when you consider the back story. Good luck to both.
The Cubs haven't even scratched the surface for what will be accomplished this winter – at least let's hope they haven't – but at least it didn't take all winter for Epstein to produce a guy like Daniel Descalso.
Acquisitions: RHP Jharel Cotton (from A's for cash); LHP CD Pelham (waiver claim from Rangers).
I'm not sure what to make of either of these signings (yet), but both are young, and both came cheap. Many are viewing these acquisitions as low-risk investments with the potential for high return, but for me, the jury is still out. I'm leaning more toward favoring Cotton over Pelham, if for no other reason than Pelham's ERA of 7.04 – ugh.
The #Cubs today acquired RHP Jharel Cotton from the Athletics for a cash consideration. pic.twitter.com/3CSbbfv6Rx

— Chicago Cubs (@Cubs) November 23, 2019
Cotton could have a bounce-back season and fill Hamels' spot in the rotation, though I'm going to remain skeptical, as Cotton still hasn't fully rebounded from his Tommy John surgery more than a full season ago. I was able to get a little inside info on him, as it just so happens that Cotton and former Cub, Anthony Bass, share the same agent. When I spoke to Anthony about the Cubs' first acquisition of the winter, I was told that he has a very wicked changeup and relied on it a lot, as it was his best pitch. His fastball sits in the mid-90s, and the changeup dips down to the upper 60s, giving Cotton a 30-mph difference in his repertoire, so at least there's that.
The #Cubs today claimed LHP C.D. Pelham off waivers from the Rangers. pic.twitter.com/0ZoXDKxrjt

— Chicago Cubs (@Cubs) November 27, 2019
If there's one thing about the Cubs-Rangers' relationship, it's that players generally seem to improve once reaching their new team. One can only hope that the same holds true for lefty CD Pelham, as his inaugural season was a bit rocky. Pelham spent all of 2019 in the minors after failing to perform at the Major League level in 2018.
In fairness to Pelham, he's only seen 7.2 innings of work in the majors, but despite striking out seven, he was pelted, giving up six earned runs on 12 hits and four walks in that span.
Pelham, who'll be 25 in late-February, possesses a blistering fastball that averaged better than 96 mph in his 2018 MLB debut. Still, he struggled immensely through a poor season in the upper minors in 2019. Pelham allowed 43 runs in 32 1/3 innings between Double-A and Triple-A this past season and walked more batters (40) than he struck out (37).
Bittersweet moment, but I am extremely blessed to be claimed by the Chicago Cubs. I want to thank all coaches, and staff from the Rangers organization who have helped me over the past few years. I've made friends that are now like brothers to me, and memories that can't.... pic.twitter.com/77Zaz3RFkm

— CD Pelham (@CD_Pelham) November 28, 2019
be replaced. Eager to see what the new season brings, and excited to get back on the mound doing what I love most. All thanks to God for giving me the opportunity to continue doing his work through the game I love! ? ??????

— CD Pelham (@CD_Pelham) November 28, 2019
Due to an ongoing payroll crunch, the Cubs will undoubtedly be acquiring players more so via the trade wire than the free-agent pool, but how deep will Epstein cut, to make the end justify the means?
How does this make you feel Cubs fans? From @JeffPassan pic.twitter.com/7tSGTYg4LW

— Chris Bleck (@chrisbleck) December 3, 2019
If there's one thing the Cubs seem to lack this winter, it's clarity. As reports continue to pour in about the team's desire to land an established outfielder, questions remain as to just what Theo may do with the existing outfield brigade. I would have thought that Albert Almora Jr. would have been either traded or non-tendered, but the Cubs seem to view him as a guy that they want to hang on to. Kyle Schwarber became an offensive beast last summer, Ian Happ seems to have bought himself a stay of execution and no one in their right mind is going to absorb even half of Jason Heyward's albatross. The team is still aggressively pursuing Nicholas Castellanos, and now names like Kevin Pillar and Starling Marte have been mentioned: Something has to give.
How much flexibility Theo has for purchasing remains to be seen, but for now, I'd have to give him a "C" on the offseason progress report. Letting a ton of dead weight walk away will undoubtedly help the 2020 roster, but he's got an awful lot of damage control to tend to over the next three months.

Tags: Cubs Baseball
,
David Ross
,
Cole Hamels
,
Pedro Strop
,
Xavier Cedeno
,
Steve Cishek
,
Brandon Kintzler
,
Brandon Morrow
,
Kendall Graveman
,
Ben Zobrist
,
Addison Russell
,
Daniel Descalso
,
Albert Almora Jr
,
Kyle Schwarber
,
,
Jason Heyward
,
Joe Maddon
,
Theo Epstein