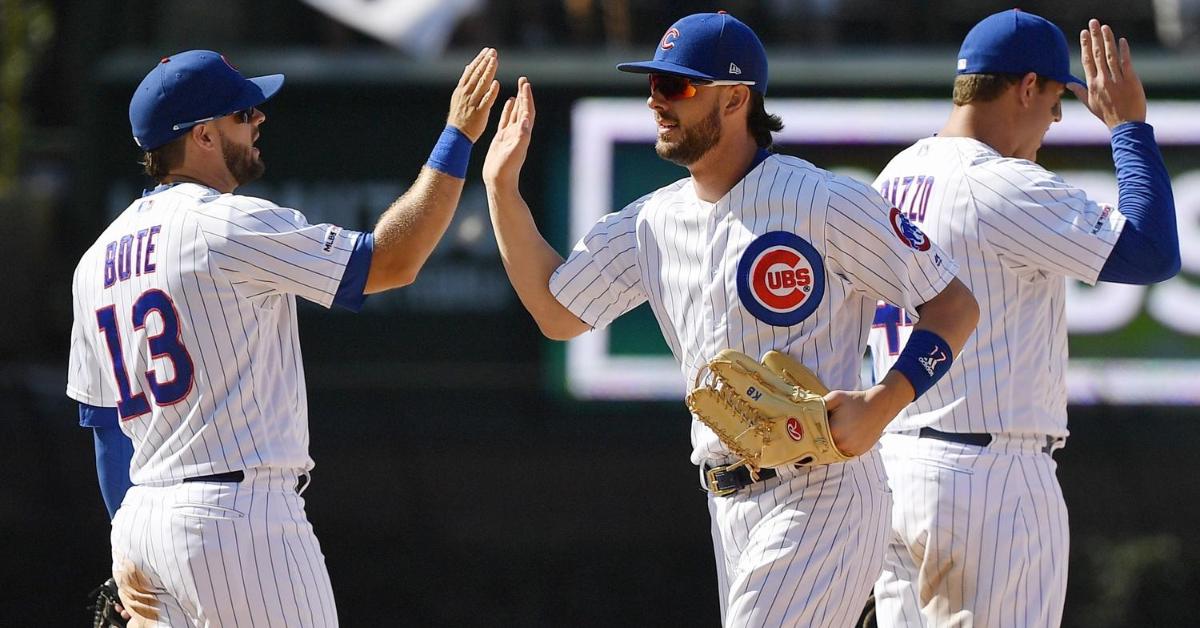 | | |
| --- | --- |
| Cubs News: Report Card Grades: Kris Bryant and David Bote | |
---
We move to what could be one of the biggest questions going forward in 2020, and that is what to do at third base for the Cubs. Ideally, Kris Bryant will once again be slotted to open the season at the hot corner and presumably for the future long after that. The more we look at it, the more unlikely it seems that Bryant will be back with the Cubs once his current contract ends in 2022.
That leaves the Cubs with a huge question. Do the Cubs trade Bryant or hang on to him? To me, I wouldn't give Bryant up unless you are netting a significant haul in return. I am talking a Gerritt Cole, Jacob DeGrom type starter with several other players who could play now. Even with him having yet another down year compared to his MVP season, Bryant did bounce back in 2019 and continues to be one of the best bats in the Cubs lineups.
However, with change on the horizon for the entire Cubs organization, Bryant's name remains one of the most likely names to get traded this offseason should the right package come about. Until then, let's enjoy what we have in him and break down, not just him, but what the other Cubs third basemen did this season.
KRIS BRYANT: Coming into the league in 2015, everyone knew the kind of player Bryant had the potential to be. After winning the Golden Spikes award his final year in college, Bryant emerged on the scene as a rookie, hitting .275 with 26 HRS and 99 RBIs to earn rookie of the year honors. If that wasn't enough, 2016 was even better for him as he saw his numbers increase to .292 39 HRS and 102 RBIs en route to winning the MVP.
That was a three-year stretch that we may never see again, but once 2017 started, something seemed to happen to Bryant as he is not the same player he once was. Yes, his average has continued to remain right around .285, but the power numbers have not quite been at the level the Cubs expected them to be following his first two seasons.
After hitting a career-best .295 in 2017, it seemed as if Bryant sacrificed power for average as he finished with 29 HRS and 73 RBIs that year. During an injury-plagued 2018, Bryant once again struggled to find consistency, posting career lows in every offensive category. Looking for a bounce-back year, Bryant appeared to be more of himself once again this season but still doesn't seem to be the player he was three years ago.
Yes, he continues to hit .280 plus with right around 30 homers every year, but when you are counted on to be a run producer and are only driving in 75-80 runs per season since your MVP year, that does raise some red flags. Bryant used to be the player that opponents feared the most in the Cubs lineup. Now, it seems as he is one that they want to see, knowing his numbers are not where they once were. Something still seems off with him, and I can't point my finger on it.
Season Grade B: This may seem like a low grade considering the bounce back Bryant had this season, but as mentioned above, he still isn't where I feel he should be. Take away his injury season, and his average was the lowest it has been since his rookie season at .282 this year. His 31 HRS was the second-highest total of his career, but his 77 RBI's were only four better than 2017, which has been a big problem for him lately.
Bryant's job in the lineup is to drive in runs, whether that may be hitting homers or picking up hits any way possible. Bryant has no trouble hitting the long ball, but he seems to be lacking the ability to get runners home unless it comes from the home run. For the year, Bryant was much better with runners in scoring position, but that continues to be an overall weakness for him the past couple of seasons, and his opponents have exploited that dearly.
DAVID BOTE: A surprise contract extension last offseason keeps Bote in Chicago for at least another four years barring a trade at some point. Although I like Bote as player and role piece, I don't see a spot for him on this team long term if he isn't an everyday player.
Through his first two seasons in Chicago, Bote certainly has gone through his ups and downs but has also shown the ability to provide a big-league bat in Chicago. He has been a precious asset to this team both off the bench and a starter as he has become the Tommy La Stella from the right side only with more power and more playing time.
Season Grade B-: Bote did improve a lot this season despite being optioned to AAA late in the year. Following a surprising rookie season in which Bote played in 74 games, he saw an increase in action appearing in 127 games in 2019. That helped raise his average from .239 to .257 and saw his power increase from six to 11 homers and 31 to 44 RBI's. That is credited with more than double the plate appearances, but also mainly to the work he put in to keep himself in the lineup.
Yes, Bote does have a lot of holes in his game still both offensively and defensively, but prior to his demotion and recall late in the season, he was one of the team's better hitters down the stretch. I look for the Cubs to hold onto him for at least one more season before figuring out what direction to go with him. It all comes down to the Bryant decision and if the Cubs fill third base with him, Bote, or another direction moving forward.

Upgrade Your Account
Unlock premium boards and exclusive features (e.g. ad-free) by upgrading your account today.
Upgrade Now