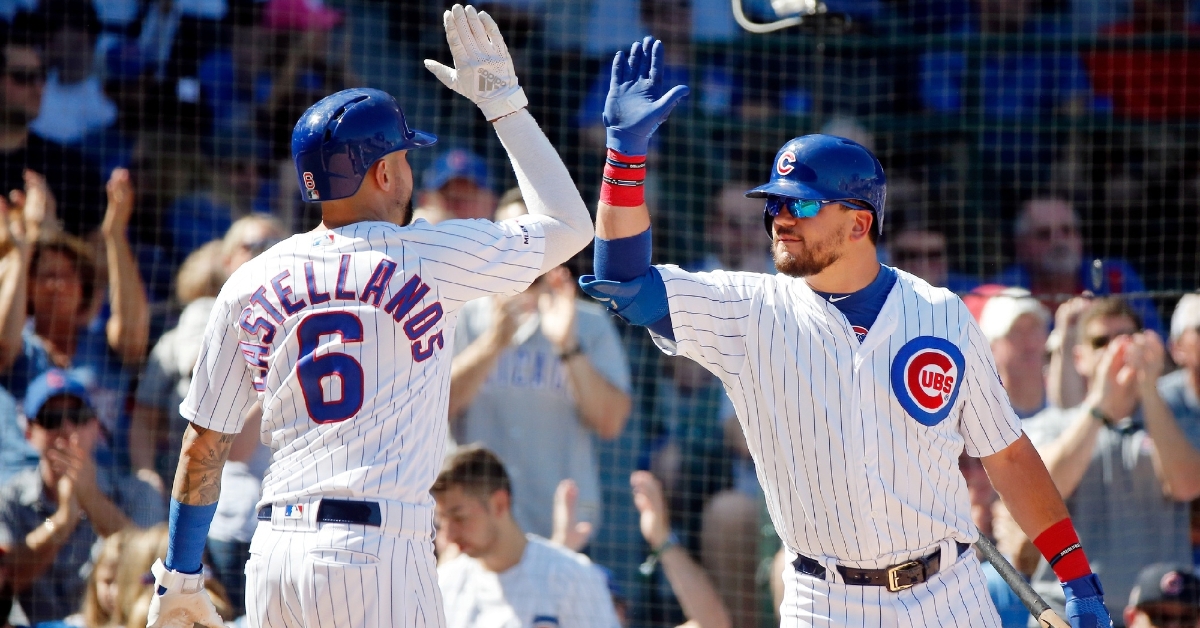 | | |
| --- | --- |
| Cubs News: Report Card Grades: Schwarber, Happ, Heyward, more | |
---
| | | |
| --- | --- | --- |
| Wednesday, October 16, 2019, 1:09 PM | | |
One of the biggest question marks on the Cubs for several seasons has been the production of their outfield. Yes, the Cubs have shown flashes of great production, but in the grand scheme of things compared to other teams, not only have they been inconsistent but are well below the league average of overall output.
2019 appeared to be a step in the right direction for some, but also a step backward for others. The silver lining with all of that, however, was that the Cubs did find more consistent production from these three spots helping to stabilize a lineup that was lacking some critical pieces down the stretch.
Here is what the outfield report cards look for the Cubs in 2019.
Incomplete: Three players found themselves with an incomplete grade as they only saw minimal action this season. Mark Zagunis, Jim Adduci, and Carlos Gonzalez are the recipients of this grade. Only Zagunis was able to hit above .200 during his time with Chicago while Gonzalez managed to pick up the lone homer between the three. All three of these men were demoted or released before June.
KYLE SCHWARBER: Schwarber has always been a mystery in Chicago, given the way most people feel he should be used. After being drafted as a catcher, Schwarber has transitioned to the outfield where it continues to be an adventure sometimes. Despite not always the cleanest of play in left, Schwarber has been well above average in defensive metrics the past few seasons despite most people wanting him dealt to the AL.
Hopefully, he changed a lot of people's minds this season based on the way he played. During the 2017 and 2018 seasons, Schwarber was the primary LF but still played a platoon role to a degree as he seldom was in the lineup against lefties. That all changed this season as he landed career highs in every offensive category and games played in 2019.
Despite his average sitting around .225-.230 much of the first half, things began to click for him during the second half, where he became the Cubs hottest and best hitter down the stretch. That lifted his final season average to .250, but if those adjustments he made continue into next season, look for that average to continue to rise. His 38 HRS not only led the team but was the most homers by a lefty since Billy Williams decked 30 of his own. He was second on the team in RBIs with 92 just two behind Rizzo for the team lead.
Season Grade A: How can you not give this man an A for what he accomplished this season. After once again struggling to hit consistently to open the season, Schwarber appeared to figure things out after the all-star break and used that to put together a huge second half. That was mainly due to his opposite-field approach, which he once again showed the ability to drive the ball with no problem.
The season he put together is precisely the reason why the Cubs took him with their first pick in the 2014 draft. The only thing left for him to do to reach his true potential is consistently hit the way he did the final two months of the year and see if he can become a .270-.280 hitter.
ALBERT ALMORA: This was a frustrating year for the 25-year-old as Cubs fans are starting to lose patience with him at the plate. Known for his gold glove defense in center, Almora has yet to be an everyday player due to his struggles against right-handed pitchers. Given a chance to run with the center field job this season, Almora got off to a great start before an unfortunate event altered his season.
It was during a series in Houston where Almora struck a two-year-old girl in the head with a foul ball and just fell to his knees in complete disgust. After struggling to compose himself that game, Almora would finish off that night with a pair of strikeouts as the nightmare event came to an end. Or did it?
Ever since that game, it never seemed like Almora was himself at the plate as the once .294 hitter fell all the way down to .236 by the end of the season. I don't want to blame an incident for someone's struggles, but something wasn't right with Almora mentally after that game. Being mentally stable is a huge part of baseball success, and with an offseason, maybe Almora can clear his head.
Season Grade D: D stands for Defense as that continued to be his calling card in 2019 before losing his center field job to Jason Heyward in August. However, his defense was not at the same level as it had been in the past as 2019 was a year to forget for Almora. He did manage to hit a career-high 12 HRs as some of that power is starting to generate from that swing, but when you only drive in 32 runs and take less than 20 walks for an entire year, something must change.
IAN HAPP: This was one of the most prominent storylines coming out of spring as the Cubs elected to go with Zagunis as the team's fourth outfielder and sent Happ to Iowa to open the year. Frustrated, to say the least, Happ took his demotion like a grown-up and headed to Des Moines to fix his swing and plate approach.
After a rough first month of the season, Happ started to come around in May before once again hitting rock bottom in June and July. Then came August, where the streaky Happ began to heat up once again before earning a callup in late July. Once he arrived, you could see a sigh of relief as Happ looked happy to play baseball again. Following a two-week hot stretch, he went into a three-week cold stretch before ending the season as the team's best hitter for the final two weeks of the season.
For the season, Happ hit a 264 with 11 homers and 30 RBI's. Add that to his AAA numbers, and Happ had a solid season in which he hit a 256 with 25 hrs and 83 RBI's. That would be a great season if he could maintain that success throughout a 162-game marathon. The big question is, will he be in Cubs pinstripes long term to do so?
Season Grade B: Some may say this is a high grade for him, but considering what he went through this year, he earned it. Happ is a prime example of a young player getting called up too soon. Pitchers figured out his weaknesses immediately, and he was not able to adjust as quickly as he would have liked. Four months in the minors, and it appears that Happ has learned the strike zone a lot more even though he continues to whiff a ton. His switch-hitting power ability from both sides of the plate, ability to play five positions and walk rate make him a guy that has a bright future should he be given an everyday chance.
JASON HEYWARD: Average aside, this was the season the Cubs have long been waiting for in terms of Jason Heyward. Ever since mashing 27 homers as a rookie for Atlanta, the power numbers for Heyward have been minimal at best despite a large frame that should have no trouble hitting the ball out. That is mostly on him for changing his swing multiple teams in consecutive seasons, but for some reason, Heyward has always been a line-drive hitter that likes to use the opposite field.
That was once again the case this year expect those line drives were getting much more elevated. His 21 homers were not only the most in his four seasons with the Cubs but were the second-most of his career only behind his 27 that he smacked in 2012. His 62 RBI's was also the most since that year and was the third-highest total of his career.
Aside from his massive contract, Heyward is a must to play in the field as every year he seems to be a gold glove winner or finalist in right field. Once again, he was off to that type of season defensively, but a move to center field around the all-star break may hinder his chances of getting another one this season. Despite that, this is certainly a season to build off as the Cubs finally got to see the power they expected.
Season Grade A-: You may look at this grade and call me crazy for giving him that high of a mark. After all, he only hit a .251 on the season as he has yet to reach the .293 mark from his 2015 in STL. I am taking average aside for one minute because Heyward was a consistent 275-280 hitter five months out of the season. It was that one month where he moved to leadoff that saw his average plummet 25 points as that was often the case for the Cubs leadoff hitters this season.
Had Maddon left him in the bottom of the line up where he was mashing, I wholeheartedly believe Heyward would have hit right around .275 for the season with a possibility of a 25 HR 80 RBI season. Maybe that could be his bar for next season should the bat stay hot.
NICK CASTELLANOS: The trade that didn't appear to happen and then suddenly did, Nicholas Castellanos was precisely what the Cubs needed in the second half as he certainly enjoyed his time at Wrigley. After posting a 273 average with 11 HRS and 37 RBI with the Tigers, Castellanos was on his way to Chicago competing in his first-ever post-season chase.
To say that was motivation was an understatement as he did things that not many people thought he could do. In just 51 games with the Cubs, Castellanos hit the cover off the ball for a 321 average with 16 homers and 36 RBI's. Add in his 21 doubles, and you can see why he was the leader offensively much of the second half. For the season, Castellanos smoked a major league-leading 58 doubles to go with 27 homers and 73 RBI's. His 289 combined average was also 12 points higher than his career mark as Nick has earned himself a hefty payday this offseason.
Season Grade A+: This was a no brainer of a grade as Castellanos has earned himself around 10 million dollars more annually this offseason with his performance in Chicago. I am not saying he would be able to keep this pace up for an entire season, but Nick showed what he could do once he got to a hitter's park.
What made him so special was the way he played the game as he acted as if every day was opening day, and every pitch was like a playoff moment. It was that kind of energy that sparked a late-season Cubs run to get them back in first before fading at the end of the season. I expect Castellanos to have plenty of offers this winter in terms of where his next residence will be. He has earned it.
Castellanos has also expressed his love for Chicago and just how much he enjoyed his brief stay with the Cubs this season. I know the Cubs will have a lot of financial ties this season, but they do have a decent chunk of money coming off the books. If I was the new manager coming in, I would be doing whatever I can to get the front office to bring this man back with a deal anywhere from 3-5 years or 15-20 million annually. He needs to be in Chicago and is the perfect No. 2 hitter for this lineup.