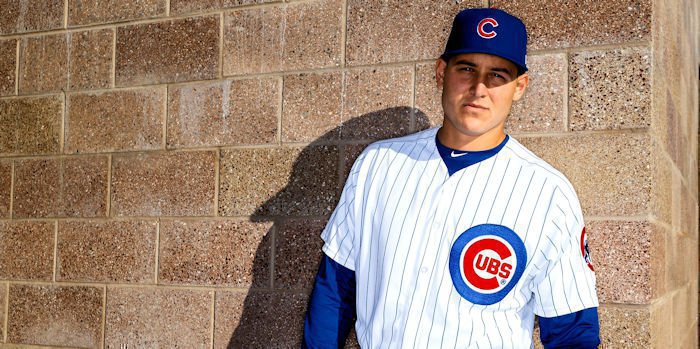 | | |
| --- | --- |
| Cubs News: Rizzo's incredible journey to stardom | |
---
CHICAGO -- It has been almost ten years since Anthony Rizzo was drafted with the #204 overall pick in the sixth round of the 2007 MLB amateur draft out of Marjory Stoneman Douglas High School (Parkland, FL) by the Boston Red Sox. Before he was drafted, Rizzo had planned on going to the Florida Atlantic University where his older brother John Jr. was a lineman for the football team. Rizzo signed on August 15, received a bonus of $325,000, and was assigned to the Red Sox' Gulf Coast League rookie team.
Rizzo did well enough to start the 2008 season in Greenville, S.C. with the Red Sox' Single-A team. In April he was diagnosed with limited state classical Hodgkin's lymphoma.
"I was in Single A ball when my excitement came to an abrupt halt. I was diagnosed with Hodgkin's Lymphoma. I was shocked," Rizzo recalled via rizzo44.com. "This was very tough for my family as my Grandma was also battling breast cancer at the same time. As bad as I felt I never let on. I knew I had to stay strong for everyone around me. I then realized that no matter how difficult fighting cancer was for me, it was even more difficult for my family. I believe that an individual does not battle cancer, but rather the whole family does."
The next month Rizzo, along with his father and older brother, visited the Red Sox clubhouse during a rain-delayed game (wasn't there another rain-delayed game in his career that was game changing?). The club had drafted him in the sixth round but had given him third round bonus money because of the potential they saw in the 6'3", 215 pounder's powerful frame.
None of it mattered this day, May 8, because it was two weeks after his ankles started swelling to the point he had to shove his feet into his cleats. It was a teammate who told his father something was wrong. The two went to see a doctor in South Carolina.
The Red Sox' general manager, Theo Epstein, told the family to come to Boston as it was in a Boston doctor's office that they learned Rizzo had cancer. Eight days after getting the diagnosis, Epstein invited the Rizzos to a game. It is there that Epstein told Rizzo that he is family and that the team will take care of him.
Epstein introduced Rizzo to the Red Sox manager, Terry Francona as his mother-in-law had died the week before after a cancer battle. Epstein also introduced Rizzo to Red Sox' pitcher Jon Lester (his future teammate on the Cubs). Lester was two years past his own cancer (anaplastic large cell lymphoma) battle at the younge age of 22. The year before Rizzo was diagnosed Lester had returned to the mound and started the World Series clincher for the Red Sox against the Colorado Rockies.
This day in the locker room the Rizzos had many questions for Lester. How did he deal with chemotherapy? How did his family deal with their son having cancer? How was it coming back to baseball? Lester did his best to answer all the questions, focusing on viewing cancer as 'a competition he had to win.' He also told Rizzo not stop his life. Even if his thoughts turned dark, as he said his mind wondered during the most difficult times, he hung out with his family and friends, hunted, and threw a baseball when he could. After Lester tells Rizzo's father (whose own mother died from cancer when he was in eighth grade), "Let your son get settled into this stuff first," Lester shared to ESPN.com. "And then see how he feels. When he feels up to it, let him go do his thing."
Once Rizzo was resting in the manager's office, Lester told his father, "Don't make a big deal of this. If something happens, keep moving."
Before the Rizzos leave the locker room, Epstein told them he'd still be part of the team, and Lester said he would see them again. On a side note, Lester threw a no-hitter in his first start after meeting with Rizzo.
Rizzo's cancer was declared in remission that September. The Red Sox allowed him one at-bat in an instructional team game in Fort Myers, FL. The future All-Star Gold Glove first baseman hit a double, one he would replay in his mind over and over throughout the off-season.
Rizzo and Lester would meet in spring training a few months later, but then not again for years. In December 2010, Rizzo was traded to the San Diego Padres for Adrian Gonzalez. General Manager Epstein tells him they will meet again. His first big league at-bats came for the Padres in 2011. He didn't do well, hitting just .141.
In January 2012, the now Cubs president of operations Epstein made a pivotal deal with the Padres to obtain Rizzo for Andrew Cashner. Rizzo was sent down to the Triple-A Iowa Cubs, where he was on fire hitting .342 in 70 games with 23 homers. While he was in Iowa, he visited patients at Blank Children's Hospital in the cancer ward. Rizzo was crafting both his personal and professional missions.
Rizzo would be voted into the 2014 All-Star game as the fan-decided Final Vote while Lester, the Red Sox' ace, was part of the American League team. Before the game, he went up to Lester and asked if he remembered him. Knowing the pitcher would be a free agent after the season ended, Rizzo told Lester that Chicago was a good place and that the Cubs were a great organization. Now the teammates are two of the main reasons that the city of Chicago got their first World Series title in over 100 years.