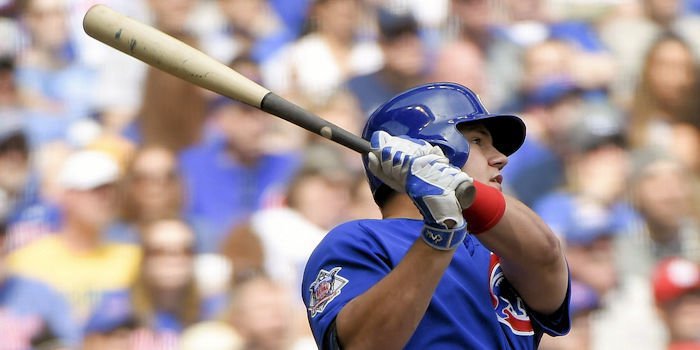 | | |
| --- | --- |
| Road trip Nightmare: Cubs lose fifth straight | |
---
The West Coast swing has not been kind to the Cubs as they have lost their fifth straight game after a sweep handed to them from the Los Angeles Dodgers and two more losses to the San Diego Padres with a 6-2 loss on Tuesday night.
The offensive scoring started in the second inning as catcher Willson Contreras hit his 8th double of the season to bring up outfielder Jason Heyward to put the Cubs up 1-0. The lead wouldn't last very long as Austin Hedges hit a two-run homer on a line drive to center field to tie the game at 2-2 at the bottom of the inning.
The Cubs bat came off of life support in the fifth inning with a Kyle Schwarber solo blast on a 0-2 fastball to right field to put make things all square at 2-2. It was his eighth homer of the season and seven of them have been against right-handed pitching. It was also his first homer since May 23. The ball had an exit velocity of 100.7 mph and traveled an estimated 392 feet.
The Cubs killer from game one of the series Hunter Renfroe hit a two-run double to left field to put the Padres up 4-2 at the bottom of the fifth inning. The star of the game Hedges piled it on the Cubs in the same inning with his own two-run double in the left field corner to put the Padres up substantially at 6-2.
Cubs newcomer Eddie Butler went only 4.1 innings giving up seven hits, six runs, three walks, and five strikeouts. His season ERA has now up to 4.42. One interesting and telling statistic for the Cubs this season is that their fifth starters have a 6.47 ERA as a group. It's hard to win many of those type games so the Cubs will have to address this somehow or possibly in trades in the coming weeks. One bright spot for the Cubs during the latter stages of the game was a great catch and throw by Kris Bryant that started near the third base bag to end the eighth inning. However, The Cubs went down softly without a hit in the ninth inning to fall to a mediocre 25-26 record on the season.
The road trip has been a disaster but the Cubs will try to rebound to salvage a win on Wednesday at 3:40 CDT as righty Jake Arrieta (5-4, 4.92) will take the mound against righty Luis Perdomo (0-2, 5.61).