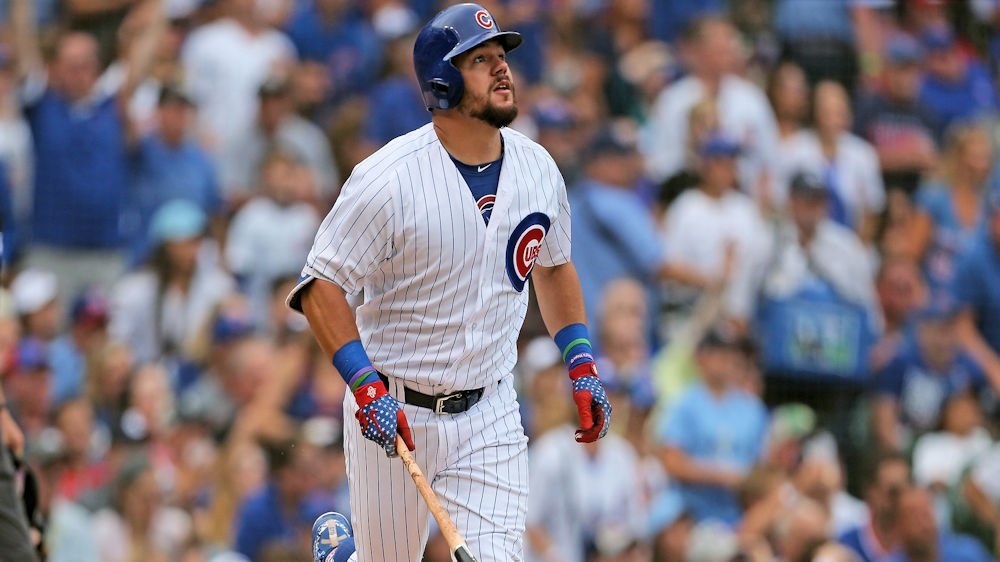 | | |
| --- | --- |
| Schwarber hits go-ahead home run as Cubs win rubber match with Cardinals | |
---
| | | |
| --- | --- | --- |
| Sunday, July 22, 2018, 5:35 PM | | |
CHICAGO — Overcoming a 2-0 deficit, the Chicago Cubs (58-40) won their rubber match versus the St. Louis Cardinals (50-49) to bring to a close an exciting five-game series at Wrigley Field. Winning 7-2 for the second time in three games, the Cubs took three of five from the Redbirds with a victory on Sunday afternoon.
For the fourth time in the series, the Cardinals scored in the first inning, as Paul DeJong brought Matt Carpenter home on a sacrifice fly after Carpenter beat a shift with a leadoff bunt to the third-base side. That proved to be Carpenter's lone hit of the game, with his streak of six straight games of hitting a home run coming to an end.
The Cardinals went on to take a 2-0 lead via a double by Yairo Munoz in the fourth, which scored Dexter Fowler. Despite falling into a two-run hole, Quintana received his third straight win to improve to 9-6 after lasting seven innings on the hill. Quintana gave up six hits and four walks and struck out six. Cardinals hurler Miles Mikolas started off on fire in Sunday's contest but was taken out after giving up two runs on six hits and two walks in five innings pitched.
It took a while for the Cubs to get going at the plate, but a leadoff walk by Jason Heyward incited them in the fourth. With Heyward on second, Ian Happ drilled a double just past Carpenter's outstretched glove and down the right-field line to bring in the Cubs' first run. Later in the inning, Contreras smacked a single down the left-field line to score Happ and knot the game up 2-2.
Happ made us happy happy happy with an RBI double baby putting #Cubs on board 2-1 with 1 on 1 out pic.twitter.com/XN81K7RzAK

— Brandon (@bampac29) July 22, 2018
FREAKING WIILLIIIII RBI SINGLE as #Cubs tied it up baby! 2-2 #WillsonsWorld #WillieTheBeast pic.twitter.com/BKc12B5cc5

— Brandon (@bampac29) July 22, 2018
Later, in the sixth, Kyle Schwarber gave Chicago the lead with a go-ahead solo home run just over the wall in right. Schwarber is now tied with Javier Baez for the team lead in long balls at 19. Cardinals reliever Mike Mayers did not have a groovy afternoon, as he gave up two runs, including the Schwarber homer, and received the loss to drop to 2-1.
Sometimes you just know.#EverybodyIn pic.twitter.com/Ctfl2dPnCW

— Chicago Cubs (@Cubs) July 22, 2018
Mayer's second run came in the seventh, when Kris Bryant singled to left and scored Addison Russell from second. Along with Contreras and first baseman Anthony Rizzo, Bryant and Russell tallied two hits apiece as part of a 12-hit performance by the Cubs. Rizzo, who hit leadoff in every game of the series, went 2-3 in the series finale and reached base 17 times in the five-game set.
KKKKBBBBBBBB RBI 2nd hit today and #Cubs 192nd run this yr of 7th inning or later WOW !as they are def owning Mayers and the #DirtyBirds as Cubbies lead 4-2 #BatsOnFire #DangerousCubs #ChiTownMagic #ItsAWrigleyThing #CubStrong #EverybodyIn #DangerousCubs ?????????????? pic.twitter.com/K8GPL7drv7

— Brandon (@bampac29) July 22, 2018
Chicago took total control with a three-run eighth. Contreras picked up his second RBI of the day by scoring Happ on a one-out single. Happ started the inning off with a walk and advanced all the way to third base on a wild pitch and an ensuing steal. Contreras was scored soon afterward on a single by Albert Almora, Jr., and Rizzo capped off the scoring action with an RBI single to right that plated Russell and set up the eventual final score of 7-2.
Again CLUTCH WILLIIIIIIII RBI SINGLE BABBBYYYYY with VERY good aggressive base running by Happ 5-2 #Cubs keep bleeding the #DirtyBirds pic.twitter.com/U7dXgOFgfr

— Brandon (@bampac29) July 22, 2018
HAAAHAHAHAHA AAALLLLIIIIIIII SPANKS A RBI SINGLE #Cubs cranking on the #DirtyBirds #BatsOnFire #DangerousCubs #ChiTownMagic pic.twitter.com/QkPqcNUt08

— Brandon (@bampac29) July 22, 2018
BOOOMMMM #Cubs fam, RIZZ RBI SINGLE...AGAIN Cubbies opening flood gates on #Cardinals as Cubbies trying to blow it open vs #DirtyBirds 7-2 #EverybodyIn #CubStrong #ItsAWrigleyThing pic.twitter.com/QgNmv4UpdK

— Brandon (@bampac29) July 22, 2018