| | |
| --- | --- |
| Schwarber homers twice as Cubs rout Indians | |
---
| | | |
| --- | --- | --- |
| Tuesday, April 24, 2018, 9:12 PM | | |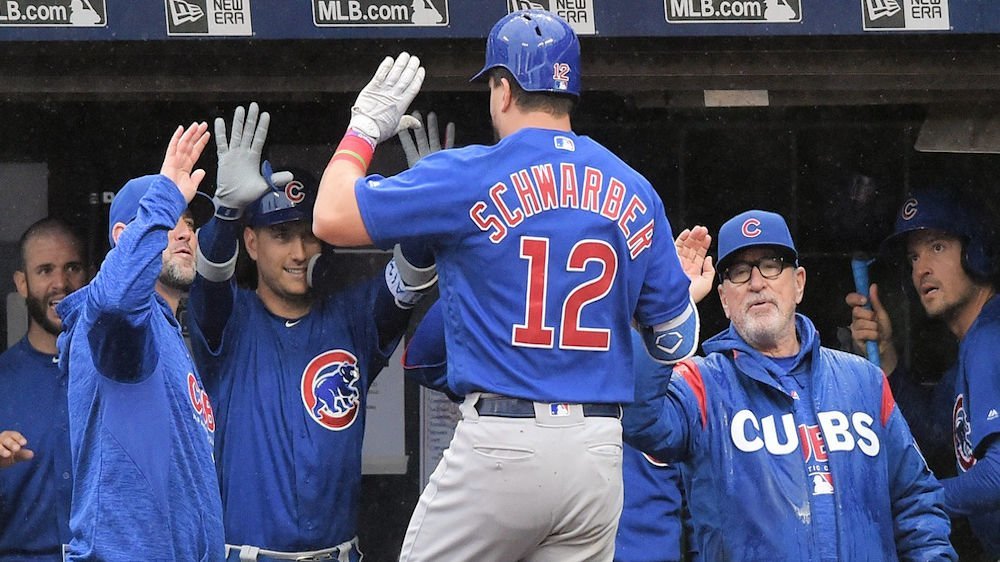 CLEVELAND — The weather forecast was fairly foreboding on Tuesday afternoon in Cleveland, with the chance of rain rather high. Luckily for the Chicago Cubs, their game against the Cleveland Indians took place as scheduled, leading to a display of widespread power-hitting prowess that the Cubs have not experienced very often this season.
With four home runs, two of which were hit by Kyle Schwarber, the Cubs took Indians starter Josh Tomlin to task in a game one victory as part of a two-game rematch of the 2016 World Series. Winning 10-3, the Cubs jumped out to an early lead, something that they have grown fond of doing lately.
In the second frame, Schwarber, who served as the designated hitter, pulled a shot down the right-field line. A 389-footer, the home run left Schwarber's bat like a rocket, reaching an exit velocity of 117.1 miles per hour that made it the fifth-fastest home run in the MLB this spring.
Gone faster than you can read this caption. pic.twitter.com/sm6dL5njZ1

— Chicago Cubs (@Cubs) April 24, 2018
A few at-bats after that, following a double by Cubs shortstop Addison Russell, Chicago left fielder Ian Happ hit an RBI single in the gap between right and center, putting the Cubs ahead 2-0. Happ went on to go 3-4 at the plate, his first three-hit performance of the season.
Cubs catcher Willson Contreras got in on the home-run hitting action in the following inning. Surprisingly, it took Contreras until the 20th game to pick up his his first home run of 2018, but it was a beauty. A laser to deep left, Contreras's solo shot gave the Cubs a three-run edge.
Well-struck. pic.twitter.com/th8HBkPTWy

— Chicago Cubs (@Cubs) April 24, 2018
Tomlin struggled with his command from the get-go, reminiscent of his subpar performance against the Cubs in the 2016 Fall Classic. However, Indians skipper Terry Francona left Tomlin in the game until he wore out his welcome, which occurred in the top of the fourth.
With two home runs in the fourth inning, the Cubs took a commanding four-run lead and chased Tomlin from the mound. First, Schwarber skied a moonshot over the wall in right field, his second dinger of the ballgame and sixth of the season. Now with seven career home runs as a designated hitter, Schwarber is the Cubs' all-time leader in home runs hit while serving as the DH.
#Cubs @ #Indians

Kyle Schwarber clubs his second home run of the game to right field in as many at-bats, giving the Cubs a 4-1 lead in the 4th inning (00:46)

MLB Gameday: https://t.co/07F2rSaQfg pic.twitter.com/YdQ2GsJ3Es

— Ballpark Videos (@BallparkVids) April 24, 2018
Soon afterward, Happ hit his third long ball of the year by taking Tomlin's last pitch of the game to left. Tomlin finished with seven hits and five runs to his name in 3.2 innings pitched. Tomlin fell to 0-3 this year and now sports a woeful 9.24 ERA.
#Cubs @ #Indians

Ian Happ goes the opposite way for a solo home run down the left-field line to stretch the Cubs' lead to 5-1 in the 4th inning (00:47)

MLB Gameday: https://t.co/07F2rSaQfg pic.twitter.com/V9xv8QG0xG

— Ballpark Videos (@BallparkVids) April 24, 2018
Despite the power-hitting showcase put on display by the Cubs serving as the dominant storyline of the contest, Cubs starter Tyler Chatwood's solid start was an important aspect of the matchup, too. Marking his first quality start in a Cubs uniform, Chatwood went six innings on the mound, fanning five and giving up just four hits and one run. His lone run given up came in the third inning on an RBI groundout from the Indians' Jason Kipnis that scored Bradley Zimmer, which proved to be one of the few instances of success experienced by the Tribe on Tuesday. Lowering his ERA to 3.74, Chatwood received the first win of his Chicago tenure, improving to 1-3 overall.
Indians reliever Zach McCallister, however, did not produce a winning performance. Giving up three runs on five hits in the seventh, McCallister placed the Tribe into an 8-1 hole. Following a pair of singles by Cubs right fielder Jason Heyward and Happ, spark plug Albert Almora, Jr., continued his recent exciting play with a perfectly executed bunt that caught McCallister by surprise.
With an errant throw on a futile attempt to out Almora, Jr., McCallister enabled Heyward to come around to score. Heyward went 2-4 on the evening and also produced a couple of excellent web gems, including a spectacular throw to out the Indians' Rajai Davis at home plate in the third inning.
Show off that arm baby! Jason Heyward! #Cubs pic.twitter.com/LzdkuRRXnF

— Aldo Soto (@AldoSoto21) April 24, 2018
Leading 6-1, the Cubs padded their lead following the bunt by Almora, Jr., on a groundout by second baseman Javier Baez that resulted in Happ touching home plate. The RBI grounder provided Baez with his National League-leading 24th RBI of the season. Baez also came up with two hits on the evening, extending his hitting streak to seven games.
Tommy La Stella, who started for Chicago in place of the injured Kris Bryant at third base, accrued an RBI in the seventh, as well, by way of a two-out single to center that ushered Almora, Jr., home.
The Indians added a run off of Cubs reliever Justin Wilson in the eighth, as Indians third baseman Jose Ramirez, who went 3-3 at the plate, doubled to lead off the inning and later scored on a sacrifice fly by Edwin Encarnacion. The Cubs added two more runs in the ensuing inning, though, for good measure.
Following a double from Baez, Cubs first baseman Anthony Rizzo collected his sixth RBI via a single to shallow left-center that scored Baez. Later in the frame, Rizzo himself scored on an RBI groundout from La Stella. Zimmer scored his second run of the night for the Tribe in the bottom of the ninth, but Cubs reliever Luke Farrell held his ground and secured the dominant 10-3 triumph for the North Siders.
In a contest that saw every Cubs starter accrue a hit as part of a 15-hit team effort, Chicago continued its impressive offensive streak since its stretch of weather cancellations last week. Improving 11-9 overall, while dropping Cleveland to 12-9, the Cubs won for the fourth time in their last five tries, moving to within a game and a half of first place in the National League Central.