| | |
| --- | --- |
| Schwarber hurt, Cubs roll to 3-0 start | |
---
| | | |
| --- | --- | --- |
| Friday, April 8, 2016, 1:13 AM | | |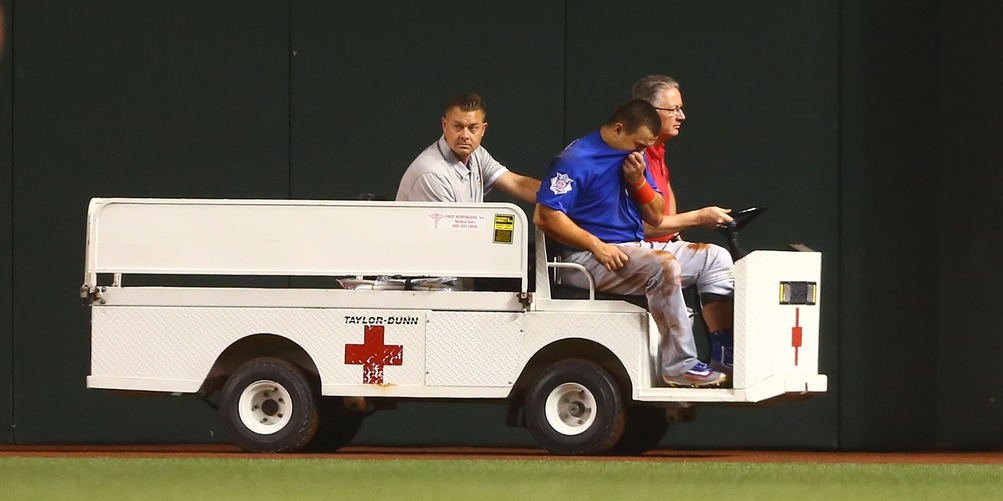 Kyle Schwarber.

Jean Segura scored an inside the park homerun when Schwarber and center fielder Dexter Fowler collided going after Segura's deep fly ball in left-center field in the second inning. Schwarber remained face down on the field in obvious pain and had to be carted off with a left leg injury. According to the Cubs medical staff, Schwarber has a sprained left ankle, and the initial x-rays were negative. He will have an MRI tomorrow to evaluate further the ankle, and the MRI will also include his left knee.

According to ESPN Stats, since Schwarber made his MLB debut, the Cubs have averaged 5.3 runs per game with him in the lineup, and 3.3 runs per game without him. Runs were not a problem for the Cubs on Thursday night.

The Cubs tagged Arizona starting pitcher De La Rosa (0-1) for six runs in the first three innings. However, Cubs pitcher John Lackey (1-0), making his first start for the Cubs, was equally shaky giving up six runs himself in the first three frames. Lackey was able to settle down and retire 11 of his final 13 batters to qualify for the win.

A five-run inning by the Cubs in the fourth gave the Cubs its first lead of the night and the winning margin. Cubs added a tenth run in the seventh with a perfectly executed squeeze play from Dexter Fowler. Anthony Rizzo added a three-run homer in the ninth.

Offensively, the Cubs were led by Rizzo, who was 3-4 with a triple, homer and 6 RBIs. Fowler stayed hot and had two more hits, two walks, and two RBIs. Kris Bryant recorded his first hit of the year with a double and was 3-6 on the night. Chicago hitters drew ten walks in the game.

The Cubs bullpen remained perfect on the season with three more shutout innings.

Chicago opened the season with three-straight road games wins for the first time since 1988. Chicago and Arizona will play game two of the four-game series on Friday at 8:10 PM EST.


        1   2   3   4   5   6   7   8   9       R   H   E


CHC     0   2   2   5   0   0   1   0   4       14  14  0


ARI     3   1   2   0   0   0   0   0   0       6   8   2