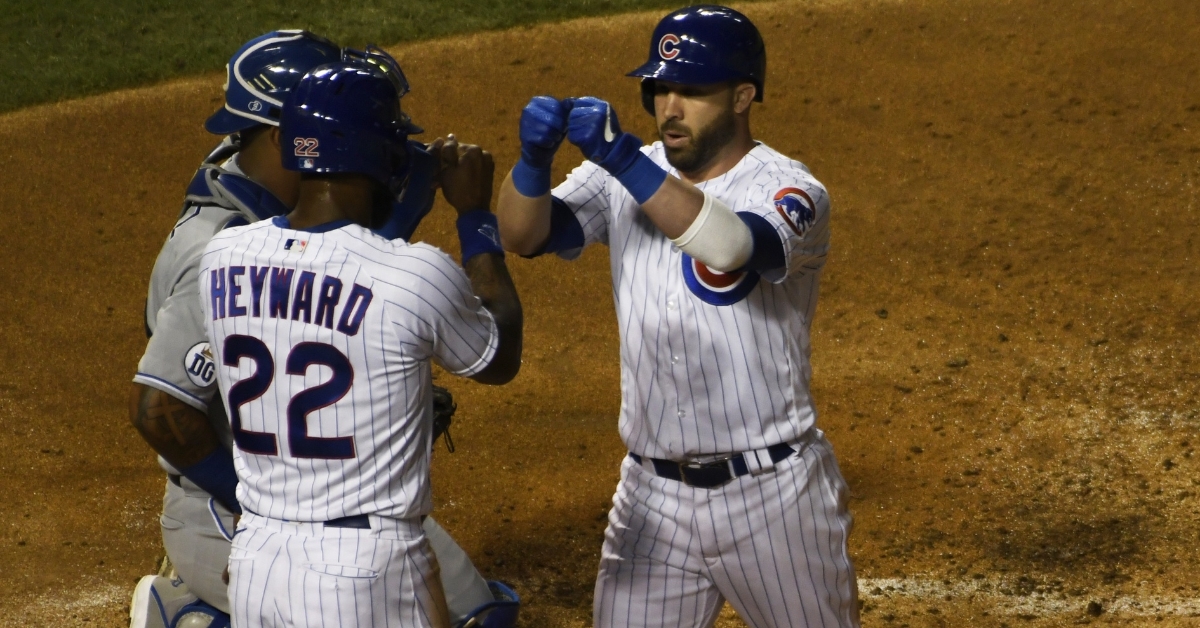 | | |
| --- | --- |
| Series Preview and Predictions: Cubs vs. Brewers at Wrigley Field | |
---
After coming away with a two-game sweep of Cleveland and a 3-1 mini road trip record, the Cubs (12-3) return home for a 10-game homestand starting with Milwaukee (7-9) today. This four-game with the Brewers will be the second series of the season between the two, but will also be the final time the Cubs see the Brewers at home.
These two teams locked up on the opening weekend in which the Cubs pitching handcuffed the Brewers in two of those three games to take the series 2-1. Since then, these teams have been trending in different directions with the Cubs sporting the best mark in the majors while the Brewers are struggling to reach .500. Chicago currently holds a 5.5 game lead over Cincinnati and Milwaukee heading into this series, but things can change quickly as the Brewers know how to beat the Cubs.
Thursday at 6:15 p.m. CT on Marquee Sports Network: Brett Anderson (0-1, 5.40 ERA) vs. Yu Darvish (2-1, 2.12 ERA)
One of the Brewers offseason acquisitions was adding veteran lefty Brett Anderson to the rotation. After missing his first start of the season with a blister issue, Anderson has not looked good since returning getting walloped in each of his two outings. Cubs fans should be familiar with his name as he was the No. 5 starter for them in 2017, before missing the final five months with back injuries.
Although the Cubs don't have much experience against him, the ones who have seen him have great success as all six hitters have seen him have a 286 average or higher. The Cubs would like that to continue today. Opposing him is Darvish, who continues his strong run with the Cubs. After dropping his first start of the season to this Brewers club, Darvish has bounced back with two great outings showing he can be both crafty and overpowering.
The key to his last two outings has been his ability to keep the ball in the yard. While the Brewers are struggling to hit the ball as a team, they have been hitting lots of home runs lately, which Darvish is prone to giving up. I'm sure Darvish would like a nice bounce-back performance from his last time out against Milwaukee.
Friday at 7:15 p.m. CT on Marquee Sports Network and MLB Network (out of market): Brandon Woodruff (1-1, 2.53 ERA) vs. Tyler Chatwood (2-1, 5.40 ERA)
Much like Darvish, Woodruff's only loss came to the Cubs during a 3-0 opening day shutout. Woodruff didn't pitch awful in that game, but had a hard time putting hitters away and saw his pitch count rise rapidly. That will be the key for the Cubs once again in this one as Woodruff is looking exactly like the ace Milwaukee expected him to be.
On the other hand, Chatwood is coming off his worst outing as a Cub and perhaps the worst of his career. He allowed 8 ER in just 2 1/3 inning last time out and saw his ERA rise from 0.72 to 5.40. The one encouraging sign from that start was the walk column as he didn't walk a single hitter in that outing. That continues to be the most significant change this season for Chatwood as his walk total is very low.
We have seen how good Chatwood can be primarily against the Brewers in his first start. I am hoping we get that version of Chatwood over what we saw last time out. Early on, we should get a good feel for Chatwood as the first inning dictates what he will be able to do. Even if guys like Christian Yelich, Keston Huira, and Justin Smoak continue to hit the ball well off him, Chatwood's ability to turn double plays can help eliminate the damage.
Saturday at 7:15 p.m. CT on Marquee Sports Network and MLB Network (out of market): Adrian Houser (1-1, 2.65 ERA) vs. Alec Mills (1-0, 1.38 ERA)
Much like Woodruff or even Corbin Burns for that matter, Houser is establishing himself as a pivotal piece to the Brewers long term pitching plans and has looked just as good as Woodruff in recent outings. He has also been blessed with past success against this Cubs lineup, so look for that to be a considerable factor.
Mills, on the other hand, will not only be making his first start in nine days but will be facing the Brewers for the first time in his career. Usually, I would love his chances against anyone given how he slows things down, but against this Milwaukee lineup, things could be dicey. Despite Brock Holt being the only Brewer with an at-bat against him, look for the Brewers to not only be patient but get some good swings off Mills.
Sunday at 1:20 p.m. CT on Marquee Sports Network and FSWI: Josh Lindblom (1-0, 5.68 ERA) vs. Jon Lester (2-0, 1.06 ERA)
Another offseason pitching acquisition, Lindblom was brought in on a multi-year deal in hopes of solidifying the back end of the Brewers rotation. After struggling in his past MLB tenures, Lindblom went to the KBO for a few years to figure things out and has now returned stateside.
Looking at his ERA, you wouldn't think too highly of it. However, much like Chatwood, Lindblom struggled in one of his outings but pitched well enough to win his other starts. Not known as a guy who will blow you away, the Cubs hitters need to be ready as they will see lots of strikes and off-speed stuff from this righty.
Pitching the series finale for the Cubs will be the bulldog, Jon Lester. Although his strikeout numbers haven't been great through three starts, he has been the team's most consistent arm this season, but the best starter in the rotation through three starts looking like an ace again. Lester appears to have reinvented himself as a pitcher as he now pitches to contact working the lower part of the strike zone and corners.
Pitching to contact tends to work sometimes, but against this Brewers lineup, you never know. They are an aggressive team at the plate and won't hesitate to swing the bat. Sometimes pitching to contact is a good thing because they are overly aggressive, but sometimes it doesn't work because they will make you pay for your mistakes. Lester pitched to a 3.79 ERA against Milwaukee last season, but his career has an ERA of 4.35 against the Brewers. Guys like Yelich, Ryan Braun, and Jedd Gyorko have all had success against him, so keeping their bats in check will be huge.
Predictions
Looking at the teams on paper, you would think this would be another series win in the Cubs favor. While that still could be the case, I don't think it will be easy as I look for the teams to play to a 2-2 split. In terms of starting pitching, you have to give the Cubs the advantage as they have been the best in overall starting pitching this season.
Offensively, things are about even as both teams are struggling to hit the ball overall as a team. The Cubs have shown the ability to put together big innings when needed in clutch situations. The problem the Cubs have had in recent seasons is handling high velocity and unfamiliar pitchers. That is precisely what the Brewers are throwing at the Cubs this weekend, which will be interesting to see how Chicago adapts.
Ultimately, I think three of these games could come down to the bullpen, and although better as of late, the Brewers have the edge there. I like the Cubs chances of getting to the middle relief, but if they trail in the eighth inning at any point, look for Josh Hader to come on for six out saves. If the Cubs can avoid him, you have to feel good about them winning another series.
X-Factors
This might be the only time I list two relief pitchers as an X factor, but both Rowan Wick and Jeremy Jeffress are ones. Craig Kimbrel struggles to get things done in the ninth, David Ross has had to adjust on the fly, and both Jeffress and Wick have been his stoppers. Jeffress was signed as a free agent and has gone seven scoreless innings without allowing a hit this season.
E-N-E-R-G-Y

Jeremy Jeffress' ERA in 7 games? 0.00 pic.twitter.com/Nsh5eS7Qy3

— Marquee Sports Network (@WatchMarquee) August 13, 2020
Wick emerged in the second half last season as a future arm in the Cubs pen and has proven to be trusted in high leverage situations again this season. Should the Cubs have the lead in a tight game late, look for these to get the ball over Kimbrel right now.