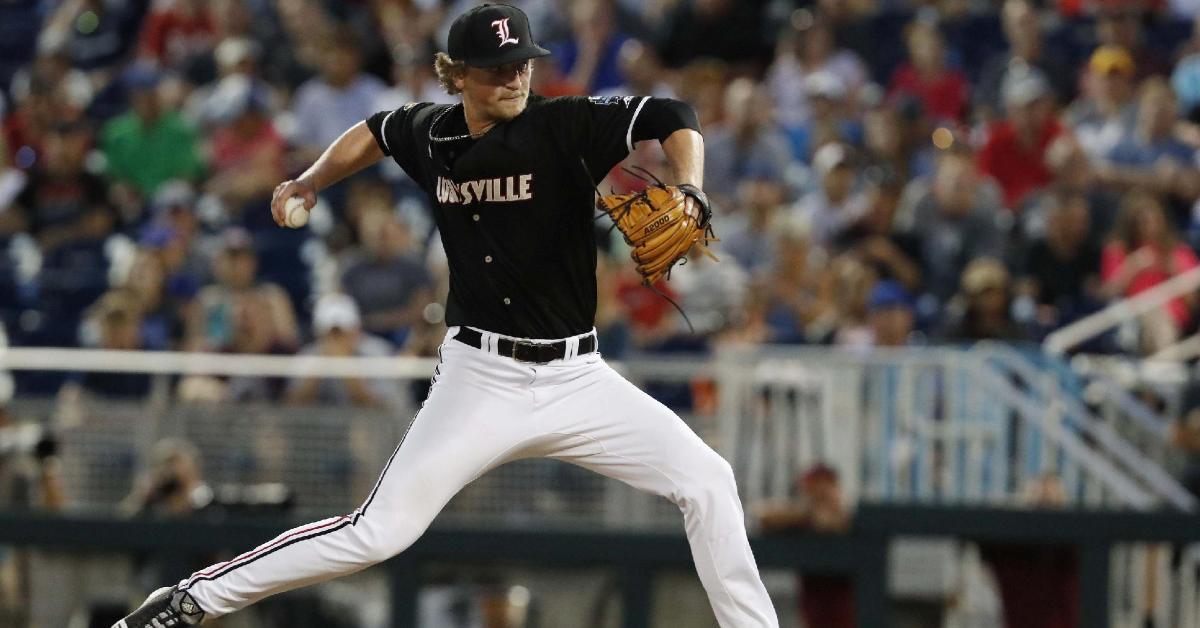 | | |
| --- | --- |
| Spotlight: Five impact draft picks for Cubs in 2019 | |
---
| | | |
| --- | --- | --- |
| Tuesday, July 9, 2019, 7:45 PM | | |
Every season in mid-June, all 30 MLB teams flock to studio 42 for the first-year amateur player draft. This is the time where organizations begin to rebuild and retool their team in hopes of a brighter future. For the Cubs, the draft has been a home run for the most part since 2011, as all their first-round picks from 2011-2016 made it to the MLB roster at one point since then.
With the draft now about three weeks past, and the college world series completed, the Cubs have begun to divvy out their picks to send them to their destinations for the rest of the 2019 season. With 40 picks in this year's draft, I would be writing a book if I would go into detail about all of them. I am sure somewhere along the lines I will cover them all, but for now here are some draft picks that I think will impact the Cubs franchise in the future.
1. Ryan Jansen RHP Fresno State: Right out of the gate lets start with the Cubs first pick in the draft in Ryan Jansen. Since the beginning of the 2016 draft, the Cubs have had one mission in mind, and that is to replenish their farm system with MLB caliber talent. It may be taking a little longer than they had hoped, but some of those arms are starting to make a name for themselves putting the franchise in position to succeed early.
In Jansen's case, he is nowhere near ready to contribute, the more I look at this pick and watch film on him, the more I like him. Jansen is an imposing pitcher on the mound whose fastball sits between 95-98 MPH with a lot of movement to it. What makes that even better, is that velocity hardly varied as he was still hitting 96 in the seventh and eighth inning of ball games in which he started.
With that kind of velocity, a top of the rotation spot is what the Cubs would look for from him you would think. Most scouts widely view Jansen to have the best fastball in college with an impressive slider to go with it. His command does need some work, but he has all the tools to be a front-line starter for many seasons.
The more I look at this pick, the more I think the Cubs got a steal on as some people thought he had the potential to not only be the first pitcher taken, but the first overall player taken. Jansen is not a physical specimen and is an extremely short pitcher, so had he been a bigger guy he would have gone higher. I expect him to begin his season in Arizona and move up to Eugene before seasons end where he can establish himself as a starter.
2. Michael McAvene RHP Louisville: The Cubs third pick in this year's draft is one that I have liked since the moment the pick was announced in Louisville closer Michael McAvene. That's right, I said closer. Many you may be wondering why the Cubs would draft a closer if they have Craig Kimbrel locked up long term. Well, the answer is simple. Kimbrel won't be there forever, and this allows the Cubs to bring McAvene up slowly to develop him into a dominating closer.
I didn't get a chance to watch him pitch much this season until the college world series, but once I did Louisville was must-watch TV for me. McAvene is best known for his ejection in the regional round. Thank God Louisville made it to the World Series otherwise that is how his career would have ended.
As a freshman, McAvene entered Louisville as a starter but had Tommy John surgery to end that season. He has been pitching out of the bullpen ever since, and that appears to be a game changer. Armed with a fastball that sits consistently at 95, McAvene has touched triple digits on numerous occasions relying on a full body delivery to generate velocity. Add in one of the nastiest breaking pitches in this year draft, (nearly 20 mph slower than his fastball) this is a guy that has lived off just two pitches for a while.
There have been rumors swirling that McAvene may go back into the starting rotation at some point, which the Cubs may try the older he gets. However, this also gives the Cubs flexibility to use him as a flame-throwing high leverage reliever that if all goes well could replace Kimbrel down the line. I see him pitching in Arizona this month before heading to Eugene and possibly a brief stint at South Bend also.
3. CHASE STUMPF 2B UCLA: One of the most significant holes on this year's Cubs team has been the play at second base. With Ian Happ not doing anything in AAA, the Cubs drafted Stumpf with their second pick in this year's draft in hopes he is the 2B of the future.
Stumpf became famous when he was drafted as he was standing in the on-deck circle the moment the Cubs took him. Immediately following that, Stumpf got to home plate and belted a colossal homer for the Bruins while everyone was trying to tell him he was drafted. Excited about being taken, Stumpf was more focused on the game at hand, which is exactly the player you want in this organization.
Stumpf was a first-round talent following a 363 12 HR sophomore campaign but fell to the second round this season after his junior year wasn't quite as good hitting 285 with nine homers. The best news Cubs fans may hear about this guy is that he sounds a lot like Nico Hoerner from last season but with more power. Stumpf uses all fields exceptionally well, rarely strikes out, has good bat to ball skills, and his glove is good enough where you can put him in the field and be confident in him.
I expect him to be on a similar projection of Hoerner just without as fast of promotion. That means expect to see him in Arizona much of the summer before getting sent somewhere higher to finish the season. Even if Stumpf doesn't pan out depending on what happens with Hoerner and Javy Baez in the future, he would be an outstanding trade asset for a team looking to unload decent players.
4. ETHAN HEARN C Mobile Christian HS (AL): After going pitcher heavy with four arms taking in the first five picks, Hearn was the Cubs sixth pick and second position player taking. Many views this pick as a steal as Hearn has been considered the top high school prospect in the draft and may have already come to terms with the Cubs.
Hearn projects to be a power hitting lefthanded bat which is something the Cubs lack minus Kyle Schwarber. He may never hit for a high average, but we have seen currently that average doesn't matter anymore if you can hit the ball deep. Like most high school catchers, Hearn is certainly raw behind the plate, but he does possess a strong arm and great tools.
Hearn's biggest attribute very easily could be his work ethic as he continues to earn high praises for that part of his game. That is especially important for a catcher everyday routine. The track record for drafting high school catchers may not be historically excellent, but the Cubs may have gotten a steal he as he has more upside than any other catcher in the draft.
5. Manny Collier. OF. Westwood HS (AZ): The final player I will focus on is outfielder Manny Collier from Westwood HS in Arizona. There isn't a whole lot I can say about him since I have not seen him play too much yet, but one thing stands out when you do get the chance. He is FAST!!!!
Collier is a terrific athlete with absolute blazing speed which we all know is something the Cubs have lacked since maybe the Juan Pierre days. A two-sport athlete in high school, Collier, recently committed to baseball over football which is why the Cubs may have shown interest in him with their pick.
Collier is going to be a significant project for the Cubs if they can sign him before he goes to college as his baseball skills are still incredibly raw. However, the plus side of all of this may be the potential he has if his skills are indeed unlocked as he has major potential to do things with both the bat and his legs.