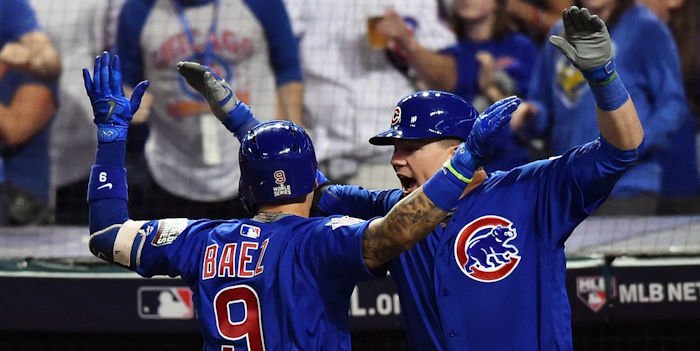 | | |
| --- | --- |
| Cubs News: THE CUBS ARE YOUR WORLD CHAMPIONS! What now? | |
---
CHICAGO -- THE CUBS ARE YOUR WORLD CHAMPIONS! Has a very nice ring to it, doesn't it? Wrigleyville is still packed with crazy faithful fans, the bars are still packed with even more crazed fans, and I don't believe the Chicago police have had time off since the beginning of October. But for this beautiful city, and this even better organization, it's all worth it. World Series gear has been flying off the shelves the minute Bryant converted that slow roller into the final out of this historic world series. The parade had five million diehard Chicago Cubs fans, and they may need to call in the national guard to help corral everyone home from the parade route from this weekend.
So the big question remains…what now? What do Cubs fans have to look forward to for the next five months, until spring training starts up again? Sure, there was the aforementioned parade, the talk shows the players will be on, and the water cooler fodder for the next week or two, but what about after the buzz dies down? To me, that's when the real fun begins – free agency!
Everyone has the great visions of grandeur of their team winning the sporting title – be it a Superbowl, World Series, the Stanley Cup, or the NBA title, and every free agent on the championship roster giving the big hometown discount to keep that dominating team together for years and years to come. Unfortunately, this is not the reality of sports, where our world comes crashing down around us when the big free agent ticket signs elsewhere, usually for more money due to your team either being strapped on other free agents of the past that got you there or just for the better of their career. Most fans hearts and dreams are crushed, gloom and doom sets in; there are others that see this as a "we don't need him to win" scenario. However it is viewed, it's reality, and that's when the front office executives' regular season begins. From the winter meetings to the full free agency period leading up to spring training, die hard fans are reading blogs and web pages daily (some even hourly) to see what the hub-bub is surrounding their team. And trust me when I say that I'm no different.
So let's review the players that are potential free agents for our world series champs, and who could be on the horizon for the team to replace them if they do indeed leave.
C – David Ross. Hopefully, "g-pa" will resign with the team. I know he announced he's retiring, but I am personally hoping Theo offers him a contract as the bench coach for Joe Maddon. The club house has full respect for this man, and he's been the catalyst and real positive lightning rod in 2016 when the team needed it most – not to mention taking the great Andrew Miller deep in game 7! He can still do great things as a coach with this team, such as working with Willson Contreras on his behind the plate skills. Dave Martinez is a great bench coach, and should wind up a managerial candidate for the 2017 season, so "Grandpa Rossy" would be a great (and logical) fit.
CP – Aroldis Chapman. Being one of the hero's for the 2016 world series champs (game 7 was not the greatest outing, but without him in game 5, there may not have been a game 7), Chapman will command a ton of money being one of the premier closers in the game, if not the best of the best. The problem is, would he be worth throwing a real good chunk of money at? Personally, I say no, as he's only good for one inning. During a regular season, that may be all that's needed; however, I have a different idea if the Cubs are going to throw money at a top notch closer who is also a free agent (see below). Also, his problems with inheriting runners on are scary – going into the playoffs for 2016, 38% of inherited base runners wound up crossing the plate when he pitched in relief. This also happened in the post season 2 times. Mind you, 1 of those instances was an almost impossible task unless you're Orlando Hernandez ala 2005 White Sox world series – bases loaded and no out. Chapman got the first two outs before giving up a two run single to Adrian Gonzalez. However, 103 on the radar gun is nothing to laugh at, and that icy stare when he looks in for the sign can strike fear in most hitters eyes.
CF – Dexter Fowler. TECHNICALLY, he's not a free agent, as his contract was for two years, with the player having the option on the second year. Dexter will be looking for a long-term contract, so I do not see the Cubs signing him for a 4 or more year deal. He was the true catalyst for the team in 2016, with the Cubs winning an astounding number of games when he scored runs for them, and his defense was above average in center field. But the Cubs have the center fielder of the future in waiting in Albert Almora Jr, who has shown great signs of flashing the leather in both the regular season and the post season. And even though it was a small sample size, he handled his own fairly well when Fowler was out with an injury in the middle of the 2016 season. Almora has the makings of a gold glove center fielder and looks like he can be a productive top of the order player, so I don't see Fowler picking up his option here, some other team will end up giving him the deal he wants, and rightfully deserves.
Now, with that said, here are my opinions on who can replace those we may wind up losing this year – and the reasoning behind it.
Let's address the first one, the closer role. If you look at the free agent to be a market, there are three big name closers – Chapman, Kenley Jansen, and Mark Melancon. All three of these guys listed will command big money – but for my money, the real steal would be Jansen. He's proven he can go more than one inning on a nightly basis, has electric stuff, a great fastball, and the moxie to shut teams down. That's what Joe would be looking for as a closer for this team for years to come. And he's only 29, and still in the prime of his career. He doesn't possess a 157 mph fastball (ok, 103, but who's counting?), but his stuff is just as nasty as anybody else in baseball.
At catcher, the Cubs losing Ross is no surprise. The question is, does Joe want to carry three catchers again this coming season? Montero is already accepting his backup role to Contreras, who looks to be able to take on the duty of catching five times a week if need be. Montero could be a solid bat off the bench as well; and if he's healthy enough, Schwarber could even catch one pitcher in the rotation if need be. But, for the sake of a fun free agency watch, let's see who could replace Ross behind the dish. The Cubs won't go after the big named guys like Lucroy or Ramos; they're looking to start every game possible; if the Cubs were to make a smart move, it could be for someone like Jason Castro or even Alex Avila from the White Sox. But again, we'll have to see how Joe feels about needing a third catcher; there may even be a spring training invite for a minor leaguer who can turn heads and make the ballclub.
What about trade options? The Cubs have the pieces to make moves that would make some scratch their heads, others fearing the moves they accomplish to make this team even more formidable. Theo and Jed played it smart for years to come by building around the core they have, and this team will be scary good for many years to come. Personally, I see Jorge Soler being moved in the off season, possibly with another player or two, for a big name starting pitcher to replace Jason Hammel in the rotation, or a couple of solid relievers to replace Mike Montgomery, as he will surely be the Cubs number 5 starter this year.
This has the makings of an exciting offseason of moves and signings. Probably not as big as last year's signings of Zobrist and Heyward, but trades could bring in some big pieces for the world champs. Stay tuned as more develops!

Upgrade Your Account
Unlock premium boards and exclusive features (e.g. ad-free) by upgrading your account today.
Upgrade Now