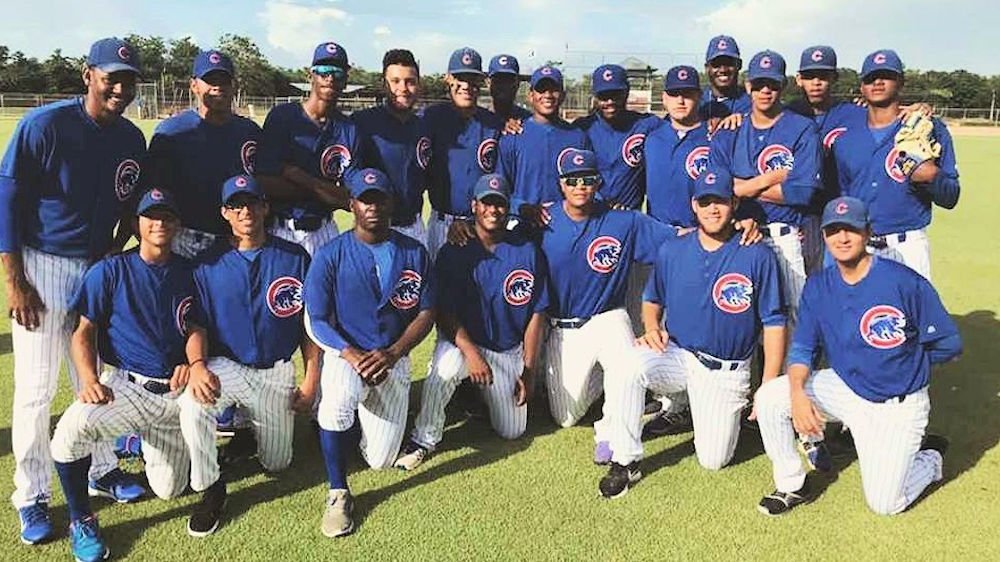 | | |
| --- | --- |
| The DSL: Where Cubs are born | |
---
| | | |
| --- | --- | --- |
| Tuesday, November 27, 2018, 9:08 AM | | |
Roy Campanella once said, "You have to have a lot of little boy in you to play baseball for a living." Farm team towns epitomize that for their fans in ways the major league cannot. Players are more accessible, the ballpark atmosphere is filled with fun, and it's affordable. The Cubs have nine of these man-child dream factories, and the truly gifted will one day be told theirs have come true; they are going to the show.
For a good reason, the construct of the entire minor league system is intricate. With millions of dollars at stake, teams leave no stone unturned in creating a path from relative obscurity to stardom. The use of the word 'pipeline' makes it sound simple, and if your only familiarity with the minor leagues is the movie Bull Durham, it is. There are a bunch of players not good enough – yet or ever – with a few major leaguers of the future thrown in for practice. Uhm, no. It's a lot more complicated than that.
As of this writing, there are a total of 268 players listed on the roster of all nine Cubs affiliates. However, two of those clubs, Cubs1 and Cubs2, are in the Dominican Summer League (DSL). These are essential prospect proving grounds in the Cubs' pipeline, and the league has launched the MLB careers of many a star. Willson Contreras, Starlin Castro, David Ortiz, Luis Castillo, and Jose Bautista to name but a few. It's been a great source of talent and shows no signs of letting up.
The DSL, formed in 1985 and is made up of 44 teams, all of them affiliated with a major league team. The Indians and Braves actually share one. They play 70+ games a year (during the summer, as you might have guessed), and each team is made up entirely of rookies from across Latin America. They range in age from 18 - 25 and sign for around $300,000 as a general rule. There used to be a Venezuelan Summer League, but it went belly-up in 2015.
Currently, the Cubs are keeping a close eye on several players that could eventually contribute in a big way. One other item of note is that the DSL has also been a source of trades to get ready-to-contribute-now players. Brandon Kintzler is but one example. Think of it this way: If the Arizona Fall League (AZL) is a showcase of upper-tier prospects, then the DSL is where many begin, often signed as young as 17 years old.
For now (with all names subject to change at the whim of a scout), players like Miguel Fabrizio catching over at Cubs2 typify what MLB teams look for in a developmental project. He's only 18 years old but boasts a .340 OBP. Fabrizio played five games for Cubs1, then was moved to Cubs2 where he played 37 games. He finished with a .277 BA but hit to .284 while on Cubs2. Fabrizio is a bona fide prospect with serious talent for his age. His SLG was .407 while there, with a .756 OPS. He isn't hitting HR after HR by any means, but his .340 OBP is solid. If I were to guess, I'd predict we'll hear more about him in 2019 as a hot prospect, and that the Cubs will move him up the MiLB ladder sooner rather than later.
Another name to remember is 19-year-old LHP Luis Angel Rodriguez, who led the entire DSL on Cubs1 with an eye-popping ERA of 0.73. He appeared in 18 games and finished with a 5-0 record. He also had 61 strikeouts over 61.1 innings pitched. This is the kind of prospect teams are thinking of when they offer contracts, and Rodriguez has earned the attention he is going to get in 2019.
Let's do one more. Keep your scouting eyes peeled for Pedro Martinez on Cubs2. He's an infielder who played second base in 2018. The lad can swing a bat. He boasted an OBP of .398, an SLG of .406, and a BA of .310 throughout 54 games. Out of 197 at-bats, he struck out a paltry 26 times. Total. Think about those numbers, then let it sink in that he's only 17 years old. Again, this is the kind of prospect teams dream about having on their roster one day.
We'll dive deeper into the DSL as the offseason wears on. I won't try for a minute to convince you I'm an expert on the minor leagues, but I'm enjoying the learning curve. A writing teacher I had once said that if you want to learn about a new subject, write about it. She was spot-on. We will be taking this step-by-step, team by team. We will also break down the entire MLB/MiLB transaction system so that it won't read like a calculus equation written in hieroglyphics. I hope.