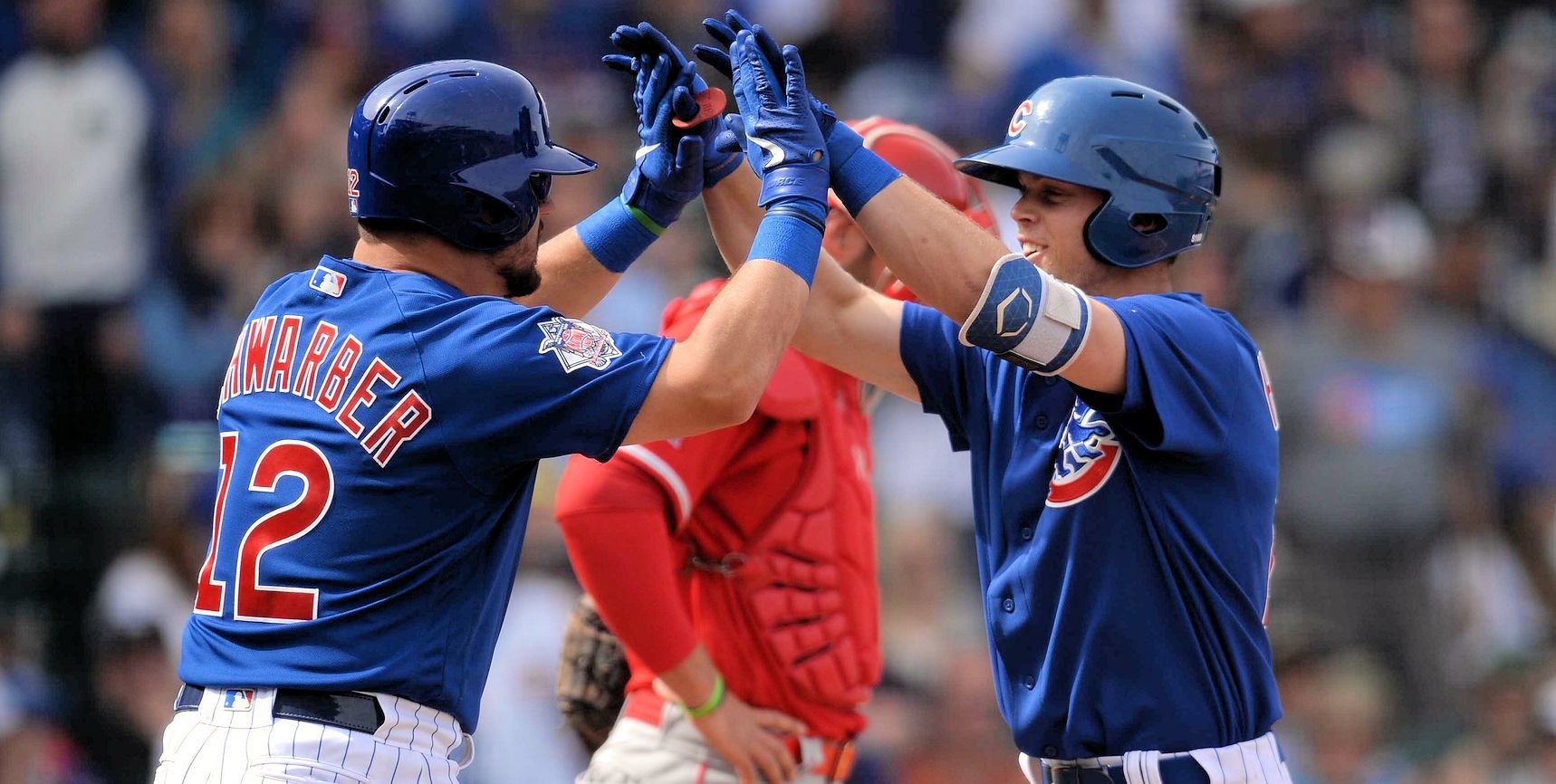 | | |
| --- | --- |
| The Future is now: Nico Hoerner gets the call | |
---
| | | |
| --- | --- | --- |
| Monday, September 9, 2019, 2:14 PM | | |
How many times during Theo's regime have we heard the phrase "the future is now?" Well, it appears Monday night that we may indeed be hearing that phrase yet again as the Cubs have chosen to promote their top overall prospect and No. 1 selection of the 2018 MLB draft Nico Hoerner to the bigs. With the Cubs current shortstop situation in serious trouble with both Javier Baez and Addison Russell down with injuries, the Cubs now would be the best opportunity to get Hoerner some big-league action as this could be considered an audition for next year.
Ranked No. 1 in the Cubs system and No.47 overall by MLB pipeline, Hoerner has been primarily a shortstop since being drafted out of Stanford but has seen plenty of moving around the diamond this season especially with Tennessee during the second half of the year where he found himself playing at second base and center field. Don't expect him to play anywhere but shortstop with the Cubs the rest of the way as this move was made for one reason. To have a legitimate shortstop down the stretch while Russell and Baez mend their injuries.
Although we don't know the severity of the Russell hit-by-pitch situation, you can bet the Cubs will alter with caution considering how it was a pitch to the head. That fully allows the Cubs a chance to deploy Hoerner as they can use him as an insurance policy for the rest of this year before figuring out his plans for 2020. Hoerner will become the first draft pick from the 2018 class to make it to the Major Leagues.
Known for his approach at the plate and his reputation of being a solid contact hitter, Hoerner has struggled to stay healthy playing in just 89 minor league games the past two seasons. However, during those games, Hoerner has shown his potential as the 22-year–old has posted a solid slash line of .297/.365/.427 with five home runs and 28 RBI's to go with 14 stolen bases. His 31 walks to 36 strikeout ratio fully demonstrate his contact ability at the plate as he very often puts the ball in play.
After playing just 14 games in an injury-riddled first season, Hoerner performed well enough during spring training to earn a spot for Double-A Tennessee this season. After coming out of the gates strong hitting above .300, the injury bug hit Hoerner once again as he was out from late April through mid-June dealing with a hairline fracture in his wrist after getting hit by a pitch. Once he returned from the DL, Hoerner certainly struggled at the plate as he hit just .229/.267/.349 in 116 July plate appearances before turning it on once the calendar flipped to August closing the season out on a .321/.378/.376 clip in his final 119 plate appearances.
For the season at Tennessee, Hoerner batted a solid .284 with three homers and 22 RBI's to go with 21 walks and 31 strikeouts. Those numbers include his red-hot August into September in which he batted .333 for August overall before cooling off the teams final two games in September. With Hoerner's exceptional ability to make contact which leads to great at-bats and expect quality defense from the shortstop position. Home run power is not there yet, but he does get on base a ton.
As much as I like this move, I do have a couple of concerns regarding the decision. My first concern would have to be is this too soon. Not only has he failed to reach AAA, but he hasn't even played in 100 career minor league games or a full minor league season. I have seen many situations where a player has been called up too soon, and they fail to produce at the level expected of them. Ian Happ comes to mind in 2017 where I think the Cubs may have rushed him to the league a little too fast only to have his confidence crumble in 2018. I hope that is not the case with Nico because his approach could be the leadoff option the Cubs need moving forward.
My second concern is the layoff he has had since the Tennessee season concluded. With the Smokies having the farm systems worst overall record, their last game was a week ago before players went home on Tuesday. Since the season has ended what has Hoerner done in terms of staying in game shape? Has he gone to Arizona to take extra swings? I have no idea, but we can all hope that he doesn't have too much rust from being out of baseball action for a week.
The final concern I have is what does this mean for the future of the franchise. We can all safely bet that Baez will be a permanent fixture with this team next season. However, will Baez still be at shortstop, or will he move back to second depending on what Hoerner does these final three weeks? What does this mean for Russell moving forward? Will he be traded away this offseason or will he be giving a chance to not only win the 2B in 2020 but potentially take over SS yet again and move Javy back to 2B.
That then brings the question as to what the Cubs plans with Hoerner are beyond this season. Do they see his as the future shortstop of this team or more of a second baseman going forward? Does Epstein consider this an audition for the 2020 opening day roster or is he merely trying to get him more at-bats given that he missed nearly 70 games again this season?
My biggest fear with this promotion, however, has nothing to do with calling him up to early but instead are they showcasing him for next year. What that means is, has the front office already decided the future of this team and what direction to take beyond this season. I am beginning to wonder if Nico is in their plans beyond 2019 and if this three-week stay is more about showcasing his talents to see if they can acquire a nice trade partner for him.
Ideally, I think Russell is the best and more likely trade option for next season should some deals be made but would a team take on Russell given the problems he endured the past two seasons. Not only is Nico a younger and cheaper option but he comes without the suspension baggage of Russell.
I don't see that happening, however, as I feel the front office decided a long time ago that Hoerner is now one of their three untouchable prospects with Miguel Amaya and Brailyn Marquez in that mix as well. With the first wave of prospects delivering the Cubs a 2016 World Series title, it is time that this second wave starts to come up with hopes of continuing a winning culture and hopefully adding more banners to follow in the future.
Your new Chicago Cubs shortstop.

NICO pic.twitter.com/9G3mxmyOex

— Greg Huss (@OutOfTheVines) September 9, 2019