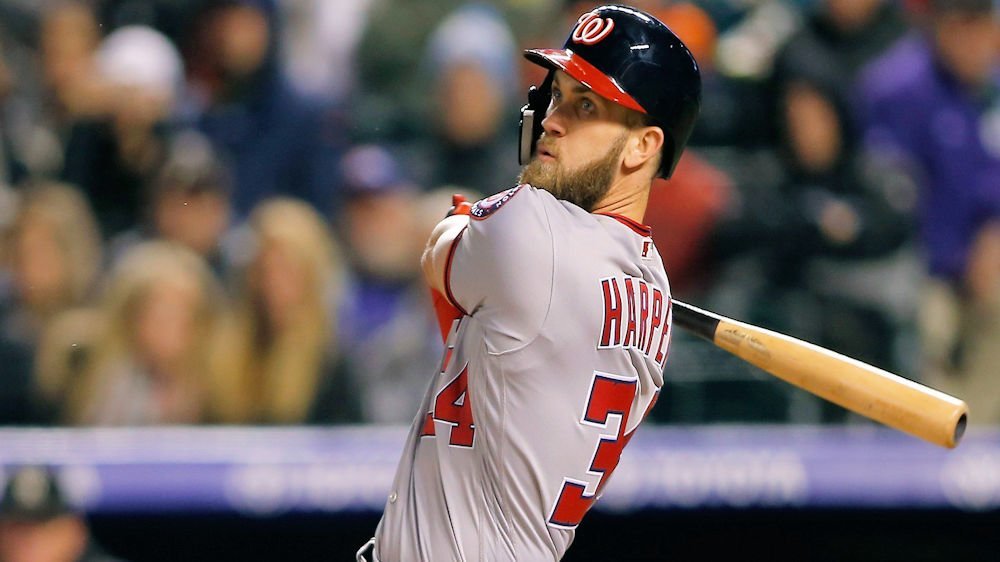 | | |
| --- | --- |
| The Harper/Machado Sweepstakes: Why the Cubs Should Pass | |
---
| | | |
| --- | --- | --- |
| Friday, November 2, 2018, 6:00 PM | | |
Since the 2017 season, speculation that the Cubs were the favorites to land Bryce Harper in free agency this year has been rampant. Cute videos have been posted, Nat's organist played "Go Cubs Go" during one of his at-bats, and photos galore of he and Bryant are easier to find than the Cubs logo online. As for Manny Machado, those got started a bit later, but when Addison Russell was suspended, Machado's name hit the rumor wires everywhere.
Scott Boras, Harper's agent, made the cryptic tease that Harper had already decided on a team for 2019, but that he'd let his client announce it. Cubs fans were all over it, even though if that was true, only the Nationals could be the winner; other teams weren't allowed to talk to him yet. Meanwhile, Machado was doing all he could to cement his reputation as a bad boy for the Dodgers in the WS, sliding into a lot of "dirty player" accusations. He also didn't exactly light up the diamond in the 5-game series, so there's that too.
Harper has good games and bad, but mostly good. He's inarguably a good, if not a semi-great hitter, and his defense is – well – serviceable. Machado is a better than average shortstop with a reliable bat. So why not print some more money and just buy them both? $350 million over ten years sounds reasonable to teams that have laundry baskets of cash stacked everywhere. Heck, Machado is only asking for $300 million, but after his WS failure to impress, that might be a little (or a lot) high.
So, $650 million for two players that according to some would make the Cubs nearly invincible for years to come. Forget the possibility of injury or God forbid some off-field issue that might sideline them. Buy now, pay later! Supplies are limited, get them while they last! Going…going…
The Cubs should – and I believe will – pass on them both. They are not the answer to the Cubs quest to become a dynasty, and adding them to the roster is too expensive in a lot more ways than one. For half of what they are asking, the Cubs can acquire several players that can contribute well for the long haul. I'd list a few names here, but I'm not recommending any specific players. They are everywhere to be found; they just don't have the clickable marquee names of Harper and Machado.
The Cubs have wisely emphasized finding players that fit in well with the rest of the team and aren't a distraction in the clubhouse. Yes, I'm well aware of the short-lived Daniel Murphy "controversy" (if it even rises to that level) and the Russell disaster is one that leaves the club with some hard choices shortly. To trade or not to trade, as it were.
The fact is, they are good enough now as a team that we don't need Machado or Harper. The Cubs need to upgrade the offense, but not at the expense of everything else. They need a little help defensively, and need another rousing bullpen addition or two (keep Chavez, we only need one more), and another solid starting pitcher would be a nice pre-Christmas gift.
Machado, with his attitude wouldn't exactly be the kind of Cub Epstein has said over and over again he is looking for. Harper? He's just flat-out too expensive to acquire. His signing would take a lot of options off the table, and folks, he's not worth that kind of sacrifice. Maybe if they were in rebuild mode and had endless room on the roster with cash to spare. Like, well, the Phillies. Or the Cardinals. Or how about those Nationals? Anywhere but Wrigley. Machado likewise. They don't need him either, and if asked privately, I'd bet most Cubs players would agree.
The race is on. By tomorrow evening, the Cubs will have made even more roster moves. I am as excited as anyone to see what those are, but I'd bet the farm they wisely avoid the most expensive free agents on the market and go value-added. It's the smart thing to do, and Epstein is nobody's fool.