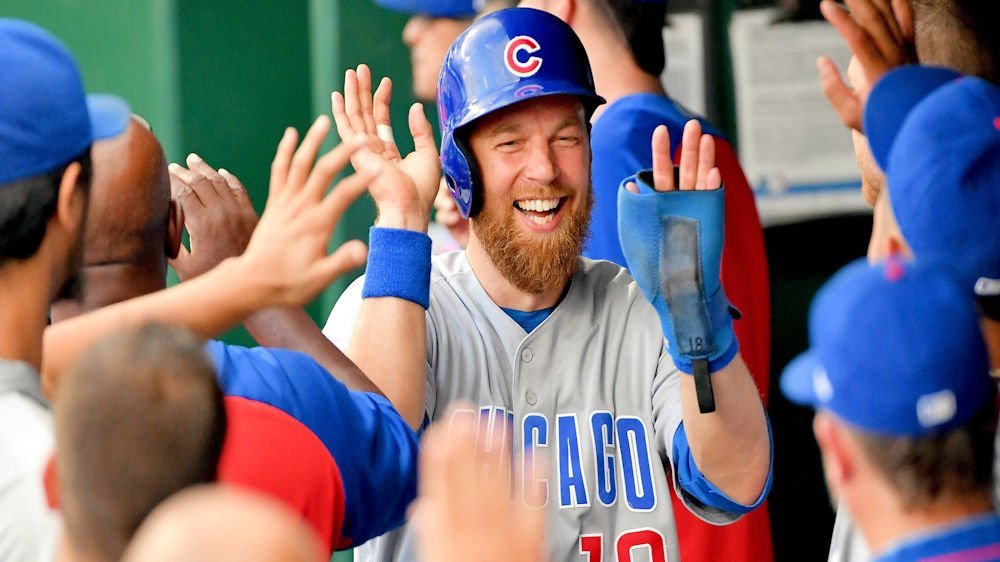 | | |
| --- | --- |
| Cubs News: The Hot Corner: Ben Zo misses camp, Ross reunited with Rizzo, RIP Harry Caray, more | |
---
| | | |
| --- | --- | --- |
| Monday, February 18, 2019, 6:02 PM | | |
Cubs' news and notes
Cubs' Opening Day: 38 days. (March 28 vs. Rangers)
First Spring Training game: 5 Days. (Saturday, February 23, Brewers vs. Cubs at Sloan Park)
Ian Happ: The positionally challenged utility man is speaking up to management about his desire to play second base in Chicago. Happ says this is his favorite position and wants to vie for a spot in spring training. There's nothing wrong with depth, but it would appear that Happ has a long wait through line with Baez, Descalso, Zobrist, and perhaps even Bote in front of him.
Kris Bryant: ESPN's rankings continue to have Cubs' players in the top-10, and now they have ranked KB as the fourth best third-baseman in the major leagues. Javier Baez was recently ranked third among second-basemen, and Baez can also now boast a top-10 ranking for shortstops.
Ben Zobrist: As of now, Ben Zobrist is still not in Mesa. The team gave him an extension so that he could tend to a personal matter. There is no timeline for his return at this point.
In remembrance: On this day in 1998, legendary Cubs' announcer, Harry Caray passed away at age 85. Caray spent a total of 15 seasons (1982-1997) in the WGN booth, and before that he was with the White Sox from 1971-1981. In addition to winning the Frick Broadcasting award in 1988, Caray is also credited with the Cubs' current seventh-inning stretch ritual of singing, "Take Me Out to the Ballgame."
Today we remember @cubs broadcasting legend and 1989 Ford Frick Award winner Harry Caray, who passed away on this day in 1998. Caray left an indelible mark on baseball in his 50+ year career. https://t.co/mdSeUgPYnR pic.twitter.com/TkNmhqxr0O

— Baseball Hall ? (@baseballhall) February 18, 2019
Anthony Rizzo: When asked how he felt about PECOTA's prediction that the Cubs would finish last in their division, Anthony Rizzo replied, "Yeah, and Bryce Harper is coming to the Cubs."
Davis Ross: Nothing wrong with getting a little extra help, and joining the Cubs in Mesa is former Cubs' veteran catcher, Davis Ross.
ALERT: Grandpa Rossy sighting at #Cubs camp #EverybodyIn pic.twitter.com/vTJH0HOEGx

— CubsHQ (@ChicagoCubsHQ) February 18, 2019
Yes, I could use this, please and thanks. It's Rizzo grabbing Grandpa Rossy for a big sweaty hug.

(via Cubs IG, grabbed by @Cubs_Live) pic.twitter.com/eaUiPNxYox

— Bleacher Nation (@BleacherNation) February 18, 2019
So Rizz, what did you do at work today? pic.twitter.com/GJ3x8D5GEG

— Chicago Cubs (@Cubs) February 18, 2019
Other news and rumors from around the league
Pitch clock: According to baseball commissioner, Rob Manfred, spring training games will be using a pitch clock to prepare for the regular season. According to Jeff Passan (ESPN), "Manfred said he is not committing to a pitch clock in the regular season at this point, but he can unilaterally implement it. He said he wants to come to an agreement with the players. Using it in spring training does not necessarily mean MLB will do so in the regular season."
Harper: According to NBCS Cubs, the Phillies are reportedly willing to meet Bryce Harper's price demands and offer him more than the ten-year, $300M that the Nationals did.
Giants: Manager, Bruce Bochy has announced that he will retire at the end of the 2019 season. Bochy is the longest-tenured manager in the majors (now entering his 13th season) and has overseen the Giants to three World Series Championships (2010, 2012, 2014).