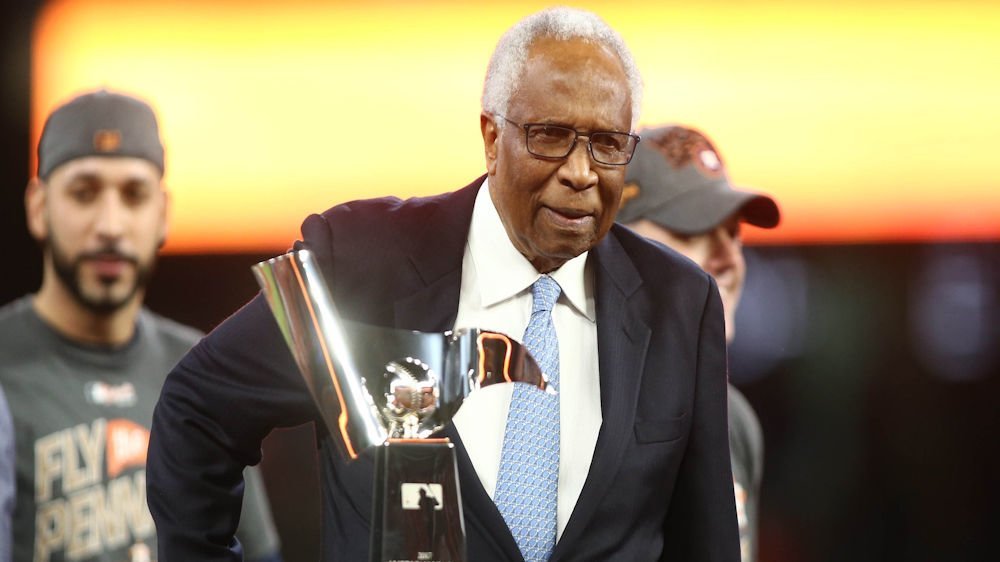 | | |
| --- | --- |
| The Hot Corner: Cubs farm system, RIP Frank Robinson, Hot Stove, and more | |
---
Cubs' news and notes
Cubs' Opening Day: 49 days. (March 28 vs. Rangers)
Pitchers/Catchers Report: 6 Days.
First Spring Training game: 16 Days. (Saturday, February 23, Brewers vs. Cubs at Sloan Park)
Cubs farm system: ESPN has released its rankings for the thirty teams in MLB and the Cubs did not do well. Ranked at 29th, the Cubs' farm system was only deemed better than the Orioles.
Latest news and rumors from around the league
Rest in Peace: Baseball legend, Frank Robinson, has passed away at age 84. Robinson was part of the Orioles' Championship teams of 1966 and 1970, and he currently holds the 10th spot for all-time home runs. Robinson was elected to the Baseball Hall of Fame in 1982.
RIP to the Legend Frank Robinson at age 83. MLB's 1st Black Manager. As a player he hit .294 w/ 586 HR's, 2,943 hits! 14x All Star, 2 ??'s, NL & AL MVP, #20 retired by Reds, Orioles & Indians! #HallOfFamer #LegendsNeverDie #RE2PECT #FrankRobinson pic.twitter.com/OpilB2IpGo

— RE2PECT (@RE2PECT2JETER) February 7, 2019
Statement from Brooks Robinson on the passing of Frank Robinson. #orioles pic.twitter.com/cCEa0bt9O4

— Joe Trezza (@JoeTrezz) February 7, 2019
Frank Robinson and I were more than baseball buddies. We were friends.Frank was a hard nosed baseball player who did things on the field that people said could never be done.I'm so glad I had the chance to know him all of those years. Baseball will miss a tremendous human being.

— Hank Aaron (@HenryLouisAaron) February 7, 2019
How big a force was the late, great Frank Robinson?

He led the National League in slugging 3 years in a row (1960-61-62)!! And did it at a time when Mays, Aaron, Banks, McCovey, Cepeda, Mathews, Frank Howard, Clemente and Musial were all in that league. Wow.

— Jayson Stark (@jaysonst) February 7, 2019
Jeff Passan on free-agency: In an article this morning, ESPN's Jeff Passan shared his views on free-agency and just what this off-season has done to baseball. Here is an excerpt:
"On this, the 97th day of free agency, four days before the first pitchers and catchers report to spring training, less than six weeks ahead of Major League Baseball opening its regular season, the two best free agents in more than a decade remain unemployed. This is not a black eye for baseball. It is a ruptured spleen, a punctured lung and a lacerated kidney.
"What a failure, this off-season. No matter how much Bryce Harper and Manny Machado ultimately sign for, no matter where they end up, this is now more than three months of posturing and feinting, star-shooting and lowballing. This winter was supposed to be all fireworks. Instead, it is a sparkler.
"Nobody is happy with this. Fans are rightfully tired of waiting and guessing. Intrigue has evolved into annoyance. Players are clearly dubious about the market -- and the league's intentions. MLB is understandably embarrassed that two of its best players are preparing for an unfortunate uniform swap --
baseball jersey and pants for pajamas -- as they entertain the possibility of missing the beginning of spring training."
Indians: Cleveland has signed minor league deals with infielder, Ryan Flaherty and catcher, Dioner Navarro. Both deals include invites to spring training.
Mariners: An MLB investigation into alleged racial discrimination by the Mariners has yielded no credible evidence to support the allegations made by former High-Performance Coach, Dr. Lorena Martin. Martin had argued that GM Jerry Dipoto and manager (former Cub) Scott Servais had referred to Latino players as "lazy, dumb and stupid," and had fired Dominican trainers "based on their color and race."
Mets: NY has signed catcher, Devin Mesoraco to a minor league deal which will include an invite to spring training.
Orioles: Baltimore has signed RHP Nate Karns to a one-year, $800k deal with another $200k available in incentives.
Phillies: The Phillies have struck a deal with the Marlins for All-Star catcher, JT Realmuto. In return, Miami will receive pitching prospects, Sixto Sanchez and Will Stewart as well as catcher, Jorge Alfaro. There will also be an international bonus spot included in the deal. In addition to receiving a quality catcher, it is believed that the Phillies are using Realmuto to help entice Bryce Harper to sign with them.
Pirates: Pittsburgh has signed righty, Tom Koehler, to a minor league deal.
Twins: Minnesota has signed left-handers, Tim Collins, and Justin Nicolino, to minor league deals.