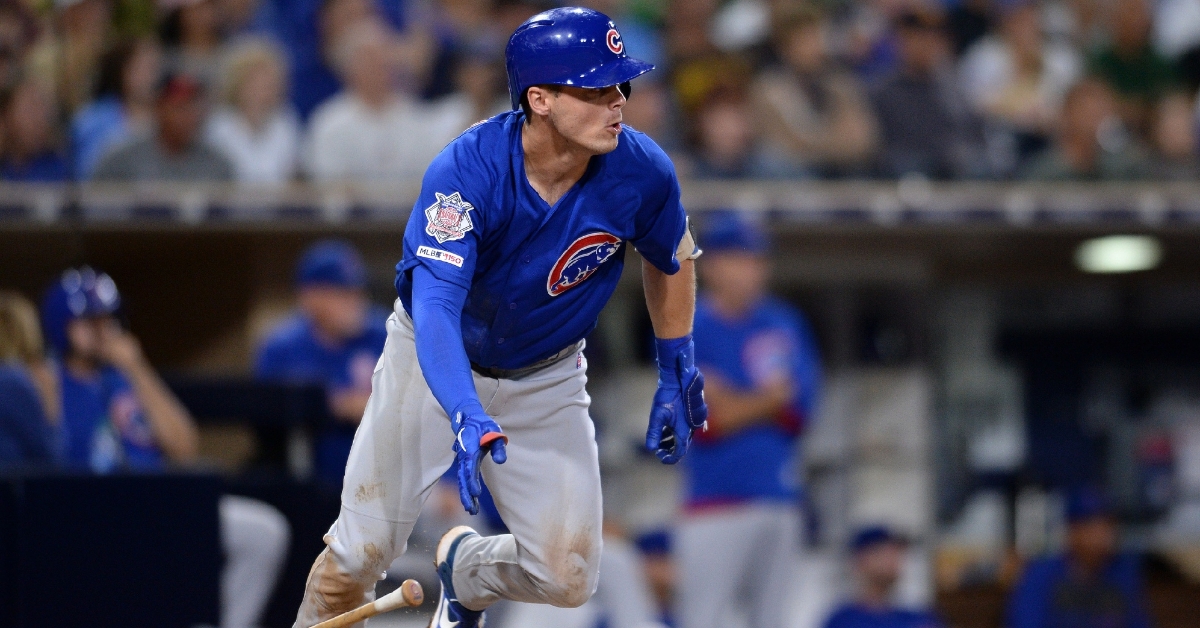 | | |
| --- | --- |
| The Nico Show: Nico Hoerner leads Cubs, lights up Padres in MLB debut | |
---
| | | |
| --- | --- | --- |
| Tuesday, September 10, 2019, 2:32 AM | | |
SAN DIEGO — For any aspiring Major League Baseball player, the thought of having one's name chanted in a big-league debut is what dreams are made of, and that dream became a reality for Chicago Cubs (77-66) shortstop Nico Hoerner on Monday. After getting called up from Double-A ball earlier in the day, Hoerner started at shortstop and batted sixth in his first career major-league appearance, and he showed out at Petco Park. The Cubs defeated the San Diego Padres (66-77) 10-2 in the series opener of a 4-game set, and Hoerner led the way.
With the Cubs suffering from a variety of injuries on their infield, Hoerner, who was expecting to next take the field in the Arizona Fall League before he was promoted to the North Siders, was given an opportunity to play in the majors for the first time. Arguably the top prospect in the Cubs' farm system, Hoerner exemplified why he is considered to be so valuable to the Cubs organization by becoming the first Cub since 1951 to accrue three hits and four RBI in an MLB debut.
In addition to performing well at the dish, Hoerner pulled off several great defensive plays in the field. Hoerner, a California native, had the opportunity to play in front of several family members who made the trip to San Diego, and he made them proud by going 3-for-5 and leading all batters in RBI. Cubs right fielder Nicholas Castellanos also left his mark in the lopsided win by going 3-for-5 and opening the scoring with a 428-foot 2-run home run in the first frame.
We were told Nicholas Castellanos hits a lot of doubles.#EverybodyIn pic.twitter.com/xuWQCs9Czt

— Chicago Cubs (@Cubs) September 10, 2019
Hoerner led off the second inning and picked up his first career hit with a bloop single to shallow right field. The souvenir baseball was tossed into the Cubs' dugout for Hoerner to have, and Cubs catcher Jonathan Lucroy hilariously threw a decoy ball into the stands in an attempt at making Hoerner think that he had discarded his keepsake. The top of the fourth saw Hoerner score his first run as a major leaguer after he initially reached base on a fielder's choice. Hoerner made it to third base on a single and proceeded to scurry home when a wild pitch was thrown.
First @MLB hit for @nico_hoerner!#EverybodyIn pic.twitter.com/YXQg2q8XL1

— Chicago Cubs (@Cubs) September 10, 2019
A throwing error committed by Cubs second baseman Ben Zobrist in the bottom of the fourth culminated in the Padres scoring their only two runs of the night. Zobrist misfired on a throw to second base, thus squandering a potential double play, and a run came home to score when the ball carried into left field. An ensuing sacrifice fly ushered another baserunner across the plate, cutting the Cubs' lead down to one. Cubs pitcher Kyle Hendricks still managed to produce a solid start on the mound in his 5 2/3 innings of work.
Cubs broadcast calls Ben Zobrist's throwing error that gets the Padres on the board pic.twitter.com/aqcm4NqrRz

— VHS (@VanHicklestein) September 10, 2019
Padres starting hurler Cal Quantrill was not so fortunate, as he was racked for eight runs on 10 hits and two walks in 4 1/3 innings pitched. Interestingly, Quantrill played with Hoerner in college, when they were both members of the Stanford Cardinal, and Hoerner definitely had the upper hand over his collegiate teammate on the evening. Cubs left fielder Kyle Schwarber led off the top of the fifth with an opposite-field solo blast. Soon afterward, Hoerner tabbed his first career extra-base hit with a 2-run triple that was smacked into the left-field corner.
Home run No. 35 this season for @kschwarb12!#EverybodyIn pic.twitter.com/LKBPfXO8K8

— Chicago Cubs (@Cubs) September 10, 2019
Nico. Gets. Knocks.#EverybodyIn @nico_hoerner pic.twitter.com/ydWCQkgr35

— Chicago Cubs (@Cubs) September 10, 2019
Right fielder Jason Heyward added to the Cubs' lead by scoring Hoerner on an RBI single, thereby chasing Quantrill from the game. Capping off the 5-run barrage for the Cubs in the fifth inning was a perfectly executed suicide squeeze. Earlier in the contest, Hendricks failed to advance Heyward to third base with a bunt that resulted in Heyward being thrown out. However, in the top of the fifth, Hendricks laid down an excellent bunt that scored Heyward, who bolted for home before Hendricks even made contact with the pitch, and put the Cubs up 8-2.
For good measure, Hoerner provided the Cubs with a double-digit run total by coming through with his second 2-run hit of the matchup in the top of the sixth. A 2-out single to center field, the base knock resulted in Cubs fans in attendance repeatedly chanting Hoerner's first name out of appreciation for the historic debut. The Cubs recorded a 10-2 victory to kick off their final West Coast series of the season, and, in the process, a star was born, with Hoerner living up to the hype and then some.
9/9/19 #TheNicoHoernerGame #MadonnaNeverHadAThreeHitGame@Cubs #GoCubsGo @nico_hoerner pic.twitter.com/gRfnJXmKey

— Billy Krumb (@ClubhouseCancer) September 10, 2019
Chicago Cubs at San Diego Padres
Sep 9, 2019
1
2
3
4
5
6
7
8
9
R
H
E
Chicago (77-66)
2
0
0
1
5
2
0
0
0
10
15
2
San Diego (66-77)
0
0
0
2
0
0
0
0
0
2
9
1
W: Kyle Hendricks (10-9) L: Cal Quantrill (6-7)