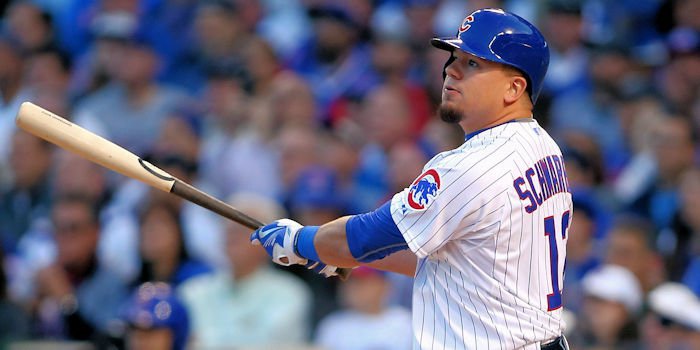 | | |
| --- | --- |
| Cubs News: The Schwarber leadoff experiment | |
---
CHICAGO -- Chicago Cubs left fielder Kyle Schwarber has a mighty task at hand for the 2017 season: be the leadoff hitter and take the heavy load in left field this year (after missing almost all of the 2016 season). The exciting thing for fans is that he got himself off to a hot start in the first season series against the Cardinals. He hit .300, with three hits, a home run, three RBI's, and three walks. This added up to an on- base percentage of .500 (a stat that is crucial in leadoff hitters).
Say hello to my LITTLE FRIEND. pic.twitter.com/FinXciykBY

— Chicago Cubs (@Cubs) April 6, 2017
In the Cubs' second season series against Milwaukee, Schwarber's numbers went down a fraction, despite crushing a 424-foot homer to deep center in game three. He punched out a .207 batting average, including three hits, a home run, and zero walks. This performance lowered his early season on-base percentage to a pedestrian .333.
Kyle Schwarber home run! #ThatsCub pic.twitter.com/XT5K41gwo3

— Kevin Marchina (@kg_holler) April 9, 2017
Schwarber was drafted with the fourth overall pick of the 2014 draft by the Cubs. Before this season, Schwarber had only 74 regular season games played under his belt. In his small amount of experience, he has put out a batting average of .240, .356 OBP, 47 RBI's and 18 homers.
It is extremely rare for someone of his size (6'0'' 235 lbs, or in other words, an absolute tank) to be a leadoff hitter for any major league team. There may be some genius behind throwing him at the number one spot in the order because Schwarber is an ideal matchup against right-handed pitchers. OBP should not be a problem for him, either. When he played in those instances during two minor league seasons, he had an OBP of .429. The power-hitting youngster isn't your typical leadoff hitter, but after the 2016 season, how could you not trust the decisions of manager Joe Maddon?
To fill the void of losing Dexter Fowler as the Cubs' leadoff hitter, Maddon wanted someone who could hit well and could get on base often. Schwarber, despite not having great speed, fits this mold pretty well. He has proven that he has exceptional plate discipline, especially at the beginning of this season. Also, with Schwarber already having 2 HR's on the year in the first six games, that's on pace to hit 54 long balls on the year. In no way am I saying is inevitable to happen, but that is a pretty attractive statistic, isn't it?
An interesting side note is that on the one year anniversary of Kyle Schwarber tearing his ACL and LCL last year, the Cubs had a similar scare with Javy Baez involved in a scary collision with Jason Heyward in shallow center field. However, Baez was in the lineup the very next day, and it appears the Cubs dodged a bullet this time.
With a nine-game home stand starting up last night, pay attention to Schwarber's approach at the plate. Notice how patient the slugger is at picking up small things like pitcher cues, in waiting for the perfect pitch to put his hefty swing on. It will be intriguing to see how he fares throughout the season, but so far, it seems as if the "Schwarber leadoff" experiment is working.