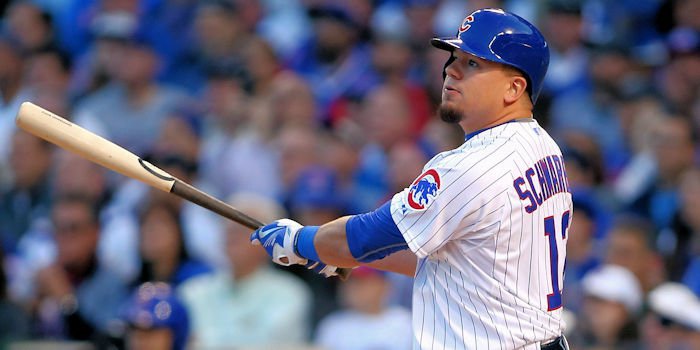 | | |
| --- | --- |
| Cubs News: The funkiness of Kyle Schwarber's week | |
---
CHICAGO -- Power hitting Kyle Schwarber had quite the week as far as plate appearances go. They were about as up and down as his season has been up to this point. Schwarber struck out eight straight times. Then he followed that by reaching base eight straight times before he struck out in the 7th inning of the August 16th game against the Reds. The question we try and answer, is Schwarber's high strikeout total cause concern?
It's been noted quite consistently that Schwarber does not exactly have the season we all thought he would. Schwarber burst on the scene in 2015 and in 69 games had a slash line of .246/.355/.487 We all had high hopes in 2016 for Schwarber. However, his season was cut short, and he was able to work back from an intensive knee injury for the World Series.
Fast forward to this year and Schwarber has a line of .204/.321/.442 numbers that leave quite a bit to be desired. He has struck out more than any other Cub this year with a strikeout percentage of 31.2. He's followed closely by Ian Haap and Javier Baez who have struck out 29.4% and 28.9% respectively. However, I do not think that number should be a cause for concern quite yet. This is still the first full season for Schwarber in the big leagues. So to compare his strikeout percentages to others in their first full season, we can look to the likely AL Rookie of the Year and maybe even the MVP in Aaron Judge who has a strikeout rate of 31.7%. Kris Bryant in his NL Rookie of the year campaign had a 30.6% strikeout percentage. That being said since the All-Star break Schwarber has struck out 40% of the time and all season he has been making weaker contact than a player like Schwarber should. However, when he does make solid contact, he has produced with 20 homers to go along with 40 RBIs.
Since his return from the minors in 33 games, he is batting .278 with .388 on-base percentage, .588 slugging with 17 runs, eight homers, and 12 RBIs. His career stat line through 554 at-bats is a .220 average with 36 homers, 83 RBI, 100 runs, 87 walks, and 194 strikeouts.
His .321 season on-base percentage this season is only eight points below the league average. So as much as Schwarber has struggled, it hasn't been as dire as everyone thinks. He will continue to make adjustments, and the eight strikeouts followed by eight trips to the bases shouldn't be a regular thing. There is no doubt in my mind Schwarber either this season or next will find his consistency as far as getting hits and become that huge piece in the Cub's lineup for the next several years.