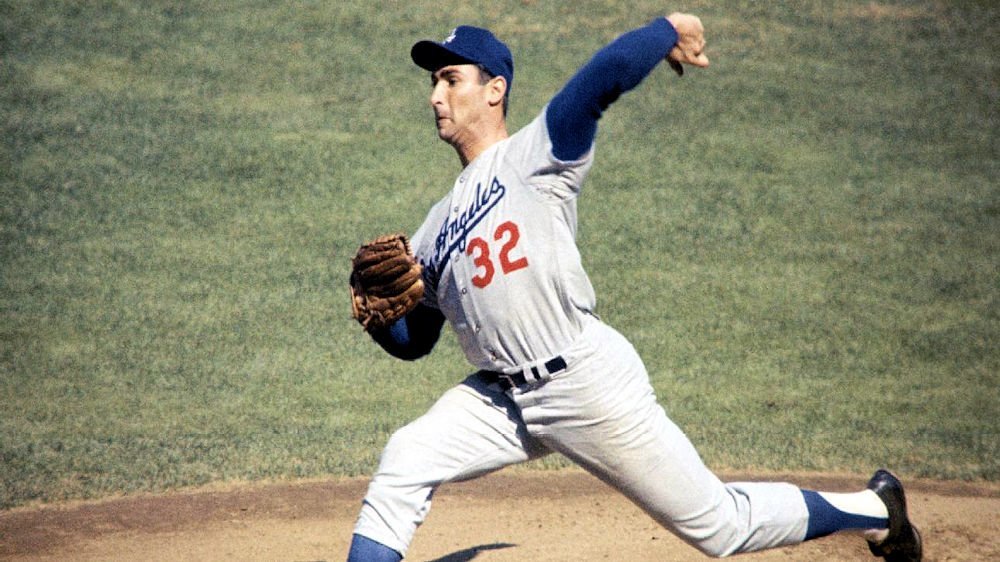 | | |
| --- | --- |
| The greatest Cubs-Dodgers game of all-time | |
---
| | | |
| --- | --- | --- |
| Wednesday, April 24, 2019, 4:25 PM | | |
The Chicago Cubs and Los Angeles Dodgers have played almost 2100 games against each other in their storied histories, not including playoffs, but one game stands above them all.
It is September 9, 1965, in Los Angeles. Vin Scully has the call:
It is 9:41 p.m. on September the 9th, and there are 29,000 people in the ballpark and a million butterflies. One and 1 to Harvey Kuenn.
Now he's ready: fastball, high, ball 2. You can't blame a man for pushing just a little bit now. Sandy backs off, mops his forehead, runs his left index finger along his forehead, dries it off on his left pants leg. All the while Kuenn just waiting. Now Sandy looks in. Into his windup and the 2-1 pitch to Kuenn: swung on and missed, strike 2!
It is 9:46 p.m.
Two and 2 to Harvey Kuenn, one strike away. Sandy into his windup, here's the pitch:
Swung on and missed, a perfect game!
Sandy Koufax pitched his fourth and last perfect game in his Hall of Fame career, and what made this game so remarkable, and memorable, was the fact that the Cubs pitcher, Bob Hendley, pitched a one-hitter himself!
The only run in the game came in the 5th inning when the Dodgers leadoff hitter that inning, Lou Johnson, walked and was sacrificed to 2nd base by a Ron Fairly bunt. He then stole 3rd and scored on a passed ball by Cubs catcher Chris Krug. One hit and one unearned run in the entire game.
I remember watching the game, even though it was played in Los Angeles and was way past my bedtime. My dad came into my room and woke me to watch it when it was pretty clear this was going to be special. While the Cubs lost, it was still exciting to see Koufax pitch, and I think I got my love of low scoring pitchers duels from watching this game.
The beauty of seeing two pitchers go head to head and neither giving in was magical, and it still gives me goosebumps to think about it today 54 years later. My love of baseball was formed back in those years, and it was crazy to think I got to see so many future HOF'ers.
It is also a milestone for the Cubs because they were not held hitless until 50 years later when current Cub pitcher Cole Hamels did it while a member of the Phillies just before he was traded to Texas in July of 2015. Fifty years without being no-hit is a record that will never be broken, I assure you. It is as crazy as not winning a world series for 100+ years. They both defy logic and the odds.
This game was filled with stars, so it wasn't like it was a getaway day, and the subs played. Five future Hall of Famers played that night, three future managers, and one future broadcaster.
Starting Lineups
Cubs:
1 Don Young CF
2 Glenn Beckert 2B
3 Billy Williams RF
4 Ron Santo 3B
5 Ernie Banks 1B
6 Byron Browne LF
7 Chris Krug C
8 Don Kessinger SS
PH - Joey Amalfitano
9 Bob Hendley P
PH - Harvey Kuenn
Dodgers:
1 Maury Wills SS
2 Jim Gilliam 3B
3 Willie Davis CF
4 Lou Johnson LF
5 Ron Fairly RF
6 Jim Lefebvre 2B
7 Wes Parker 1B
8 Jeff Torborg C
9 Sandy Koufax P
Koufax struck out the last five guys he faced, Santo, Banks, Krug, Amalfitano, and Kuenn. I mean, seriously. It may have been Hendley's greatest game, and nobody even remembers he pitched.
Two thousand one hundred games, but only one that will be remembered for all time.