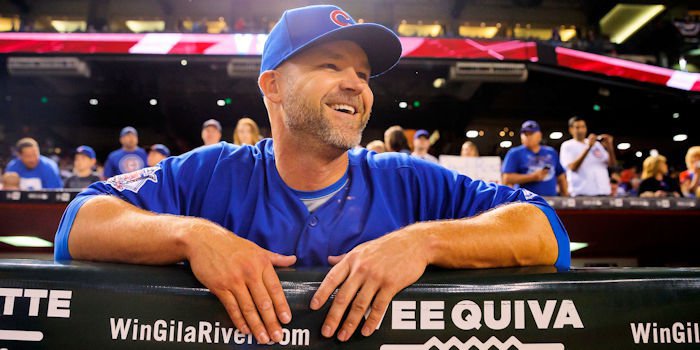 | | |
| --- | --- |
| Cubs News: The multi-talented David Ross | |
---
CHICAGO -- "I brush my teeth in the morning, look in the mirror, and say to myself, 'I don't even know who you are. Who are you?' It's crazy. It's absolutely nuts,'' David Ross told USA TODAY Sports before receiving his championship ring at the pre-game ceremony at Wrigley Field this past April. "It Chicago Cubs fans know exacwill be a closing of a chapter for me,'' My baseball career finally ends. It's kind of a finality for me.''
Chicago fans know who David Ross is and will probably never forget. His book, Teammate: My Journey in Baseball and a World Series for the Ages, chronicles the historic Game 7 of last year's World Series matchup between the Cleveland Indians and the team formerly known as the 'lovable losers' from the North Side of Chicago. One chapter closed, another begins.
Ross is now known to millions as the first former major leaguer to be on Dancing With The Stars. At first, he was prepared to turn down the offer to be on Season 24 of the reality dancing competition because he thought it would conflict with the ring ceremony. No way that he was going to miss something that important. When he learned that the rings would be given out the second home game not the first, he laced up his dancing shoes.
The Georgia native no longer needs all the catcher's equipment he wore for 15 seasons in the major leagues. as he dons far less on the show. Partnered with professional dancer Lindsay Arnold, Ross stripped down for a jazzy "Magic Mike Live" routine.
"That is truly my favorite part of being on the show — the rewarding moments where I see how much my student has learned," Arnold said in a Womanista interview. "It means a lot that I have had such incredible partners who respect me as a coach and trust me to be their teacher." Being a teammate transcends sports.
The dancing partners are nicknamed #TeamLadyAndTheGramp. Ross' teammates, Anthony Rizzo and Kris Bryant, nicknamed him 'Grandpa Rossy' at the start of the 2016 baseball season when they made an Instagram account to follow his last year in baseball. Arnold has stated that Ross' biggest competition might be another former athlete, New York Giants running back Rashad Jennings. She noted that Jennings is a 'natural mover,' which is unexpected for someone with no dance experience.
Recently, Ross and Arnold danced into next week's two-part finale with a Foxtrot and Tango. Last week the duo 'waltzed' to the country hit "Humble and Kind" by Tim McGraw. He told the judges, "It's an emotional roller coaster you go on in this journey. I think you see it from everybody week in and week out, it's pretty amazing. It's an amazing show. Teach you a lot about yourself."
The show's judges acknowledge that Ross is always trying to be the best partner (think teammate again) he can be. Judge Julianne Hough said after the waltz, "David, you are what this show is all about. This show is about taking somebody that doesn't know how to dance, coming on the show, seeing growth, seeing a connection, seeing the journey between your partnership, and I can tell you, from day one, your partnership has never faltered."
Ross is not the first baseball player to take to the performance stage. Country star Garth Brooks ("Standing Outside The Fire," "Friends In Low Places," "The Dance") was not only a star on the diamond for Oklahoma State, but he also competed in the javelin throw. Brooks tried out in spring training with the San Diego Padres in 1998 and 1999, the New York Mets in 2000, and for the Kansas City Royals in 2004.
Brooks is not the only country artist with ties to baseball and, more specifically, the Cubs. Singer/songwriter Chris Stapleton ("Tennessee Whiskey," "Nobody To Blame," "Traveller") and the group Little Big Town ("Better Man," "Girl Crush," "Pontoon") visited the team last season. Illinois native and Anthony Rizzo friend Brett Eldredge ("Beat of the Music," "Lose My Mind," "Wanna Be That Song") sang "Go Cubs Go" at the huge parade for the Cubs the day after they won the Series. Singer Michael Ray ("Kiss You In The Morning," "Think a Little Less," "Real Men Love Jesus") isn't from Illinois, but he is a huge Cubs fan – attending games whenever he can.
Ross may one day want to hit the stage with one of those country stars, ala Dancing. Former Cy Young/World Series winner Barry Zito released a country album, No Secrets, earlier this year. His team first mentality will easily translate to being a part of a band. Radar Pictures is developing a movie based on Teammate. Expect country music to be in the picture's soundtrack.
When he finishes on Dancing with the Stars (the finale is May 23), Ross will be a special assistant in baseball operations for the Cubs. He will scout for the team and be part of the June draft. ESPN has also hired the retired player as an analyst for baseball games and as part of the in-studio show SportsCenter.
Baseball is no longer the focus in Ross' eyes. Ross is a family man, first and foremost. A country song by Willie Nelson "Always On My Mind" seems a very fitting way to describe how he feels about his family, wife Hyla, son Cole, daughters Landri and Harper. He often stated that the desire to spend more quality time with his family was key to his decision to retire at the end of last season.
Ross' own health contributed to that decision too. In 2013 he spent months on the Boston Red Sox disabled list recovering from multiple concussions caused by foul balls to the head. "You get hit in the head, and you got that feeling, and it doesn't go away," Ross said to the Chicago Tribune. "You're annoyed. You're not the same person. It's nothing you can fake. You're not a good dad. I'm short with my kids, my wife. You get seasick riding in a car. You can't be in public places. It's a nightmare."
His wife had noticed the changes that came to a peak when he began acting out of character and cursing out another driver. "I had never seen him get this angry," she said. "The kids were in the car. I had to grab his shirt. The veins were popping out of his head. I looked at him and said, 'If you don't tell them, I'm going to them to tell them.'" After Ross had told the team, they sent him to a concussion specialist, Dr. Micky Collins. He returned to the Red Sox. The low point may have been the game in which Ross came back from his concussions and struck out in all five at-bats.
"From not being very good to getting hurt to coming back for a short period, being terrible, then coming back and starting to find my swing, trying to help the team any way I could, to all of a sudden things start clicking. And I mean, I catch all four wins of the World Series. It was a nice, nice trip to make with these guys. I don't know if that's my personality. You're in a new situation, in that spotlight on the stage of the World Series, you don't want to let your teammates down. You don't want to be that guy who messes up, does something bad. I wanted to be that guy who leaves it all on the line," remarked Ross to ESPN.
The season was a very emotional one for the city of Boston. It had suffered through the bombing at the Boston Marathon. "When you're on that field you were playing for more than yourself, your teammates, and the organization. You were playing for a group of people who needed something positive in their life."
Hyla Ross is a pediatric ICU nurse. The 15-year veteran and his wife supported charities in each of the cities he played in including The Hudson Foundation, Pediatric Cancer Research Foundation, and the Kevin Faulk Foundation.
The couple has dealt firsthand with serious family medical emergencies. In 2014, son Cole was rushed to the emergency room after having trouble breathing and turning blue around his mouth. The diagnosis was asthma.
Daughter Harper was born via an emergency cesarean section two months premature after her mom suffered a partial abruption (when the placenta separates from the uterus) in August 2015. Weighing just 3 pounds 11 ounces at birth, Harper spent her first month in the neonatal intensive care unit. Family first. Ross knew the Cubs team, from club president Theo Epstein on down, felt the same way when they told him to take as much time away as he needed.
"Joe (manager Maddon) kept saying to me, 'We need David Ross back, not a piece of David Ross back. … Make sure things are fine at home before you come back to us.' When your manager tells you that, and Theo Epstein calls you and checks on you, and the organization sends $500 worth of food to your house, so your family doesn't have to cook, you just feel like you owe them so much. It goes a long way," Ross told The Chicago Tribune.
Ross was first drafted in 1995 by the Los Angeles Dodgers in the 19th round but did not sign. The team drafted him again in 1998 in the 7th round, and he signed a contract that June. Next, he played for the Pittsburgh Pirates after the team bought him from the Dodgers in March 2005. The same year, in July, the Pirates traded him to the San Diego Padres for J.J. Furmaniak. The next season the Padres traded him to the Cincinnati Reds for minor leaguer Bobby Basham. In August 2008, the Reds released Ross.
"I'm a faith-based guy, and even though we don't always see the plan that God has laid out for us, it sometimes plays out best. You're like, "Man, why did I get released?" Or, "Why did I have this moment? Why couldn't I have just seen this earlier?" But I don't think I would be the person I am today without the bad as well as the good," Ross shared with Parade Magazine.
The same month he was released by the Reds, Ross signed with the Boston Red Sox and learned from them that the Reds considered him a bad teammate. After the season he signed with the Atlanta Braves. In 2012, Ross was returned to the Boston Red Sox. Two years later he signed with the Chicago Cubs. Over the course of his career, the backup catcher had a .229 average and only twice had more than 200 at-bats in a season. He ended his career with 106 home runs and three stolen bases. He had a .316 on-base percentage and .739 OPS.
The numbers don't lie, but they also don't tell the real value a player like Ross has to a team. "The love I get is for who I am, not for my stats," Ross told CBSChicago.com. "That's the part that gets me emotional. People like you for you and who you are as a person, not just as a player. That's the cool part for me."
Son Cole wants to be a catcher like his dad. He uses the 'comfy stance' (on one knee) when he sets up behind the plate. Now that he is retired, Ross hopes to coach his son's Little League team. During his last year in professional baseball, Cubs right fielder Jason Heyward paid for him to have a suite on road trips so his family could join him. Heyward wanted to thank the man who had helped him as a rookie back in Atlanta. One of those trips allowed for three generations of Ross boys to spend quality time together.
"This lifestyle is a fairy tale, to begin with, let's be honest," Ross said to a team reporter. "We get treated like kings. To have your son be part of that and show them how people treat each other and how they look out for one another, to learn to say 'hello' when you see the guys and shake their hand and look them in the eye, that's been good for me to let my son partake in that. When you see more men doing the right thing, I think it's a better influence for your kids."
He adores his two daughters. "If you get a chance to have kids, and you don't have a girl, you're missing out, in my opinion. Landri is the spark plug in the family. She has a little more attitude than Cole. It's good. She's a fiery one, she's competitive, she wants to win at everything. With the girls, you just love them. You love them and hug them. I let my wife do the disciplining. I just try to love them and hug them, and be a good influence for what a guy will be one day in her life."
"I've been able to live my dream, honestly," Ross told Cubs reporter Carrie Muskat. "And now it's time to live my kids' dreams and try to be involved in their lives, and do as much as I can for them and be a dad." After the season had ended, Ross and son Cole participated in Big Star, Little Star, a father-son competition filmed in Los Angeles that will air on the USA Network. He loves taking his children to school and picking them up, but knows he really can't make up for all the time he was away.
In his book Teammate, Ross writes about Game 7 of the 2016 World Series. He interjects short journal entries he kept throughout the season. The focus of his book is on the historic game that leads to the Chicago Cubs winning a championship after a 108-year drought – the longest for any professional team in any sport.
The former backstop also shares what he believes makes for a good teammate. He learned a lot from two managers he played for – Atlanta Brave's Bobby Cox and Maddon – and how those lessons lead to his becoming one of the team leaders for the Cubs' championship season. Ross told Parade, "I feel like selfishness is the root of all evil in sports. When you're only looking out for yourself, bad things happen, and even in life when you're just so caught up in yourself, it's hard to lift up others. Putting the team and their ultimate goal first, that's winning. When you have a veteran or your superstar on the team that are putting others first, it makes for a great year."
Readers of his book will learn the importance of being honest with yourself – a lesson he learned from Braves strength and conditioning coach Phil Falco. A player needs to work smart with his game preparation. There has to be a sense of team accountability too according to Ross.
One of his favorite quotes comes from legendary UCLA basketball coach John Wooden: "Be more concerned with your character than your reputation, because your character is what you really are, while your reputation is merely what others think you are."
Ross ends the book with this statement, "I am no different than anyone else. I just always thought of myself as a regular guy who had a pretty cool job." Think millions of Cubs baseball fans won't argue and hold him in a very special place in their hearts. He also shared with Parade, "It's so emotional. I'm a backup catcher. I had a terrible year there my first year and just a decent second year but the way they treated me—I got standing ovations. I got to catch a no-hitter. The love they've shown me is—I don't have the words for it. Stuff like that doesn't happen to guys like me. I'm very, very appreciative of the fans of Chicago and the way they've treated me and my family. I can never repay them." Actually, they might be happy to call it even.
If you get hungry reading Ross' new book, stop at a Chicago area Jewel-Osco Grocery Store (also available online: http://www.plbsports.com/grandparossy.html) for a box of Grandpa Rossy Crunch (frosted corn flakes cereal). Ah, the sweet taste of victory indeed!

Upgrade Your Account
Unlock premium boards and exclusive features (e.g. ad-free) by upgrading your account today.
Upgrade Now