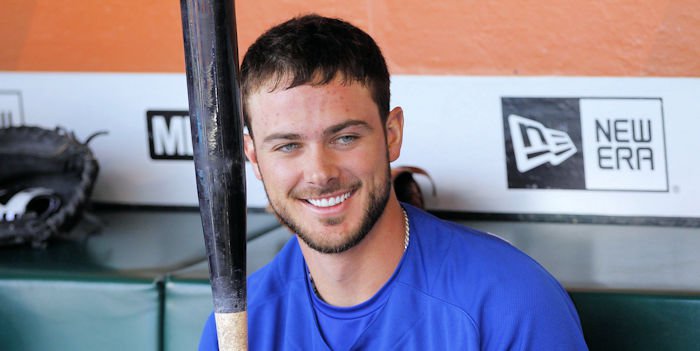 | | |
| --- | --- |
| Cubs News: Trade Kris Bryant? Not so fast | |
---
| | | |
| --- | --- | --- |
| Friday, January 3, 2020, 11:58 AM | | |
In 2015, Kris Bryant was one of the major league's top prospects and almost expected to be the savior for the Chicago Cubs. Four years and one ring later, it is safe to say that he delivered. Before he got the chance to, however, Bryant was sent to the minor leagues for eight games.
Conveniently, Bryant was called up to the big leagues a day after the service time deadline — meaning the Cubs do not have to pay Bryant for his rookie season, and the Cubs gain an additional season of control — a manipulation tool the collective bargaining agreement gave to teams.
Bryant has always had a bit of bad blood with the Cubs since then and has been a spokesman against service time manipulation since. He even filed a court grievance in an attempt to get that lost year back — which would make him a free agent after 2020 instead of after 2021.
It appears unlikely that Bryant will win his grievance since what the Cubs did to him (although wrong) did not break any rules according to the MLBPA or the system in place. However, it has been reported that the decision will not be made until the New Year.
All that aside, the Cubs have been engaging in contract extension talks with Bryant and his agent Scott Boras, who has been known to convince his clients to test free agency and drive up the prices. While it seems challenging to re-sign Bryant, it is not impossible to sign a Boras client, especially one who has voiced his appreciation for the city he plays in and has recently announced that he and his wife Jessica are expecting a child.
In addition to that, Bryant's father has said to me personally that he wants to be a Cub forever — and anybody who knows anything about Bryant knows how much his father, Mike, means to him.
As the offseason progresses, the Cubs seem inclined to trade Kris Bryant to try to acquire prospect capital, build up the farm system and retool on the fly to extend the competitive window. However, the trade market appears to have hit a standstill as teams are waiting for Josh Donaldson to decide where to sign and for the union to declare a ruling on Bryant's grievance case.
Cubs fans seem to be on board with trading the superstar, and to them, I say, not so fast.
In 2013, before he even appeared in the major leagues, Bryant was named the college player of the year for his excellence at the University of San Diego. He was then drafted, second overall by the Cubs in the 2013 MLB draft.
In 2014, Bryant earned the Minor League Player of the Year award as he dominated the minor leagues. He followed that up with his rookie year in the MLB, winning the 2015 NL Rookie of the Year award.
Bryant completed the quartet in 2016, winning the National League's most valuable player award and had a World Series championship as icing on the cake.
That four-year stretch was one of the best in the history of baseball and not one that is easily replicated. Not to mention, Bryant is a fan favorite, with a smile that captivates the town and a winning attitude on the field. Bryant has also played above-average defense at six positions, and batted in various spots in the batting order and performed admirably.
Since his debut, Bryant is third in all of baseball in wins above replacement — behind only Mike Trout and Mookie Betts. KB also set the new record for most homers in his first five seasons in Cubs history. Bryant has also been named to three all-star games and won various player of the week and player of the month awards to go with his rookie of the year, MVP, and World Series.
In five seasons and a pair of those cut short due to injuries — Bryant has hit for a .284 career average, with 138 home runs, 403 runs batted in, 486 runs, 751 hits, and 34 steals.
Point is: this is a megastar type talent who would make any team better AND the best case scenario for what any top prospect could ever be.
So why are we in such a hurry to trade a guy for a bunch of young guys who will most likely never be as good as what Bryant is.
The solution for this offseason should be to lock up Kris Bryant for as long as possible. Keeping Bryant in Cubbie pinstripes for the rest of his career should be a goal of the front office, a priority of the offseason, and great news to Cubs fans everywhere.