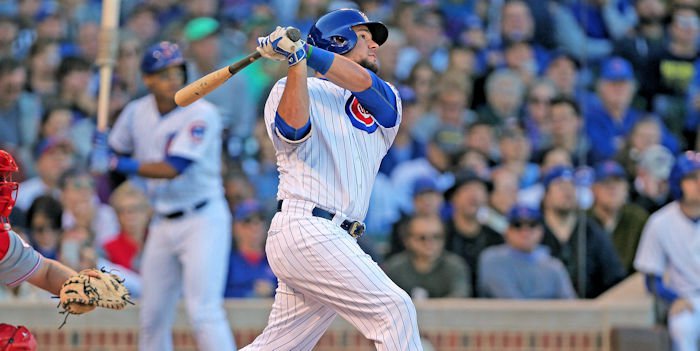 | | |
| --- | --- |
| Trade deadline scenarios for the Cubs | |
---
| | | |
| --- | --- | --- |
| Thursday, July 5, 2018, 8:18 AM | | |
With the non-waiver trade deadline approaching (July 31), speculation flies about who the Cubs should trade, and more importantly, who they should keep. I'll have to admit, I'm no authority on trading. I was never the guy who could keep track of all the minor-league players, draft picks and international signings. It doesn't take a genius though to figure out who should be safe and who may be on the trade-table.
There is no doubt that pitching, both in the starting rotation and the bullpen, is something the Cubs need to look into augmenting. What else do we really need though? The defense is solid and our offense, though sporadic at times, is strong. The Cubs are very lucky to have a core roster which is solid in positions 2-9.
Speculation has already got Addison Russell traded to make way for Manny Machado, but that isn't happening. As of last week, it looked as though Machado was being wooed by the Dodgers to replace the injured Corey Seager, but now it looks as though the Diamondbacks may be the lucky recipient of Machado's offensive and defensive skills. Russell is only signed through this season (a 1 yr./$3.2M contract) and is eligible for arbitration in 2019.
Russell certainly has trade value, but that does nothing to fill the void at shortstop that would be created if they trade him. If Russell is traded, I would have to assume that Nico Hoerner would be fast-tracked to the big leagues, but a bird in the hand is worth two in the bush. Javier Baez would easily take over the position, but then they'd either need to start playing Tommy La Stella regularly (not a bad option), or they'd need to find a second baseman. Milwaukee is rumored to be looking for a shortstop, but I don't see them offering up anything we could use in the way of a starting pitcher. I think ultimately Russell is most likely safe for now unless the Cubs can get a deal on a starter.
For the season, Russell is heating up with a .282 batting average including five homers and 27 RBI.
While the Cubs have valuable utility men in Ben Zobrist and Ian Happ, I can't see the Cubs trading either of them. Both men switch-hit, and both play just about every position but pitcher and catcher. Zobrist is 37 years-old, so his career is going to be winding down sooner rather than later. He has another year left on his contract, which is worth $14M a year, and he gains free-agency in 2020. Happ is certainly more trade-attractive than is Zo, but do we really want to trade a utility man, especially one that could be filling Zobrist's shoes within a matter of a few years? Happ is only signed for this season- a one-year contract worth $570k, so the Cubs could feasibly trade him. On the other hand, Happ doesn't gain arbitration until 2021, and he doesn't qualify for free-agency until 2024, so there are two more good reasons for keeping him around from a business standpoint.
No question in my mind, Baez, Rizzo, Bryant, Contreras, Schwarber, Heyward and Almora Jr. are all off-limits. If one absolutely had to go, I'm afraid it would probably have to be Schwarber. A shame, considering how he's grown as a left-fielder and continues to dominate offensively.
As far as dumping pitchers to make room for a potentially better rotation, Darvish and Chatwood would have to be the two guys whose necks are on the chopping block. Both guys have lengthy contracts (Darvish, 6 yrs/126M, and Chatwood 3 yrs/38M), and both have become the biggest obstacles to the Cubs' chances of having a favorable post-season.
Darvish has quickly become the 'lemon" acquisition of the off-season. I had high hopes after seeing the video of his rehab start in South Bend last week, but now he's re-aggravated his injury. Once thought to be triceps tendinitis, doctors are now calling it a nerve impingement. While the pain associated with this condition can sometimes be alleviated, often times it worsens, requiring surgery. Even more concerning to me are the comments he made in Los Angeles a little over a week ago. After joining the team in L.A. after his rehab start, Darvish stated that he would not be in the dugout, as he did not want to be booed or heckled by fans of his former teammates. Excuse me, what? These guys get physically bruised every day, we can't afford mental bruising too. Unfortunately, I'm not sure who would take him with his track record of injuries, and there's no way for the Cubs to offload him without going upside-down. Darvish should have been going on his 17th start this year, and he's stuck at eight, with at least 3 more missed starts on the horizon.
Then there's Tyler Chatwood. I took flack over a commentary that I wrote after Chatwood's last start because I said he was "better." I was happy to see that he wasn't walking guys left and right, and even happier to see he had gained some control, but there is no way the team can tolerate seven-run starts in five innings of work. I'm not sure Chatwood has any trade value, as no team is going to be looking for a liability. While this opens up room for new starters, it does nothing for the amount of money the Cubs would be losing between them.
Chris Gimenez has a current batting average of .143 which devalues him greatly. Chris turns 36 after this season ends, and that age is starting to show in his snap-throws to first and when trying to throw out a stealing baserunner.
David Bote would be another good trade choice, but again, how do you trade a guy who steps up every time he is called upon? Somewhere the Cubs will have to come up with appealing players though if they are to fix an ailing pitching staff.
The bullpen has been hot and cold, but if anyone is sent packing, I'm guessing it will be Justin Wilson and Dillon Maples. Wilson has become somewhat undependable lately, and while Maples isn't bad (despite a rough outing Monday), there are several other capable relief pitchers spread out throughout the farm system.
Maybe I'm missing something here, but I don't see where the Cubs have too many options if they choose to trade from the current 40-man roster. Those players who would be good trade-bait, either act as an integral part of the team on a daily basis or they fill the void when the regulars are injured or being rested. The obvious trade choices seem valueless, and the bigger-name, minor-leaguers seem to already have a future in the big leagues with the Cubs organization. Stay tuned, this should get interesting.