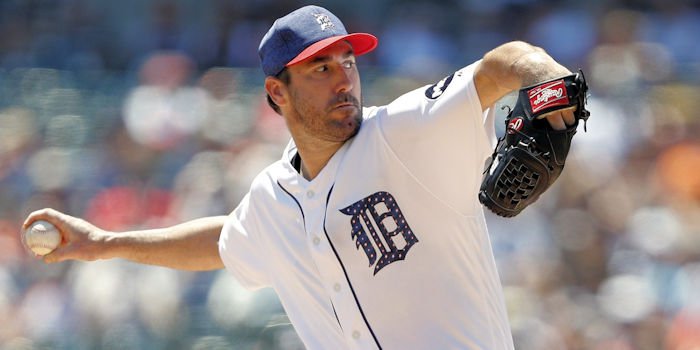 | | |
| --- | --- |
| Trade rumors galore as Cubs look for pitching | |
---
CHICAGO -- As Justin Verlander prepared to potentially say his goodbyes after what may have been his last start for the Tigers, acknowledging as much so while showing no ill will and understanding that it is a business, and also admitting it is a bit exciting to have scouts watching him again. He has welcomed a trade to a contender, and the Tigers have been trying to shop him with the big hold-up being the near 60 million due over the next two seasons. Verlander, 34, is still owed 28million in 2018, 28million in 2019, and a vesting option of 22million for 2020. The Dodgers, with so much money on the books over the next two seasons that is not going anywhere do not have the room to work him in under the luxury tax. The Dodgers are trying to get under, and even if they aren't due to be by next season, they will not be even near getting under the threshold if they acquire Verlander, and are apparently out of the race according to multiple reports. While the Brewers have been mentioned, it is unknown how realistic of a match that is, or if Verlander would even be willing or want to go there with the current standings and pace of their rebuild.
The question is whether or not the Tigers value prospects or salary relief. With few suitors or potential trade partners already, The Dodgers dropping out of the race as per MLB Network Ken Rosenthal's report this morning, and the Cubs not necessarily want to pay the remainder of his salary after this season without a bit of help.
The Cubs starting pitching rotation is finally healthy and pitching well, including John Lackey (who would be left without a rotation spot if a veteran like Verlander is acquired, and has said he will "go home" if he does not start). As recent as last night, according to J.P. Morosi of the MLB Network, the Cubs 'remain interested in Verlander' but are reluctant to take on the salary unless the Tigers pony up more financial help for future years left on his contract. As the Cubs' starting pitching continues to show signs of awakening, all healthy at once for the first time in awhile, the ball is in their court, and they have the leverage.
The Cubs were also among seven or eight teams with scouts watching Sonny Gray last night, but the A's have been seeking a top CF prospect, and it is hard to see the Cubs being able to meet their asking price without bringing a 3rd party into any deal there.
Also breaking earlier this morning, ESPN's Jerry Crasnick reports the Cubs, "among several other clubs other clubs," have inquired about the availability of Mets pitcher Seth Lugo. Lugo, 27, is under team control through 2022 and sports a 3.32 ERA over his first 116 2/3 MLB IP (2016-17 seasons, with 16GS and 26GP). The price could be high due to his price and team control, but the Mets are rumored to be willing to sell high due to recent elbow woes. Per Crasnick, the Cubs "love his spin rate and think he has breakout potential." The last time the Cubs took on a risk in a starting pitcher they saw potential in, we got Jake Arrieta. The cost for Lugo may exceed the price they are willing to pay, but it is worth noting the level of interest and fact the Cubs view him as a breakout candidate makes the thought very interesting. Mets closer Addison Reed has also been on-and-off the Cubs radar in upgrading their setup options, and may also be someone they are looking at still.
Starting pitcher Yu Darvish has ten teams on his no-trade clause, and that includes the Cubs. Sources have suggested he would likely be willing to waive his trade clause to join last year's World Series champions for a chance to compete for a title in his walk year, and worth noting is three other contenders (Boston Red Sox, Cleveland Indians, Colorado Rockies) are also on his no-trade list.
Rangers catcher Jonathan Lucroy has remained attached to rumors as the Cubs look to add a No. 2 catcher to help take some pressure off Contreras for the stretch-run. He is a free agent to be and while he is a bit removed from his top five MVP finish with the Brewers, he put up some very nice numbers last year in Texas and changing the scenery to join a contender in the only other division he's known could jump start his bat.
Kurt Suzuki has also been mentioned, but after last night's two HR game, and the Braves continuing to be pesky while just hanging in the race, his price may have gone up a bit overnight. Defensive-first catchers with a bit of pop, Chris Iannetta, and Nick Hundley, are other options that could come at a much lesser price than the others mentioned above. Alex Avila is still being linked and could be a prime candidate to come over with Verlander if a trade is worked out, or without. The Cubs may be bidding against themselves much like Verlander for Avila, though, as he has not been linked to many other teams (the Jays, but that was before they acquired ex-Cubs backup, Miggy Montero). He could be a low-cost pickup and fits the need just fine, but carries a contract next year, unlike the others mentioned.
Cubs are still being linked to relievers Pat Neshek, A.J. Ramos, and Justin Wilson, but will face competition in that department as well from other squads looking to bolster their bullpens.
As it stands right now, the Cubs may be the only team left in the race for Justin Verlander, though they continue to pursue all possible options in adding another arm to their rotation, as well as upgrading their No. 2 catcher and back-end and bridge of the bullpen.