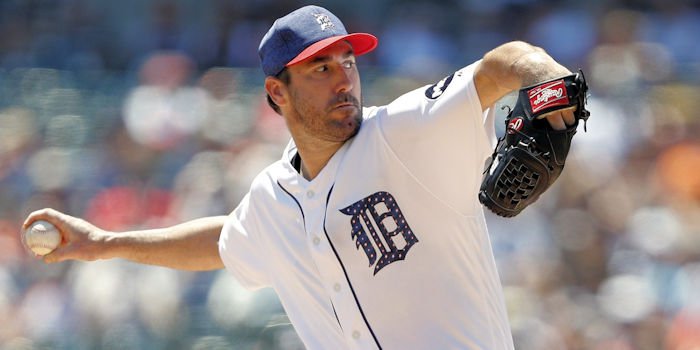 | | |
| --- | --- |
| Trade rumors swirl with Cubs and All-Star pitcher | |
---
| | | |
| --- | --- | --- |
| Tuesday, July 25, 2017, 9:31 PM | | |
CHICAGO -- After coming out of the All-Star break which saw the Chicago Cubs acquire crosstown star Jose Quintana, they seemed to have found something more than just another frontline-type starter (for now, the playoffs, and three years to come!). Fans have to be thrilled to see Quintana dominant in his first start likely turning in the best start of any Cubs starter all year in addition to six innings in his home debut, in which he got the win for the Cubs over the rival Redbirds. He has a nifty 19-2 strikeout to walk ratio over his 13 innings pitched showing just a glimpse of what fans can expect for the rest of the season and potentially next three years.
The Cubs may not be done adding starting pitching, however. Rumors won't go away about Tigers ace Justin Verlander, who has been watched by league scouts, including those from the Cubs organization and that has been no surprise. Recently scouts were on hand, and the Cubs keeps popping up about rumors surrounding Verlander.
Verlander said again it felt like college pitching in front of scouts, one of which was from Cubs.

— Jason Beck (@beckjason) July 25, 2017
The Cubs have been linked to Verlander and scouting his starts, and while he carries a large salary, rumors have it the Tigers would be willing to pick-up the rest of his 2017 salary to help a trade happen (approx. 10.8mil for the rest of the year), although it may take closer to 25-30 million (to make up for years to come) in order to get a better prospect back. According to Ken Rosenthal, The Cubs are said to have room for Verlander's remaining salary, 28 million per over the next two seasons, and a vesting option of 22 million for 2020, without risking trouble with the luxury tax. If added, Verlander will provide another controlled starter next season (and beyond?) for a team that is looking to lose both John Lackey and Jake Arrieta to free agency.
Verlander has had his ups and downs this season, but much like last season, is off to a hot-start after the all-star break despite the trade rumors which have been swirling as the Tigers begin their rebuild, and continue shopping their desirable veterans, and pending free agent assets heading into the non-waiver trade deadline.
It can be argued that Justin Verlander had a bad first-half with some starts that certainly inflated his numbers. His velocity has been fine, and he isn't showing any sign of injury. He isn't even that much older than Arrieta, who would theoretically be looking to make more than what Verlander is making next season, 2019, and potentially 2020 (vesting option) if super-agent Scott Boras can get just *one* team to bite on his asking price (and with Arrieta pitching much, much better as of late, the chances of him walking to sign that big deal continue to increase). Verlander, 34, was arguably the best pitcher in the second-half last season, and an argument can also be made that he should have won the AL Cy Young (Shhhh! Don't remind Kate Upton!). His last 9 of 10 starts has seen him allow three runs or less and those numbers would look much better overall if the one lemon was not a very bad start against the Cleveland Indians (3.1 IP, 7ER) which significantly inflated his overall numbers over that stretch and for the entire year.
Verlander is coming off of potentially his last start for the Tigers, striking out nine over seven innings, and could be in line for another monster second-half. With his price, and the Tigers reluctance to add much more than the remainder of his contract for this season, interest level has been lower than it would generally be for a former Rookie of the Year, Cy Young, MVP, strike-out leader and in general, one of the best overall starting pitchers over the last decade.
Conveniently, another player the Cubs have been scouting also plays for the Tigers is battery-mate Alex Avila, who is having a resurgent year with the bat (in addition to being a stellar defensive catcher), has not been linked to many other teams outside of the Cubs and carries a contract into 2018. The Blue Jays had been mentioned prior to their signing of former Cubs backup, Miguel Montero, and the Cubs have been linked for quite as well but there has not been much known interest otherwise.
A trade sending the two of them to the Cubs would make a lot of sense, and with Verlander's salary and Avila having a year left on his deal, despite the resurgence, could come a bit cheaper than other rentals mentioned (Jonathan Lucroy, for one, a pending FA and former top-5 MVP candidate whom the Cubs are also linked to). The battery mates fit what the Cubs need. If they can find a way to negotiate de facto closer Justin Wilson into the deal, the Tigers could be the perfect "one-stop shop" of sorts.
But what would the Cubs have to give up? What do they have left after the Quintana deal, which saw their top two prospects in outfielder Eloy Jimenez and pitcher Dylan Cease move to the White Sox organization.
Victor Caratini has the makings of a solid #2 catcher, and could be in play if looking to bring back catcher Alex Avila in any deal. Ian Rice has some upside behind the plate and is another name who could come into play. Corner infield option Jeimer Candaleiro is a logical name, as he is currently blocked at both first base and third base by Team Bryzzo, which isn't going anywhere. Outfield prospects Mark Zagunis and D.J. Wilson could also be available, both of whom rank among the Cubs top-10 prospects according to Baseball America's midseason update, and it would not be inconceivable to see the team move a 25-man piece like Albert Almora to help get a deal done with the amount of outfielders already in place and locked into everyday roles. Ian Happ's emergence (and ability to play center when Javy or Zobrist aren't at 2B), in addition to the fact that Maddon has shown he is not afraid to use his studs in the outfield (Bryant, Contreras), outside of their regular positions coupled with how well Jon Jay has played this year could mean Almora simply hasn't enough room for the at bats he needs to continue to grow as a player.
Contreras could play now and then in left field if Alex Avila is acquired, as he continues to swing a scorching bat as the team's new cleanup hitter (another home run today, a first-inning 3-run blast), which would help to keep his bat in the lineup more often than the average No. 1 catcher. The Cubs also took 26 pitchers in this year's draft, looking towards the future by stocking the farm with pitching to develop, which likely means the likes of Rob Zastryzny, or any of current Cubs top-10 pitching prospects Oscar de La Cruz, Trevor Clifton, and Jose Albertos could also be in play.
Cubs are in a good spot right now as far as leverage goes, with their starting pitching coming around, as well as having few competitors being mentioned in talks relating to Verlander, and most others being unrealistic suitors. Perhaps the Dodgers are the only other team mentioned as much as the Cubs who would—and could realistically take trade for, and take on his contract as it stands.
If the price is right, and it will not affect the luxury tax or their options or cap them moving forward for the next couple of seasons, then acquiring Verlander on-the-cheap could be a great move to solidify the push for a repeat. If anything seems certain, the Cubs want to win another championship. Based on the fact that two of the league's top five prospects (short stop Gleybar Torres, #3, New York Yankees; outfielder Eloy Jimenez, #5, Chicago White Sox) were in the Cubs' system to begin last year, I don't think the front office is afraid to trade prospects. It can be argued it may take more depending on what they're looking to get back—maybe a guy like Albert Almora, who despite not having the star-power of the rest, is an excellent cog in the machine will need to be included to get the deal done. The Cubs can handle this, though. That's why we have farm systems. That's why some players hit, and some players miss. The Cubs have been lucky and have hit on a lot of their players. There's a good chance some of the players they dealt may hit with other teams as well. But if they could pull off a deal and bring over a pitcher who had the best second-half in baseball and should have won the AL Cy Young (both arguable, but not without reason) and will eat innings (on pace for over 200 IP again), and potentially more to help the run to repeat, they should do it. They could pull it off if they can truly afford it, and they should implore catcher Alex Avila at the very least. Relief options could be had for much less than Justin Wilson elsewhere (Phillies' Pat Neshek, Marlins' A.J. Ramos), although he would certainly be one helluva cherry on top.
I don't know what the end result will look like, but one thing I am pretty sure of is the Cubs aren't done yet. With Theo, I've given up on assuming much of anything, but rumors about Verlander do not seem to cease, and the connection swirling with Avila is rather curious, to say the least…Buckle up for the next week, Cubs fans!

Upgrade Your Account
Unlock premium boards and exclusive features (e.g. ad-free) by upgrading your account today.
Upgrade Now