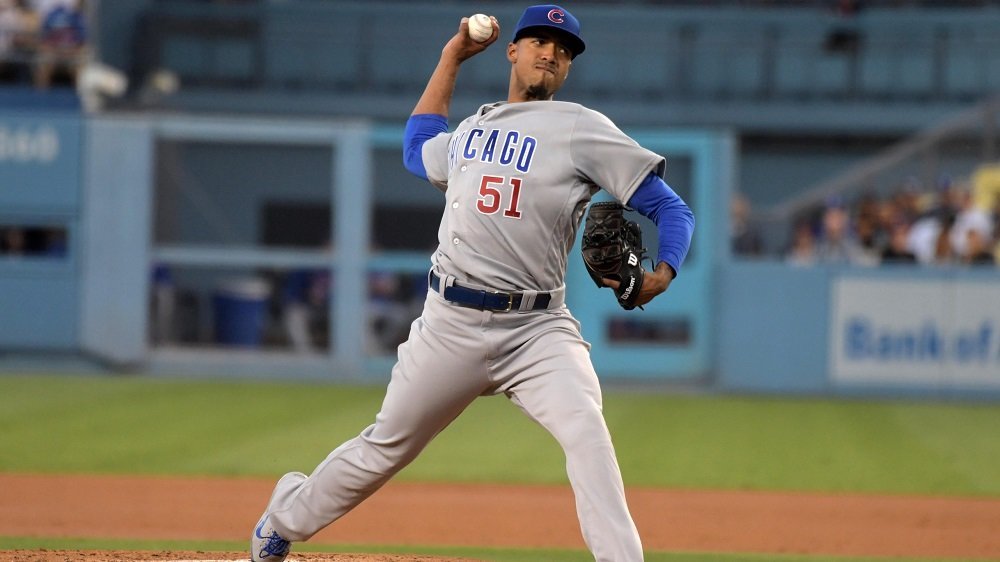 | | |
| --- | --- |
| Underwood, Jr.'s, solid debut spoiled by lack of plate production from Cubs | |
---
| | | |
| --- | --- | --- |
| Tuesday, June 26, 2018, 2:32 AM | | |
LOS ANGELES — For the fifth straight game, the Chicago Cubs emerged as losers on Monday night, falling to the Los Angeles Dodgers at Chavez Ravine in the opener of a four-game set. With the two National League foes facing off in a series for the second time in less than a week, the Dodgers enacted revenge after dropping games two and three of the three-game affair at Wrigley Field last week.
Fresh off suffering a four-game sweep at the hands of the Cincinnati Reds, the Cubs were fairly listless yet again in Monday's matchup. Failing to score a run until the final inning, the Cubs lost by a score of 2-1 in a contest that did not feature much offense by either team. Both of the Dodgers' runs were plated via solo home runs, as Los Angeles won with a five-hit, three-walk showing.
Making his big-league debut, pitcher Duane Underwood, Jr., started on the mound for the Cubs after getting called up from the Triple-A Iowa Cubs on Sunday. He filled in for Cubs starter Tyler Chatwood, who traveled home to be with his wife after she went into labor over the weekend. Underwood, Jr., was provided with an early test in the form of a 41-pitch first inning that included a 14-pitch at-bat with Dodgers left fielder Matt Kemp that culminated in a walk.
Underwood, Jr., performed well, considering the circumstances, throwing four innings of two-hit ball, in which he gave up two hits, walked three and struck out three. Unfortunately for the young pitcher, he received no support, and a leadoff home run by Dodgers shortstop Enrique Hernandez in the bottom of the second resulted in Underwood, Jr., taking the loss to become 0-1 in his MLB career.
When Dad lets you use his bat... #Dodgers pic.twitter.com/fxbtgZw7lx

— Los Angeles Dodgers (@Dodgers) June 26, 2018
Dodgers hurler Kenta Maeda dominated the Cubs in his start, accumulating nine strikeouts over the course of seven innings of scoreless work. Getting taken for just three hits and one walk, Maeda mowed through Chicago's batting order in the first four innings. In the top of the fifth, the Cubs finally threatened to score after they picked up a pair of singles to start the inning. However, catcher Chris Gimenez popped out on a bunt attempt that resulted in left fielder Kyle Schwarber being doubled off at second base, leading to the Cubs failing to score in the fifth.
Schwarber got back at the Dodgers with a defensive gem of his own in the ensuing frame by completing a spot-on relay throw to shortstop Javier Baez that resulted in Dodgers third baseman Justin Turner being gunned down at home plate. With Turner at first and one out in the inning, the Dodgers' Cody Bellinger smacked a double to left-center that was initially bobbled by Schwarber. Schwarber quickly recovered, though, and completed a perfect relay throw to Baez, who capped off the play with a bullet to Gimenez. Gimenez swiped Turner with his mitt just in the nick of time to accrue the out, and the score remained 1-0.
.@javy23baez taught Tom Emanski everything he knows. pic.twitter.com/gLa6Gru5Mx

— Chicago Cubs (@Cubs) June 26, 2018
In the eighth, another leadoff solo jack by the Dodgers increased their lead, as pinch hitter Chris Taylor skied a round-tripper beyond center field against Cubs reliever Justin Wilson. Chicago went on to threaten Los Angeles in the bottom of the ninth when facing Dodgers closer Kenley Jansen. Ben Zobrist hit a one-out single and then took second base on a balk by Jansen. A bloop single by Anthony Rizzo followed, putting runners on the corners, and, after that, Baez collected his 51st RBI on a sacrifice fly to center that scored Zobrist. Schwarber quickly put an end to the drama in the next at-bat, though, by hitting into a game-ending groundout on the second pitch thrown to him.
Off the bench and GONE! #Dodgers pic.twitter.com/ZpPkCU6XCt

— Los Angeles Dodgers (@Dodgers) June 26, 2018
Amassing seven hits and leaving 11 runners stranded, the Cubs missed out on several scoring opportunities and wasted a surprisingly good start from newcomer Underwood, Jr. With the 2-1 defeat, the Cubs dropped to 42-34, while the Dodgers improved to 42-35. Maeda received his fifth winning decision of the season, making him 5-4 overall, and Jansen was credited with his 20th save.