| | |
| --- | --- |
| Vegas odds on Cubs signing Bryce Harper | |
---
| | | |
| --- | --- | --- |
| Wednesday, March 28, 2018, 3:05 PM | | |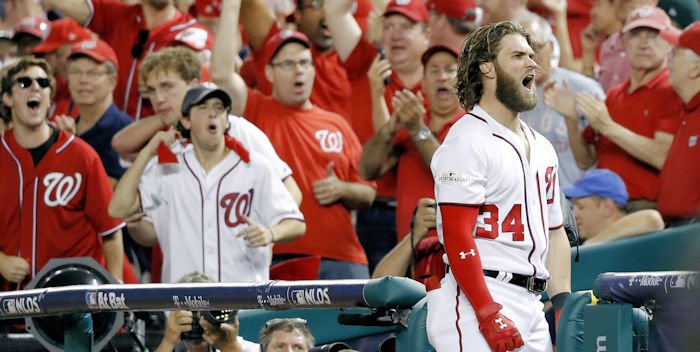 The 2018 major league baseball is about to kick off, but oddsmakers are already thinking about Bryce Harper and his future destination in 2019 and beyond.
Harper will be one of the most prized free agents in MLB history at the age of 26.
In 2017, Harper batted .319 with 29 homers, 87 RBI, and .413 on-base percentage. For his impressive short career, he is .285 hitter with 150 homers, 421 RBI, and .386 on-base percentage. He won the Rookie of the Year award in 2012 and won the MVP award in 2015.
According to Vegas, the Chicago Cubs are the most likely team to win his services after this offseason.
Vegas odds:
Cubs: +150
Nationals: +250
Dodgers: +350
Giants: +500
Red Sox: +750
Yankees: +1,000
Field: +225
MLB insider Jon Heyman wrote about Harper to the Cubs in an article on his website.
"There continue to be whispers that Bryce Harper could eventually wind up with the Cubs, where he'd join great friend Kris Bryant," Heyman said. "The two sluggers are both from Las Vegas and knew each other growing up. Of course, the Cubs would love to sign Bryant first. They made a brief suggestion last winter, but the sides apparently weren't on the same page. Mike Trout's first deal with the Angels, $144 million for six years, was believed to have been a blueprint, though the Cubs were believed to be interested in going slightly longer. Like most young superstars – Harper, Francisco Lindor, Carlos Correa – he has preferred to go year-to-year so far."
Harper told reporters during spring training that he loves the game of baseball and not really to discuss his future.
"I don't want to really think about that. This is what I was born to do," Harper said. "That crosses everybody's mind — maybe I wanted to do this or do that. But I enjoy being a baseball player. I wouldn't trade it for the world."
The Cubs could be a significant factor in the free agent sweepstakes if he decides to take a discount to have a chance to team up with Bryant again. If the team could somehow get a taker on Heyward's albatross of a contract, that would help out drastically.