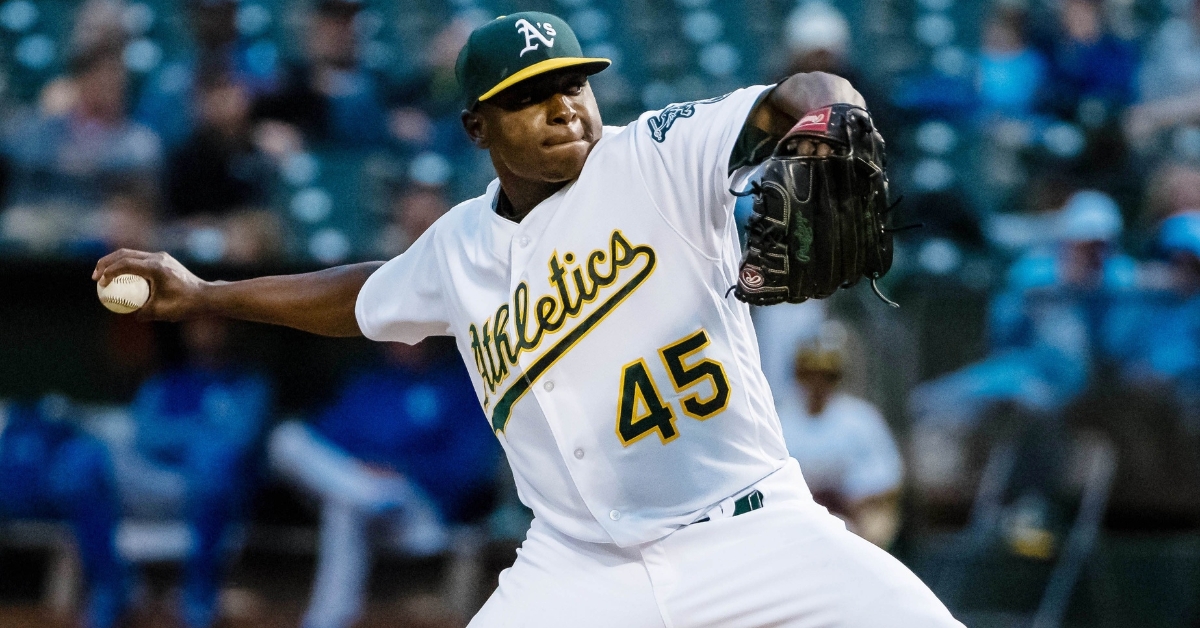 | | |
| --- | --- |
| What can Jharel Cotton's impact look like for Cubs? | |
---
| | | |
| --- | --- | --- |
| Monday, November 25, 2019, 12:01 PM | | |
Former Oakland Athletics right-handed pitcher Jharel Cotton was traded to the Chicago Cubs Saturday for $100,000 in cash considerations. Cotton has been working back from a Tommy John surgery and a hamstring injury that kept him off the field for all of 2018. As he continues to work his way back, what can the Cubs expect from Cotton if he makes a spot for himself on the pitching staff?
As the Athletics fifteenth ranked prospect in 2016, Cotton was a good but not great player who flashed tantalizing potential. His best season was in 2015, where he went 6-2 with a 2.45 ERA and a 10.7 K/9 rate in 95.2 innings. This was all accomplished while being sent up and down between A, AA, and AAA ball after being traded to the Athletics.
In 2016, Cotton looked like a young pitcher finding his groove in a limited sample size. Cotton was 2-0 with a 2.15 ERA in only 29.1 innings. He showed off his strikeout ability with a 7.1 K/9 and surprised with his control by only allowing a 1.2 BB/9. For an Athletics team that finished the season with 93 losses, Cotton was a bright spot on an otherwise lousy roster. He was even being compared to a Hall of Famer by that Hall Famer in the video below.
If 2016 was a pleasant surprise, 2017 was a nightmare. Cotton had a 9-10 record with a 5.58 ERA in 24 starts. While his strikeout rate remained about the same, 7.3 K/9, Cotton's walk rate jumped to 3.7 BB/9. In just about every statistical category, Cotton regressed. Cotton's season would end in late September after suffering an elbow injury that required Tommy John surgery.
Since then, Cotton hasn't pitched in the majors.
While working his way back from injury, Cotton did return to the minor leagues. His return to baseball was not exactly the bounce back; he may have thought it would be. Cotton finished his 2019 with a 1-3 record and a 7.16 ERA in 27.2 innings while playing in A+ and AAA. His strikeout rate was incredible again at 10.7 K/9, but control was a continued issue with a 3.9 BB/9.
Keibert Ruiz's second Triple-A homer, off former Dodger Jharel Cotton pic.twitter.com/vgpjLQuFLs

— Future Dodgers (@FutureDodgers) August 3, 2019
Sometimes a change of scenery and role is precisely what a player needs to rejuvenate their careers. As the Cubs look to find their way back to the postseason under a new manager, Cotton could become an under the radar pickup to aid a pitching staff that struggled in 2019. Likely, Cotton won't be a starter for the Cubs, but he could transition into a new role in the bullpen.
Cotton is undersized at only 5-foot-11-inches but can reach 96 MPH with his fastball to support a great changeup. While the rest of his pitches haven't caught up to those two, Cotton can use the full potential of his two pitches out of the bullpen. MLB Pipeline even recalled the possibility of moving to the bullpen in Cotton's 2016 scouting report, saying, "He could be a mid-rotation starter, though some scouts project him as a reliever because of his size and mechanics."
Jharel Cotton's sweet Changeup to Bradley Zimmer from today's game pic.twitter.com/EwfULPNMif

— Pitcher List (@PitcherList) June 1, 2017
The 27-year-old could transition into a long reliever or spot starter role similar to how the Cubs have used Tyler Chatwood and Mike Montgomery in the past. His versatility and multiple innings ability would be a plus addition to a bullpen that was inconsistent throughout 2019. He may end up becoming a traditional one-inning reliever due to his injuries. That wouldn't be the worst idea for a player who has struggled when asked to pitch deep into games.
Whether as a long reliever or a middle reliever, Cotton could undoubtedly make the most of his strikeout ability out of the bullpen. Coming out of the bullpen could also allow him to not put so much stress on his elbow and hamstring by pitching fewer innings. While he's got a long way to go to return to his 2016 form, Cotton could be on the right track with the Cubs.