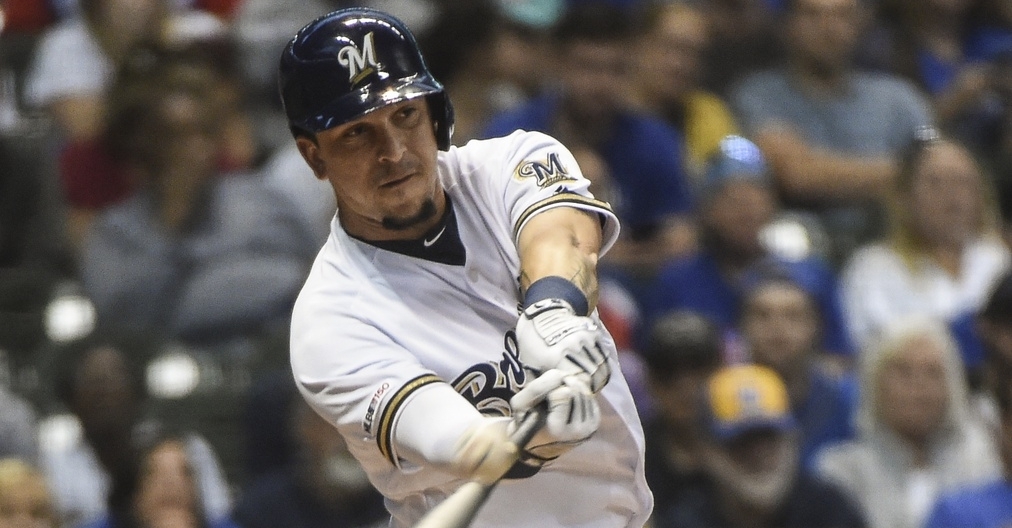 | | |
| --- | --- |
| What does the Hernan Perez deal do for Cubs? | |
---
So far, up to this point in the free agency process, the Cubs have been extremely quiet outside of a few low-level trades to bolster some depth to their roster. Perhaps the most noticeable signings are not even ones for the big-league roster as the Cubs inked both Brandon Morrow and Hernan Perez to minor league deals with the later of the two coming this week.
We all know about Morrow and his injury history in his tenure with the Cubs, but the Perez signing, although not one to knock your socks off, is a little intriguing to me as it could help the Cubs more than people think. What exactly are the Cubs getting with Perez?
Well, for starters, he is a low-risk signing that could bring in some rewards during the season. Not only is he a cheap signing, but the Cubs could ultimately invite him to spring training with a chance to compete for a bench spot. Should he fail at doing that, they send him to AAA without any penalty at all, where they could bring him up from time to time during the season. Should he play well in the spring, the Cubs add a nice veteran piece to the bench that helps them in a variety of ways.
The 28-year-old former Milwaukee Brewer will not knock your socks off, but many people believe that this is the type of signing where Perez could ultimately compete for the 26th and final roster spot this season. The Cubs should be familiar with Perez by now as he has been up and down with the Brewers the past few seasons and has provided them with several critical hits against the Cubs.
A career .263 hitter, Perez did go through his struggles last season in which he hit just .228 with a career-high strikeout rate of 26.8% and a career-high 52.8% ground ball rate. Those may end up being anomalies this season should he get back to his old self as the Cubs certainly see potential in him. As of right now, the Cubs bench looks like David Bote, Daniel Descalso, Victor Caratini, Ian Happ/ Albert Almora, and potentially someone else. With the struggles of some of those players, last season Perez has a decent shot to crack the roster out of spring.
Another reason I am semi optimistic about this signing is the loss of Ben Zobrist. Not only was Zobrist a leader in the clubhouse, but he was Mr. super-utility, who could play six days a week at six different positions. With Happ as the only true player who can play six positions, Perez is another guy who brings new meaning to the word super utility.
Last season Perez played 8 2/3 innings at first, 265 innings at second, 74 2/3 innings at third, 119 2/3 innings at shortstop, 3 2/3 innings in left, 12 innings in center, 34 innings in right and even pitched in three innings last season. The only position he didn't play was catcher, but if he were asked to do that, you know he would. Given some of the players on the roster, Perez will never start unless injuries happen or days off. Still, he is the perfect player to have on your bench when it comes to late game substitutions and potentially switching to avoid extras.
He is the type of player that knows his role with any organization and knows he won't be a star. He knows that being a role player is equally as important as being a starter and is willing to play any position you ask him to play and will do whatever it takes to win. Currently looking at the Cubs second base situation, Perez could find himself seeing more time at that position early on should Nico Hoerner be optioned to AAA out of spring and should Descalso continue his tailspin from last year.
Perez has never been a high average guy but does do an excellent job of making hard contact even if it is right at people. He is also right at league average against lefties, which surprisingly is something the Cubs struggled with last year after killing them in the past.
I don't want fans to look at this move and think that this is all the Cubs will be doing from here until spring. Perez signed a minor league deal for minor league money with an invite to spring to compete for the final roster spot. Given the versatility that he brings to the table and the amount of different positions he can play, there is not too much to dislike about this signing.
Perez is nothing more than a cheap upper-level depth signing that brings an above-average glove to multiple positions. The Cubs lack that which is a plus right there. He will compete with Descalso, Tony Kemp, Robel Garcia, and David Bote for the final spots on the bench. Given that Garcia is still extremely raw, I would think he beats out him leaving the final spot coming down to Perez and Descalso assuming the Cubs like what they saw in Kemp last season.
Perez is ready to battle for the final roster spot as he has done that the past few seasons on a postseason Brewers team, so the pressure is something he will be used to. Being that he is so familiar with the NL Central, he could offer some insight that other players may not have had coming from a different organization. These are the types of moves that can only help the Cubs going forward and not hurt them.

Upgrade Your Account
Unlock premium boards and exclusive features (e.g. ad-free) by upgrading your account today.
Upgrade Now