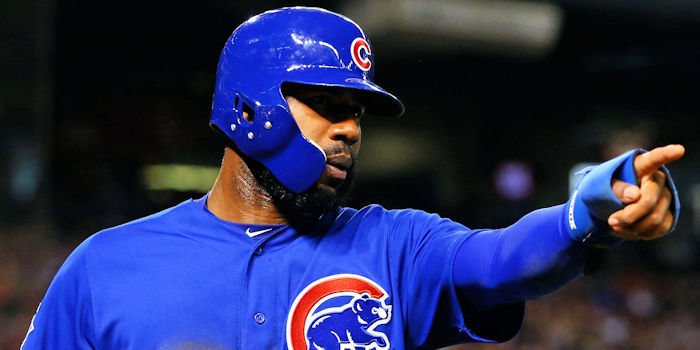 | | |
| --- | --- |
| Cubs News: What has happened to Jason Heyward? | |
---
What has happened to Jason Heyward? Advocates for him are still puzzled that he bats a slash line of .233/.317/.328, a slugging percentage that is the worst among qualified batters. Even skeptics of Heyward, after he signed an 8-year, $184 million contract with the Chicago Cubs, did not picture a poor offensive showing like this. Why has his OPS dropped over 150 points from last year? Could it simply be bad luck, as many of his teammates say? Maybe, but here are some data analytics that show why there has been such a drop off. Fixing these problems can be the solution.
He's having trouble adjusting to…a fastball.
65.6% of pitches thrown to Heyward are fastballs, the most among any qualified hitter in the MLB. While that is a crazy statistic, it is even more crazy that the percentage has jumped up more than five percent from his one season with the Cardinals. Since he is seeing more fastballs, he is taking more pitches. When he is ahead, Heyward looks at 56% of fastballs. When the pitcher is ahead, he sees only 31%, meaning that he is trying to foul off more than he should.
While the percentage of him putting the ball in play is relatively the same this year compared to his career, he is swinging less, putting him behind in the count. After he is behind 0-1 this year, he has an OPS of just .580. His career OPS after an 0-1 count? Almost 100 points higher, at .671.
He is not improving after seeing the starting pitcher again.
Typically, once the top of the order starts batting a third time, they are more aware of the pitcher and what pitches should be coming. However, this has not been the story for the new Cub. In his career, Heyward's slash line when seeing the starting pitcher for a third time in the game is .300/.384/.469. This year, it has dropped to a .206/.289/.324 line.
Inside or outside, he is not generating power.
Typically, Heyward has never been a "power" hitter, but he did hit 27 home runs in 2012. Despite this, he could be on track to have the lowest Isolated Power and Batting Average on Balls-In-Play (BABIP) numbers of his career. The graph below might explain this (per Brooks Baseball) – this shows Heyward's Isolated Power this year, and how poor his numbers have been in the lower corners. Perhaps it is because of a new swing adjustment, as he is shortening his swing while bending his knees less than before.
Currently, Heyward has a mere five home runs and 31 RBI's.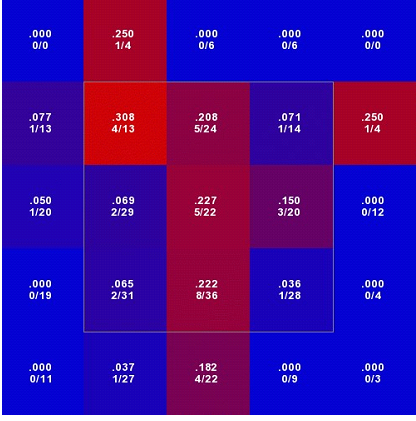 So there is some bad luck, but it is not everything.
This is where the analysis gets interesting. Heyward is batting .561 on line drives this year, which actually seems great, right? His career batting average when he hits a line drive, however, is .709. Maybe it could indeed be that he is hitting it hard, but it is going right to the fielders.
That being said, a lot of his line drives this year are more "soft" line drives than "hard" line drives. Heyward's hard-hit rate minus soft hit-rate stands at -0.7%, where the league average is 12.5%. This puts him in the bottom five percent among batted balls, putting him in the same company as Billy Hamilton, Erick Aybar, and Ben Revere. Heyward is a much better player than all three of these players. If he wants to work back to his averages and be worth $184 million, he needs to fix this problem. It is causing him to have lower BABIP and Isolated Power numbers.
With all of this said, Heyward has batted .300/.318/.550 over the past week, so maybe he has found his stride. However, that is a low sample size, and unless he changes some of these patterns, the numbers will regress back to the mean.
His defense still is something special, though.
(Evan Boyd is a senior studying statistics at the University of Wisconsin-Madison. As a writer and a data analyst, Evan is looking into sports analytics for a career. Evan also is the Station Manager at WSUM 91.7 FM Madison student radio. Feel free to reach out to him at enboyd@wisc.edu for any questions or for a resume, and follow him on Twitter @eboyd42)

Upgrade Your Account
Unlock premium boards and exclusive features (e.g. ad-free) by upgrading your account today.
Upgrade Now