| | |
| --- | --- |
| What type of Cubs fan are you? | |
---
| | | |
| --- | --- | --- |
| Friday, July 6, 2018, 8:39 AM | | |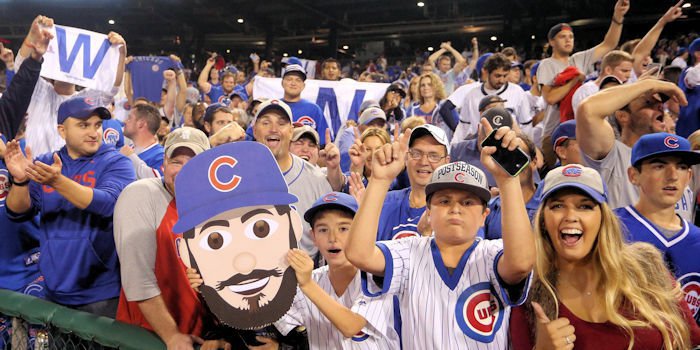 As I woke up this morning and tried to come to life, I started thinking about the various types of fans that any professional sports team has.
You have those passive fans who check the scores, maybe catch a game on TV here or there, and buckle down when and if their team makes the playoffs. If they live in reasonable proximity of the stadium, they may even pop in once during the season to catch a game in person. Nothing wrong with that, not everyone lives and breathes sports.
Then you have that next level of fandom which sees people catching every game, either in person, by radio or on television. These are the people who buy the t-shirts, sweatshirts, bobble-heads and other collectibles. While loyal, they aren't about to go to the frigid tundra of places like Wrigley Field in early April, no, no, buying tickets is saved for the summer months; not a wrong choice, who wants to suffer frostbite while trying to eat a hot dog?
Next are the irritating bandwagon fans. The minute that a team wins a championship, the bandwagon fans start crawling out of every crevice. While these fans are suitable for merchandise sales and temporary inflation in the television ratings, these are the folks that'll bail the minute the team doesn't win it all. They're easy to spot though; these are the guys and gals that own about eight different team jerseys. When you see a new jersey, you'll know they jumped ship on someone again. They'll claim to have been a fan forever, yet they can't name a single guy on the team. I spotted one of these on social media recently when he announced that "Jake Arrieta sucked as a relief pitcher for the Phillies."
I, for one, have always been very loyal in supporting the Chicago sports teams. I am not the kind of guy that sugarcoats things when my teams play poorly. That doesn't mean that I'm not still a loyal fan, and I'm certainly not a bandwagon guy; it just means that I'm a fan who is also a realist. The Cubs have played poorly at times this season, dropping five to the Reds, and losing that first game in Los Angeles. They're hitting throughout the season has been on-again, off-again, and they are struggling with RISP. The pitching staff, both starting, and relief, has been plagued by injury, control issues, and long-balls. Those are the facts, through the beginning of July 2018, and I'm not going to pretend those issues don't exist.
That brings me to the final group: the hardcore loyalists who want to lynch you, the minute you say something negative about their team- even when their team is your team. I was referred to as a fair-weather fan on social media the other night, all because I refused to succumb to the mindset that the Cubs were just fine, and June standings didn't matter.
I get it: The Cubs won the World Series, and no one wants to think that they are anything but flawless, but that simply isn't the case. Teams win, and teams lose, teams have winning streaks, and teams suffer slumps. There is nothing wrong with critiquing when your team plays poorly, so long as you're not afraid to be complimentary when they are playing well. If political correctness starts running amok among MLB fans, the next thing you know, teams like Cincinnati will receive a participation trophy in October.