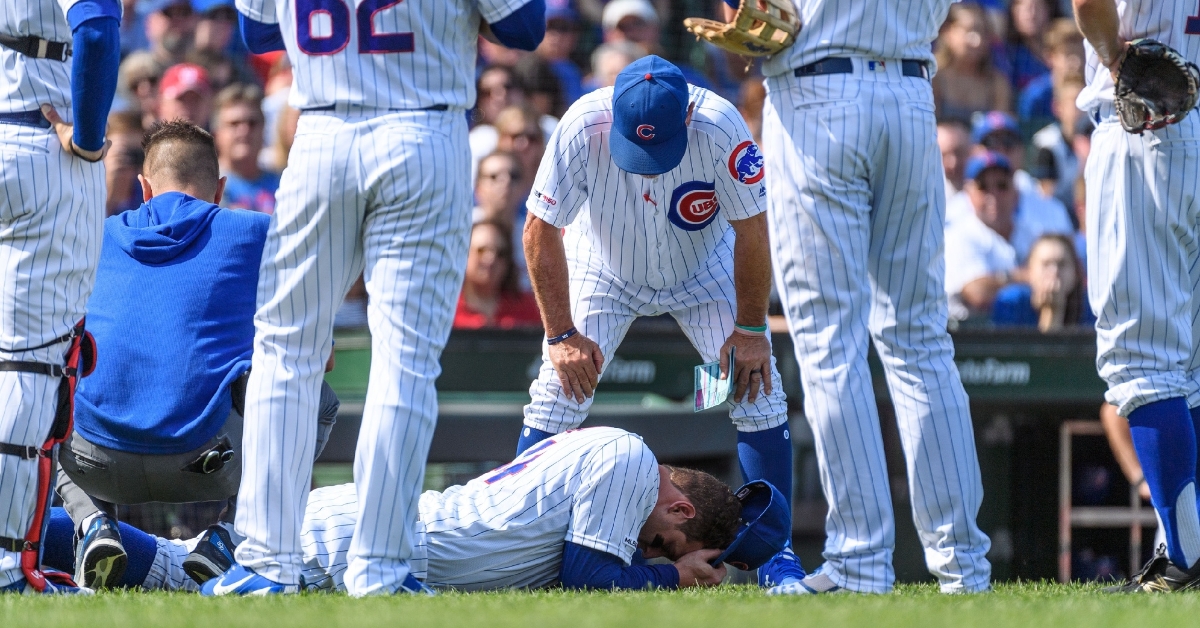 | | |
| --- | --- |
| Cubs News: What's an ankle injury to a cancer survivor like Anthony Rizzo? | |
---
| | | |
| --- | --- | --- |
| Sunday, September 22, 2019, 12:26 PM | | |
When Anthony Rizzo defied odds and came back early, on an injured ankle, and attempted to spark the Chicago Cubs, he displayed an immense amount of both toughness and heart.
The Cubs ultimately lost a crucial game in the standings, 5-4 in ten innings. Then followed that up with a few more heartbreaking one-run losses. But the results have not taken away from Anthony Rizzo's display of toughness.
This is certainly not the most challenging thing Anthony has done. Many forget he is a cancer survivor himself. When he was 18, Rizzo got the shocking news that he had Hodgkin's Lymphoma. Six months of chemo and six weeks of treatment later, Rizzo had beat the disease.
Fast forward 12 years, Rizzo sprained his ankle in a gruesome-looking fashion, and Cubs fans collectively held their breath as they were already out one star in Javier Baez. Rizzo was told to wear a boot for 5-7 days, reevaluate his ankle and go from there. Next thing you know, four days later, there was Rizzo in full uniform to the tune of the Undertaker's theme song, indicating his return from the dead.
Our Hero off and ON the field. Showing every kid out there what is means to Stay Strong. pic.twitter.com/nXnjpKqPBo

— A. Rizzo Foundation (@RizzoFoundation) September 20, 2019
Rizzo played through the pain of the injured ankle and even homered in his return, a certainly inspiring story for the rest of the Cubs to feed off on - but nothing compared to the fight Rizzo went through years ago and regularly sees.
Following beating the disease, Rizzo started his foundation, called the Anthony Rizzo Family Foundation in 2012 - and has since been helping both cancer patients and their families find a sense of normality along with necessary resources since.
Even this past week, his injured ankle and the Cubs were his second priority. Putting smiles on the faces of cancer patients at Lurie children's hospital was number one on his to-do list.
His foundation's mission statement says it best: "The Mission of the Anthony Rizzo Family Foundation is to raise money for cancer research and to provide support to children and their families battling the disease."
In May of 2017, Rizzo donated 3.5 million dollars to Lurie Children's Hospital in Chicago to help cover expenses for families who are struggling to cover their child's cancer treatments themselves.
Rizzo and his wife still often make it to the waiting room that has now been renamed after him. The room is decorated by an autographed Anthony Rizzo jersey...autographed by patients, not Rizzo.
Rizzo visits Lurie Children's hospital frequently and is continuously shown putting smiles on the faces of patients who are battling the disease.
One of those faces is that of Steven Trifilio, a 19-year-old student at Loyola University. Trifilio was diagnosed with acute lymphocytic leukemia back in 2017 and has been in complete remission for right around two years.
Rizzo came to visit Trifilio once during his stay at Lurie Children's Hospital.
"When I met him it seemed like he had been there before, even though he wasn't at Lurie's," Trifilio said. "He was extremely kind and inspiring for all of the patients. For me, when I go back to the hospital, I think how far I've come and how minuscule other problems can be. I think Rizzo has that same mentality. He beat the worst of the worst, and now he can overcome anything. He's a great guy, and he really cheered up a lot of those kids. I just took a picture with him and walked away because I thought that was it, but then he called me back and signed a hat for me. It just shows how much he actually cares [about the patients]."
Rizzo has beat cancer over 12 years ago, and Trifilio is going on year three. What has Rizzo's success done to inspire a fellow survivor like Trifilio?
"It makes me wanna strive to do greater things and also to give back to the people that helped me," Trifilio said. "Seeing his recovery shows me that it's possible to come back from the darkest places. He really exemplifies the saying 'you can do anything if you put your mind to it.'"
Up to the plate next is Dylan Provenzano, an Italian 14-year-old high school freshman at Maine South. Provenzano is also, in the beginning, his third year of remission and is following in Rizzo's footsteps as a first baseman and pitcher for the Red Hawks.
Provenzano also had a chance to meet Rizzo during his fight, his favorite player on his favorite team.
"It meant a lot, seeing him there I knew that he went through the same thing," Provenzano said. "So him coming there to see me and not me just seeing him, made me feel stronger. Seeing him now could mean that I could be there as well. "
How inspiring is Rizzo's battle for Dylan?
"It inspires me a lot. Showing how much he went through and where he is today. I feel like I can do the same," Provenzano said.
If Provenzano were given a chance to chat with Rizzo again, he would keep his words for the Cubs star brief.
"Thank you very much," Provenzano said, with a lot of weight behind each of the four words.
When Rizzo had the chance to talk to either Steven or Dylan during their individual battles, he kept his message to them consistent. Somewhere along the lines of "Keep fighting, it'll all be okay" was passed from survivor to future survivor in their conversation.
And for the Cubs now, Rizzo will bring that same attitude for the team he plays for as they try to climb back into both the division and playoff standings.
What's an ankle injury to a cancer survivor anyway.