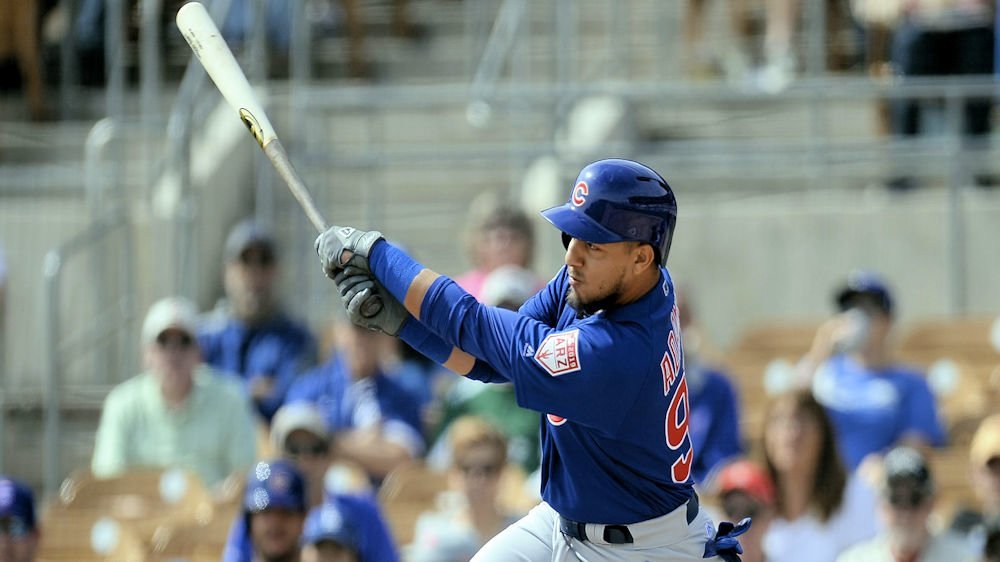 | | |
| --- | --- |
| Who gets the final bench spot for Cubs on Opening Day? | |
---
| | | |
| --- | --- | --- |
| Friday, March 22, 2019, 1:04 PM | | |
With one week to go until baseball finally matters, the Cubs are going to have to start making some tough roster decisions to have their roster set at 25 men.
One of those decisions may go down to the final day of spring as the team needs to decide what to do with the final bench spot on the roster. As it appears on this day, the Cubs will most likely go with a four-man bench given numerous players ability to play multiple positions.
With that being said and baring any major injuries, three of those bench spots appear to be set with Victor Caratini, David Bote and Ian Happ. That leaves the final roster spot up for grabs as just a short time ago, it seemed unlikely for it to be open.
Free agent acquisition Daniel Descalso was not only expected to make the opening day roster but to start a chunk of time at second base early on in the season. With his shoulder injury suffered during the middle of spring training, his roster status is now up in the air as him making the opening day roster could be in jeopardy. Should be healthy enough to go on May 29th, that final roster spot will be his and this article will be a thing of the past. However, with his status unknown it is good to have a few options ready to go if needed.
Ryan Court: For the second spring in a row, Court has performed well for the Cubs coming up with several key RBI's and hits along the way. A middle infielder by trade, Court would fill the void nicely while Descalso heals as he can play a decent second base.
The 30-year-old continues to be a minor league journeyman despite putting up solid numbers. Coming off a season where he hit .262 with 11 HRS and 62 RBI's, he has shown he could be an excellent role player for a team that could use one. Even if he finds his way to Texas to open the year, he may not get much playing time and probably be used as a pinch hitter.
Johnny Field: Perhaps one of my favorite names in all of baseball is outfielder Johnny Field. One of the under the radar signings the Cubs made this offseason was bringing him in, and it has paid off in spring as he continues to dazzle in the field defensively and does a good job putting strong at-bats together.
Field's numbers were less than eye-popping in the minors last season with a .222 average, 9 HRS and 21 RBIs. However, it shows that when he makes contact, he has the power to drive balls over the wall. Add in the fact that he has 85 career steals at the minor league level which gives him the ability to make plays happen with his legs also. Even though I see Field as a long shot to make the opening day roster, I do think he will be in Chicago at some point this season.
Mark Zagunis: If you have been watching spring closely this season, Zagunis most definitely deserves a spot on the roster as he has been crushing the baseball. At just 26 years old, Zagunis is still growing into the kind of hitter he wants to be and the power is starting to follow.
In the minors, Zagunis has been a solid hitter compiling a .276 average. With just 40 career HRS to his name, he has never had a season in which he hit more than 13, but in that year, he did drive in 55 RBI's. Add in the 48 career steals, and it seems like Zagunis could find a home on an MLB roster someday.
The good thing we have noticed in regards to Zagunis is he continues to not only develop, but to improve from one season to the next. That allowed him to reach the MLB level in each of the last two seasons where he went 2-5 with an RBI last season and is 2-19 with two RBI's in his brief MLB experience. As much as he has earned a potential opening day spot, Zagunis does have minor league options left. For that reason, I find it unlikely for him to win that final bench spot.
Cristhian Adames: The final player I see competing for th roster spot is 27-year-old and non-roster invitee Cristhian Adames. Many of you may not be familiar with his name and may be wondering what he has done to earn the consideration for that spot.
Well for one, he has been a Minor League journeyman that has found his way on many MLB rosters over the years accumulating a .306 career average. Even with his subpar .206 average, two homers, and 20 RBI stat line during his service time, he has by far the most big-league experience in terms of unfamiliar names trying to make the roster.
Another thing he has in his favor would be his proven track record as a solid hitter in the minors. With over 3300 career minor league at-bats, Adames has hit a respectable .278 average with 47 homers and 388 RBI's while adding 70 steals. Add in that he too is also a middle infielder; he would not miss a beat if he had to fill in on the MLB roster early on in the season.
The final thing and most important thing to understand about his situation as to why he is my favorite to take Descalso's spot if he starts the season on the DL, he has no minor league options left. For some that may not be a big deal, but the Cubs do like to hold onto players especially if you hit reasonably well in the spring. Adames has not blown the coaches away in Arizona, but he also hasn't played poorly enough for them to want him off the actual roster.
Not having any options left works in his favor because should the Cubs not tender him to the MLB club following spring, Adames will hit Free Agency and would have to clear waivers for the Cubs to get him back. That could happen, and he may wind up in Iowa, but do the Cubs want to take that chance knowing that some teams will look for him in terms of infield depth.
Although no decision has been made yet, the Cubs are getting to the point where they need to decide now before they find themselves in a bind on opening day. Expect this battle to continue through the weekend with a decision being made late Tuesday or Early Wednesday.