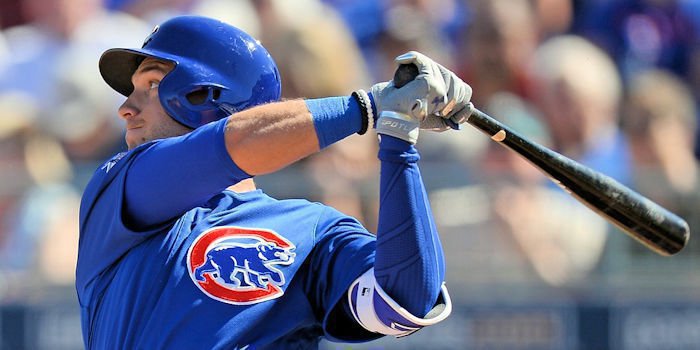 | | |
| --- | --- |
| Cubs News: Who should start: Almora Jr. or Jay? | |
---
CHICAGO -- With Dexter Fowler gone to St. Louis in free agency, one of the question marks going into the 2017 season for the Chicago Cubs will be at the centerfield position. Fowler was a critical part of the 2016 World Series run, and his void may be evident at the beginning of the season until the Cubs get a true starting centerfielder to emerge.
The centerfield position battle comes down to two players; the (second-year) rookie and the vet. Albert Almora, Jr., the 22-year-old second year player, and newly signed 32-year-old Jon Jay. These guys are both solid ball players, and it is not quite yet certain who will be the main man this year. It is important to note that Joe Maddon will not hesitate to rotate these guys in and out and give them their fair chance to prove themselves. At first, expect these guys to get an equal amount of starts, however one of these players will eventually solidify the spot as the sole starting CF.
So, let's look at some pros and cons for each player that may help us view this position battle more clearly.
Albert Almora Jr.: A young player known for his defensive skills, Almora Jr. showed his maturity on the bases in the top of the 10th inning in game 7 of the World Series. He made the smart move of tagging up instead of taking a risk, and it paid off as he scored the go ahead run for the Cubs.
Pros
Defense: In Game 3 of the 2016 NLDS against the Giants, Almora made the defensive play of the night in the ninth inning. He robbed Buster Posey of a potential game-winning hit and also turned it into a double play to end the inning. The Cubs went on to lose the game in 13 innings but this play has been the highlight of his defensive career, and people are starting taking his defensive skill seriously after it.
Base running: As we talked about earlier, Almora Jr. made a very mature decision by deciding to stay back and tag up first base on a deep Kris Bryant fly ball that looked like it had potential for extra bases. This is very impressive for a young player with little experience, and this came in the 10th inning of World Series game 7. If this is any preview to how he will run the bases this year, it will help his case for more playing time.
Age: As a 22-year-old, he has so much room for development. Young players in the Cubs organization have been thriving in the last few years, and expect Almora Jr. to progress like the others. Speaking of progression, he has batted .339 with an impressive four homers including two grand slams and 16 RBIs during spring training.
Cons
Experience: He is only a second-year player, and despite his small flashes of "big game" playing time, he didn't play too much in big games, for obvious reasons as he had been playing behind Dexter Fowler all year. Jay has much more quality experience.
Overshadowed: Not very many people, besides Cubs fans, are very familiar with his name. He will need to continue to prove himself to earn his time and make a name for himself as a starter in the MLB.
Jon Jay: Jay, a former St. Louis Cardinal and San Diego Padre, has always been an all-around player; on offense and defense. He is a solid contributor that provides solid production but won't be bringing home any batting crown or gold glove awards, especially because of his age.
Pros
OBP: His on-base percentage has never dipped below .306 in his seven-year MLB career. What the Cubs need to fill Fowler's void is someone who can get on the bases and provide a spark any way he can.
Proven winner: He has been a steady contributor to a very successful St. Louis Cardinals team every year since he made his debut in 2010. Jay played in 105+ games every year from 2010-2014, a stretch in which the Cards never won less than 86 games a season.
Cons
Age: He is 32, which isn't too shabby, but the peak of his career is more than likely past him. However, his steady production in center field could be what the Cubs need to complement Schwarber and Heyward in the outfield.
Management: Jed Hoyer was quoted calling Almora Jr. the team's "center fielder of the future" making us believe that Almora will be getting more chances throughout the season.
My Pick: As I said, it will take a while for the starter to emerge if one even does this season. If Theo Epstein and Jed Hoyer have shown us anything in the past five years, it's that they value team chemistry more than any other aspect. Whoever gets the spot will be whoever fits with the flow of the team the best. I'm going to go with Albert Almora Jr. in this position battle as his positives are tremendously exciting, and the Cubs organization and Maddon embrace young players. If he gets his bat going and lives up to his defensive potential, he will be the man in center for the Cubs this year and for years to come.