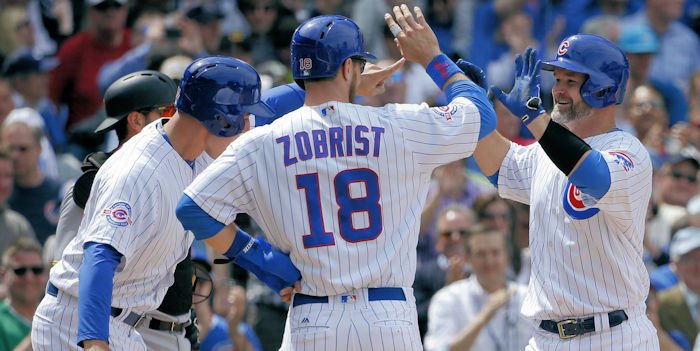 | | |
| --- | --- |
| Will David Ross end up on the Cubs coaching staff? | |
---
Chili Davis is gone, and Jim Hickey may be next, but it is starting to appear as though the Cubs may need to fill more than just one or two vacancies in the near future.
With managerial spots open around MLB, Cubs' Bench Coach, Brandon Hyde, has begun to garner attention. As of this past weekend, it has now been confirmed that Hyde has interviewed for both the Texas Rangers, as well as the California Angels. Leaving Theo Epstein to wonder if he'll also be needing a bench coach.
With regard to a replacement for Hyde, one name comes to my mind: David Ross. While wrestling Ross away from ESPN may be a fairly easy task, Ross has also interviewed for the manager's job in Minnesota. No one can blame the guy if he chooses to take the ultimate position for a retired player, that of a team manager, but I think Rossy may be missing the boat if he overlooks an opportunity to serve as the Cubs' bench coach.
True, he'd be playing second fiddle to Joe Maddon, at least for 2019, but it has been well documented that neither the Cubs nor Maddon, have sought a contract extension at this point, making Maddon's future with Chicago unclear past next season. If Ross were to come in as a bench coach and forego a manager's spot for next season, he'd be aligning himself perfectly to succeed Maddon, whenever that time may come.
In just two seasons with the Cubs (2015-2016), Ross managed to endear himself to management, players and fans alike. Despite only playing in 139 total games in a Chicago uniform, he brought a positive attitude and a desire to win to the club, and his leadership skills were unquestionable.
If the Cubs have any interest in Ross, they'd better act soon, or he will inevitably be gobbled up as someone's manager.
Turning to a possible pitching coach to replace Hickey, my colleague, Dan Marich, had it absolutely right: Lester Strode. Bullpen coaches don't get a lot of media attention (TV time), as they work behind the walls and gates leading to the pen, but Strode doesn't need a ton of air-time in order to have his work recognized.
Although we've all criticized the team for not playing with a sense of urgency, Hickey almost seems to be too serious, almost overly desperate at times. I think Strode has the ability to be serious but also knows when irreverence may be in order (look at the dancing bullpen).
So, for all of the speculation, the one thing we know for sure is that the Cubs need a new hitting coach; but who? There're hundreds of names out there, ranging from retired players to those who have never hit in the major League a day in their life. Before you laugh, several of today's hitting coaches never advanced past a minor league career.
While people are floating around names like Manny Ramirez as the kind of guy that the Cubs need to go after, the truth is, the average MLB hitting coach was nowhere as good as Ramirez. Not that Ramirez would be a bad choice, as his career slash line was .312/.411/.585, but guys like that aren't easy to come by. The average slash line for any of today's thirty MLB hitting coaches (including Chili Davis) is .271/.302/.350.
If the Cubs could just get their hands on a guy somewhere between Ramirez and the average hitting coach, they'd need to find a guy with a slash line somewhere around .292/.357/.468.
While Epstein and the boys are out looking for this guy, I'd suggest that he's right under their noses; how about Daniel Murphy?
Murphy's career slash line is .299/.344/.458, putting him only slightly below the average taken between Ramirez and all of the other 30 MLB hitting coaches, and he's already part of the team (well, at least on paper for another month).
Why not use Murphy as a player-coach? He would get a more limited playing schedule by using him as a PH/DH, and could fill in for second base as needed, giving him ample bench time to assess and address hitting issues throughout the game. The reduced playing time would likely benefit his bad knee and set him up nicely as a full-time coach when he finally hangs up his cleats for good.
I threw that idea out to social media and got about a 50-50 reaction. Some say Murphy wouldn't want it, as he'd rather play than analyze video, but I think he'd relish the opportunity. Per Epstein and Joe Maddon, Murphy has coached several hitters since joining the Cubs, and he's become one of the most respected guys in the clubhouse.
With free agency looming, but better way for the Cubs to retain Murphy and his bat while filling the void for a hitting coach? Get after it Theo, you may not find a better guy for the job.