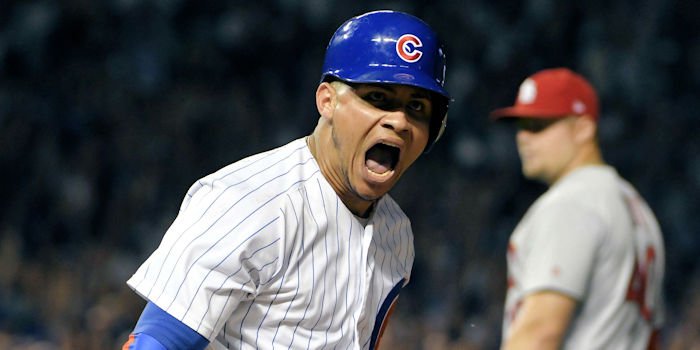 | | |
| --- | --- |
| Cubs News: Willson Contreras ranked as a Top 3 catcher | |
---
| | | |
| --- | --- | --- |
| Tuesday, January 30, 2018, 5:07 PM | | |
January 29, 2018 – Chicago Cubs catcher Willson Contreras ranked third on MLB Network's annual Top 10 Catchers Right Now! program this past Saturday. Contreras, who makes his debut on the countdown, finished one spot ahead of the Dodgers' Yasmani Grandal and one spot behind the Yankees' Gary Sanchez. In addition to Contreras, the Cubs' Kris Bryant ranked first among the Top 10 Third Basemen Right Now! two weeks ago.
Hosted by MLB Network's Brian Kenny alongside MLB Network analysts, each Top 10 Right Now! ranking takes into account player performance over the last two seasons, a number of offensive and defensive metrics, both advanced Statcast data and traditional numbers, and expert analysis by the MLB Network research team.
On Saturday's countdown, MLB Network analyst and 13-year MLB veteran catcher Dave Valle said of Contreras, "[He's] incredibly athletic back there. …Their pitchers really do not do a great job of giving him an opportunity [to throw out runners], because this guy has the best throwing arm of any catcher in the game of baseball. Those two don't really kind of equate right there. If your pitcher's not giving you a chance, you're not throwing anyone out."
The complete ranking for MLB Network's top-10 catchers is listed below and an embeddable recap on Contreras can be seen here:
Top 10 Catchers Right Now!
1. Buster Posey, San Francisco Giants
2. Gary Sanchez, New York Yankees
3. Willson Contreras, Chicago Cubs
4. Yasmani Grandal, Los Angeles Dodgers
5. J.T. Realmuto, Miami Marlins
6. Austin Barnes, Los Angeles Dodgers
7. Mike Zunino, Seattle Mariners
8. Yadier Molina, St. Louis Cardinals
9. Tyler Flowers, Atlanta Braves
10. Robinson Chirinos, Texas Rangers
Now in its eighth season, MLB Network's Top 10 Right Now! series features analysis from MLB Network on-air personalities, plus roundtable discussion from President of SABR Vince Gennaro, The Ringer's Ben Lindbergh and MLB.com analyst Mike Petriello. Viewers can submit a top-10 list for each position by voting on MLB Network's Facebook, Instagram and Twitter pages using #Top10RightNow. All #Top10RightNow votes are incorporated into an overall fan-generated Top 10 Right Now! list in each episode.