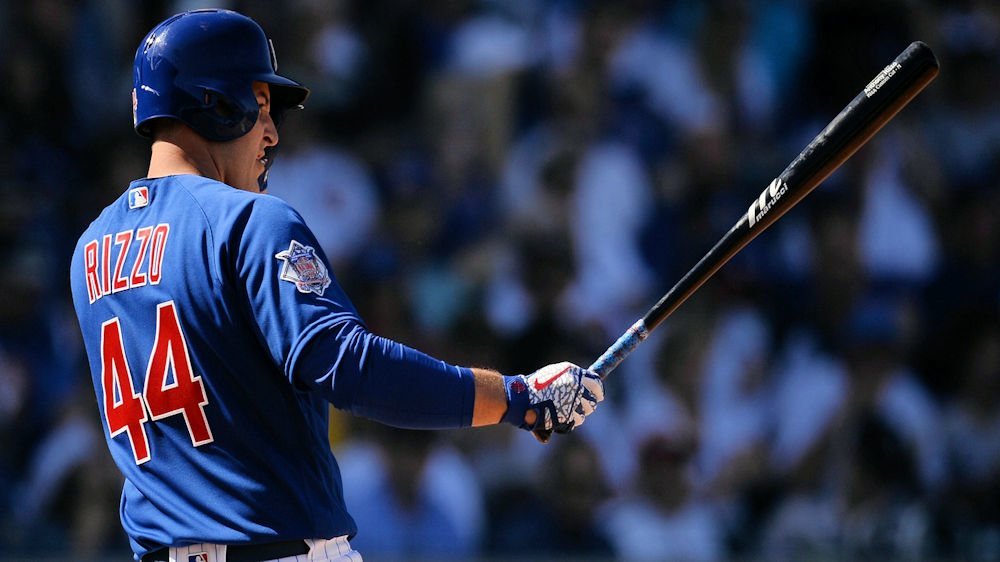 | | |
| --- | --- |
| Yu Darvish set to start, Cubs sign infielder, Rizzo happy with walks, and MLB news | |
---
| | | |
| --- | --- | --- |
| Saturday, March 30, 2019, 8:21 AM | | |
Next Game: TONIGHT: Cubs @ Rangers, 7:05 PM: Yu Darvish (0-0, 0.00 ERA) vs Volquez (0-0, 0.00 ERA).
Cubs' Home Opener: 9 Days. April 8 vs. Pirates: Game time: 1:20 PM Central. (ABC-7, MLB.TV)
Friday's Game Recap: OFF-DAY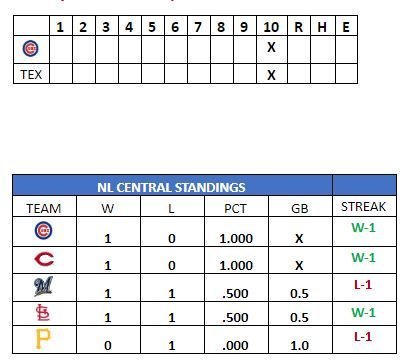 Cubs News & Notes:
Ben Zobrist: With Zo appointed as the DH in the Cubs opener on Thursday, he becomes only the second Cub in history to serve as a DH on Opening Day; Jorge Soler (2016) was the first.
Javier Baez: As incredible as Javy's two home runs on Opening Day were, Baez was not alone in his multiple-homer campaign. Also hitting a pair of dingers on Thursday: Joc Pederson (LAD), Enrique Hernandez (LAD), Kolten Wong (STL) and Tim Beckham (SEA). Javy's 4-RBI campaign was matched by Joc Pederson (LAD) and Luke Voit (NYY).
Kyle Schwarber: While Schwarb's didn't get to start on Thursday, he is currently scheduled to start in both weekend games in Texas.
Leaders are in red- (Updated 3/29/19)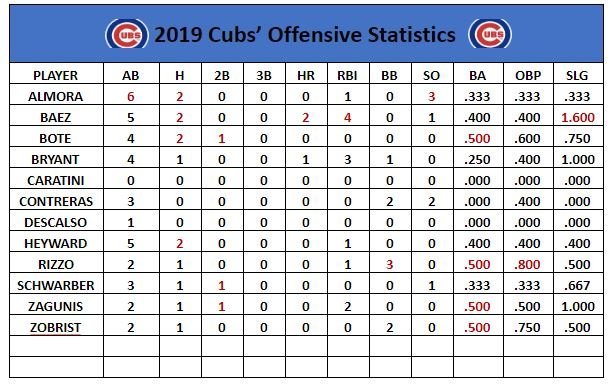 Maddon on Rizzo: About Rizzo's walks, Maddon says, "He's the only guy that really gets happy about three walks, but that is such a good sign that he's seeing the ball well."
Dixon Machado: The Cubs have agreed to a minor league deal with former Tigers' infielder, Dixon Machado, who was released by the Marlins earlier this week.
On this date (3/29): On this date in 1954, Manager, Phil Cavarretta, told reporters, and then Cubs' owner P.K. Wrigley, his feelings about the Cubs' chances for the upcoming season. He was fired and replaced by Stan Hack. Cavarretta was the first manager in history to lose his managerial position in Spring Training. In 2000, the Cubs spent March 29 opening the season and the millennium with a W in Tokyo, Japan.
Cub birthdays: Celebrating yesterday were ex-Cubs Domingo Ramos (61), Karl Pagel (64), and posthumously, Bill Harbridge (164).
NL CENTRAL SCHEDULE (March 24 – March 31, 2019)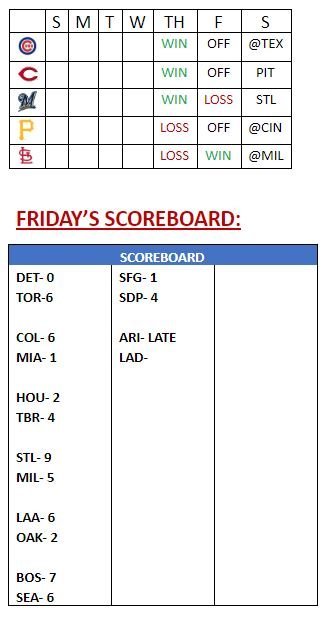 MLB News:
The State of Baseball: In an ESPN article (written by Jeff Passan), Jeff addresses the unfortunate state that America's pastime has become.
"This is Major League Baseball in 2019, as the sport celebrates its 150th anniversary, writes Passan. It is players lobbying owners to win. It is two of the 25 best players in an organization making the team -- and that registering as a surprise. It is frugality in free agency begetting, oddly enough, a deluge of spending. It is the faint sound of labor war drums and the heavy sound of an on-field product in transition. It is the confluence of these elements into a $10 billion-a-year business that teeters and wobbles and oscillates in search of balance -- and an identity to sell it to a new generation that still isn't sold. The business is the game. The game is the business. And more than ever, for better or worse, they are conjoined."
Dallas Keuchel: According to agent, Scott Boras, Keuchel is throwing 95-pitch sim games every five days to stay sharp. Boras says, "We are in discussion with a number of clubs."
Brewers: Milwaukee announced today that RHP Corey Knebel would undergo Tommy John surgery. In 2018 Knebel finished 29 games, notching 16 saves with 88 strikeouts in just 55.1 innings of work.
Indians: Cleveland has signed free-agent OF, Cameron Maybin, to a minor league deal.
Mariners: Seattle has acquired catcher Tom Murphy from Giants, for RHP Jesus Ozoria; and have optioned catcher David Freitas to Triple-A Tacoma.
Rangers: Former Rangers' MLB, All-Star pitcher, John Wetteland has been indicted on three counts of sexual assault of a child under the age of 14. Wetteland, 52, is accused of forcing a relative to perform a sex act on him, beginning in 2004 when the child was 4. The accuser said it happened twice more during a two-year period. The initial arrest was made in January, and Wetteland was released the same day after posting a $25,000.00 bond.