| | |
| --- | --- |
| Cubs ranked in Forbes' Top 5 most valuable MLB teams | |
---
| | |
| --- | --- |
| Tuesday, April 11, 2017 2:37 PM | |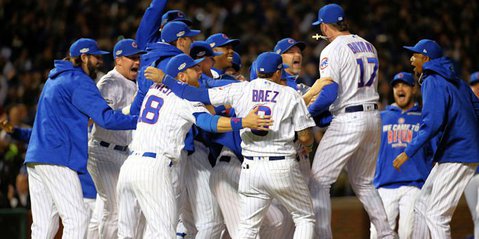 The Chicago Cubs won the World Series for the first time since 1908 and now have become the fourth-most valuable franchise in the majors according to Forbes Magazine.
The Yankees were No. 1 on the list with an estimated worth of around $3.7 billion, followed by the Dodgers ($2.75 billion), Red Sox ($2.7 billion), and the Cubs ($2.2 billion).
The $2.2 billion valuation is a one-year increase of 22% from last year. Cubs President Tom Ricketts bought the Cubs for a record-breaking $845 million in July 2009. His investment is up more than 180%, counting for inflation.
"We always talked about it in the strategic plan that the business side and the baseball side would come together," Tom Ricketts told ESPN.com on Monday. "We're just really fortunate that, pretty much, all the right moves were made to make that happen. Everything we're doing off the field, everything we're doing on the field, everything we're doing to the field [has] all kind of come together."
The average major league team is worth $1.54 billion which is up 19% from a year ago. The major reason for the rise is digital and television rights which is bringing in added revenue streams.