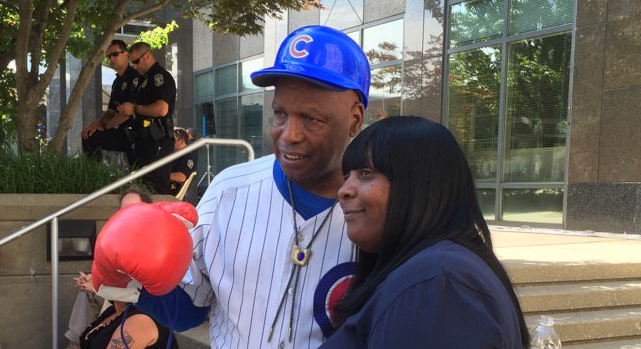 | | |
| --- | --- |
| Cubs News: Report: Ronnie Woo-Woo booted from Wrigley Field | |
---
| | | |
| --- | --- | --- |
| Friday, May 12, 2017, 9:58 AM | | |
Chicago Cubs superfan Ronnie Woo-Woo has been going been going to games at Wrigley Field for most of his life was kicked out of Wrigley Field on April 19th.
Wickers was removed from the bleachers when he could not show an e-ticket that showed he had a ticket to the game.
"Our guest services staff knows who Ronnie is. They know what he does and that he is here to enjoy the games and to somewhat entertain the fans," said Julian Green, Cubs vice president of communications and community affairs.
"But he has to have a ticket like everyone else," Green said.
"I know I am not on the company's payroll, but I have supported this team all of my life," Wickers told the Chicago Sun-times.
"I will be 76 years old this year, and I used to cheer really loud for years and years and years, but I don't have the voice anymore and I'm quiet as a mouse."
Wickers decided against making a huge scene by forcing the security staff to force him out kicking and screaming.
"I started to let them drag me out of the ballpark and [news of] that would have gone all over the place," Wickers said.
Wickers is known for his cheers at Wrigley Field and screaming his unique "Woo!" during the games as early as 1958.