| | |
| --- | --- |
| Chicago Cubs: Rizzo overtaken as starter in latest All-Star voting | |
---
| | |
| --- | --- |
| Monday, June 5, 2017 1:49 PM | |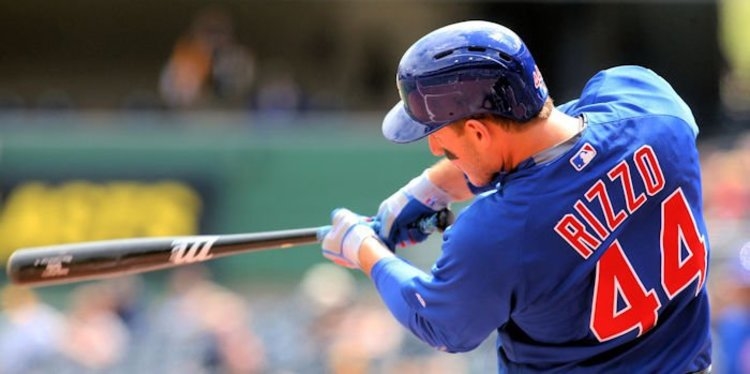 Ryan Zimmerman of the Washington Nationals has overtaken the top spot at first base, surpassing Anthony Rizzo of the Chicago Cubs in the latest National League balloting update for the 2017 MLB All-Star Game presented by Mastercard, it was announced earlier today on MLB Network. The next balloting update for the American League will be announced tomorrow. The 2017 Esurance MLB All-Star Game Ballot, which is available exclusively online via MLB.com, Club sites and mobile devices, will be accessible until the voting period ends on Thursday, June 29th at 11:59 p.m. (ET).
Zimmerman, who trailed the position by nearly 94,000 votes last week, has a total of 670,671 votes, while Rizzo has accumulated 657,702 votes. Zimmerman is aiming for his second career All-Star selection (2009) and first starting assignment. Entering play today, the 32-year-old leads the Majors with a .374 batting average to go along with 16 home runs and 48 RBI. Rizzo is bidding for his fourth career All-Star selection (2014-16) and second straight fan-elected start. The last Cubs infielder to earn a starting nod from the fans in consecutive seasons was Hall of Famer Ryne Sandberg, who claimed eight straight starts at second base from 1986-93.
On the left side of the infield, a close three-way race has emerged at shortstop between leader Corey Seager of the Dodgers (604,783), Zack Cozart of the Cincinnati Reds (547,750) and 2016 All-Star starter Addison Russell of the Cubs (537,688). Seager leads NL shortstops with 39 runs scored and 36 walks, while Cozart paces the position with nine home runs, five triples and a .344 batting average. Seager and Russell are each vying for their second All-Star selection (2016), while Cozart is aiming for his first Midsummer Classic appearance.
The remaining NL leaders include: second baseman Daniel Murphy of the Nationals (1,149,130); third baseman Kris Bryant of the Cubs (895,752); catcher Buster Posey of the San Francisco Giants (917,359); and outfielders Bryce Harper of the Nationals (1,459,235), Charlie Blackmon of the Colorado Rockies (979,961) and Jason Heyward of the Cubs (498,079). Murphy continues to rank second overall in the NL behind his teammate Harper, and is trailed at second base by Javier Báez of the Cubs (715,928). Colorado's Nolan Arenado (613,571) follows Bryant at third base, and Cubs backstop Willson Contreras (511,029) remains second behind Posey. Heyward, who is fighting off fierce competition for the third outfield spot, is trailed by his Cubs teammate Ben Zobrist (472,114), Atlanta's Matt Kemp (457,586) and Kyle Schwarber of the Cubs (423,394). Giancarlo Stanton (398,569) and Marcell Ozuna (392,973) of the host Miami Marlins are also close behind in the competitive race.
Second NL @esurance #ASG ballot update:
1B Zimmerman
2B Murphy
3B Bryant
SS Seager
C Posey
OF Harper, Blackmon, Heyward pic.twitter.com/ImC1TsXTDy

— MLB (@MLB) June 5, 2017
The Esurance MLB All-Star Game Ballot, the largest program of its kind in professional sports, is being conducted exclusively online for the third consecutive season. Fans around the world can cast their votes for starters a total of 35 times with the 2017 Esurance MLB All-Star Game Ballot, including a maximum of five valid ballots cast in any 24-hour period. The 2017 Esurance MLB All-Star Game Ballot is available in English and Spanish, and offers audio CAPTCHA functionality for visually impaired fans. Banco BHD León once again sponsors online All-Star balloting in the Dominican Republic, making Spanish-language ballots available to fans in the Dominican Republic via LasMayores.com, the official Spanish-language Web site of Major League Baseball.
Details regarding the unveiling of the 2017 American League and National League All-Star Teams will be available in the coming weeks. The AL All-Star Team will have nine elected starters via the fan balloting program, while the NL All-Star Team will have eight fan-elected starters. The pitchers and reserves for both squads - totaling 23 for the NL and 22 for the AL - will be determined through a combination of "Player Ballot" choices and selections made by the Commissioner's Office.
Following the announcement of the American League and National League All-Star rosters, fans will begin voting to select the final player for each League's 32-man roster via the 2017 Esurance MLB All-Star Game Final Vote. Fans will cast their votes from a list of five players from each League over the balloting period. Now in its 16th season with over 680 million votes cast, fans again will be able to make their Final Vote selections on MLB.com, Club sites and their mobile devices.
This year's final phase of All-Star Game voting again will have fans participating in the official voting for the Ted Williams All-Star Game Most Valuable Player Award presented by Chevrolet. During the Midsummer Classic, fans can vote exclusively at MLB.com and the 30 Club sites - online or via their mobile devices - with the 2017 All-Star Game MLB.com MVP Vote, and their collective voice will represent 20 percent of the official vote determining this year's recipient of the Arch Ward Trophy.
MLB All-Star Week includes the MLB All-Star Game presented by Mastercard at Marlins Park (July 11th), Gatorade All-Star Workout Day featuring the T-Mobile Home Run Derby (July 10th), All-Star Sunday featuring the SiriusXM All-Star Futures Game and All-Star Legends & Celebrity Softball Game (July 9th), All-Star FanFest at the Miami Beach Convention Center (July 7th-11th), plus a lineup of additional events taking place around the city. The 88th Midsummer Classic will be televised nationally by FOX Sports; in Canada by Rogers Sportsnet and RDS; and worldwide by partners in more than 180 countries. FOX Deportes will provide Spanish language coverage in the United States, while ESPN Radio and ESPN Radio Deportes will provide exclusive national radio coverage of the All-Star Game. MLB Network, MLB.com and Sirius XM also will provide comprehensive All-Star Week coverage. For more information about MLB All-Star Week and to purchase tickets, please visit AllStarGame.com and follow @AllStarGame on social media.