| | |
| --- | --- |
| Some Cubs might snub White House visit for dinosaur museum | |
---
| | |
| --- | --- |
| Wednesday, June 28, 2017 10:48 AM | |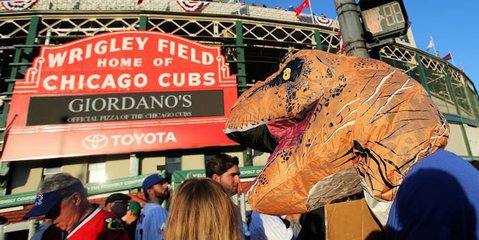 The Chicago Cubs will visit the White House on Wednesday which will be their second visit since meeting former President Obama back in January.
Cubs manager Joe Maddon said the following remarks about the White House to reporters on Tuesday.
"Whether you like the person that's running the country or not, out of respect for the office itself, you go," Maddon said.
The group of Cubs to visit the White House will be around 20-25 people which will not be mandatory for the players.
The Chicago Sun-times polled 22 players and 10 planned to skip the White House visit.
Anthony Rizzo is one of the players that will be going again.
"I'm going because it's the United States of America, and I'd rather not live anywhere else except this country," Rizzo said via the Chicago Sun-Times.
However, young fireballer Carl Edwards Jr. admitted that he is trying to have a more relaxing time befitting for someone his age.
"I'm trying to go see like the dinosaur museums," Edwards shared.
It will be interesting to see how many of his teammates end up going to the dinosaur museum with Edwards Jr. instead of the White House.